Born beside a campsite fire, the Wildly Goods Lightweight Merino Wool Crew Socks began as a spark of inspiration after a long and sweaty day on the trail. Spurred on by a desire to create comfortable socks that were both pain and odor-free, Christian, the founder of Wildly Goods, ventured forth to create the "perfect sock".
Merino wool has made headway in the outdoor community for its natural anti-bacterial and anti-blister properties. Wildly Goods has blended high-quality, ethically sourced Australian merino wool with the strength and stretch of polyester, nylon, and spandex to forge these impressively hard-wearing and cozy Lightweight Merino Wool Crew Socks.
The Wildly Goods Lightweight Merino Wool Crew Socks have been made for comfort above all else, though the design is equally durable and supportive. Whether you prefer to hike in boots or trail runners, these calf cut crew socks hold up well against the competition.
See the Wildly Goods Lightweight Merino Wool Crew Socks
Unique Features of Wildly Goods Lightweight Merino Wool Crew Socks
The fundamentals of merino wool are the foundation of these fantastic socks. Merino wool isn't itchy like that hand-me-down sweater your great-grandmother knitted decades ago.
In fact, merino wool is superbly comfortable, especially on your feet. Not only is it soft to the touch, but it is naturally anti-sweat and anti-stink, which leads to all-day comfort no matter how hard you hike. Merino wool wicks away moisture, and it also continues to insulate even when it is wet. Because it pushes away water and is anti-microbial, it's also far less likely to rub you the wrong way, which results in fewer blisters and greater hiking stamina.
Beyond their material composition, these socks have also been designed with long miles in mind. The heel and toe areas have been fitted with a bit more cushion to help soften your steps, and the cuffs have a padded comfort band to prevent any abrasive rubbing.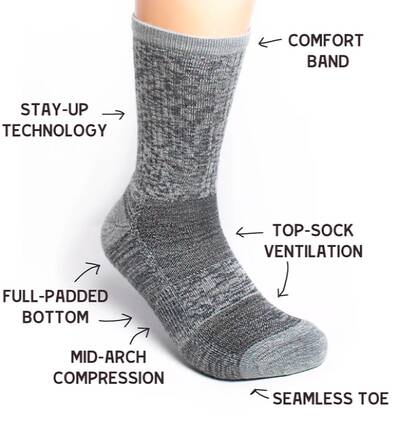 Also of note— the stay-up technology of these socks is a magical feat of soft, woven compression that keeps the material from sliding down to your ankle while giving your calves a touch of loving pressure to keep them feeling fresh.
The Wildly Goods Lightweight Merino Wool Crew Socks are unisex by design and available in two sizes.
See the Wildly Goods Lightweight Merino Wool Crew Socks
Who is Wildly Goods?
Wildly Goods is a seasonal sock, apparel, and accessory brand providing comfortable and functional products for the trail that also work well for day-to-day living and activities. The Ohio company creates products in seasonal batches with sustainable manufacturers to lessen their impact on the environment.
In accordance with that mission, Wildly Goods is a proud member of 1% For The Planet and also donates a pair of socks for every pair sold to shelters across the USA. All purchases come with the "Wildly Good Guarantee" that provides customers with a no-questions-asked one-year warranty against damage and defects. What more reason do you need to purchase a pair of these socks? They're awesome in every possible way.
See the Wildly Goods Lightweight Merino Wool Crew Socks, and learn more about Wildly Goods.
---
This article is sponsored by Wildly Goods.
Backpackers.com Affiliate Policy: This article may contain affiliate links, which help fund our website. When you click on the links to purchase the gear we get a commission, and this goes a long way to creating guides, gear reviews, and other excellent content.