Rad Power Bikes, a prominent player in the electric bicycle industry, is revolutionizing off-road adventures with its latest lineup of electric all-terrain bikes.
Designed for thrill-seekers and nature enthusiasts, these off-road eBikes offer an exhilarating experience on any surface.
For the first time ever, Rad Power Bikes is offering 10% off SITEWIDE on ebikes, accessories and more through 9/28 (some restrictions apply – no code needed).
Off-Road & All-Terrain Electric Bikes
When you need a bike that can do it all, look to Rad Power Bikes' All-Terrain eBikes. The cornerstone of these bikes is their versatility. Whether you're cruising down a smooth path, navigating the city streets, or conquering rugged dirt trails, Rad Power Bikes has you covered.
There are several all-terrain models to choose from, including the:
Each model is designed for a specific purpose. You can choose the model that best fits your needs and outfit it with accessories to make it truly your own.
All-Terrain Features
The fat tires provide stability and grip, ensuring a safe and thrilling ride. Thanks to a robust 750-watt motor, these eBikes can conquer steep inclines and take you farther on your outdoor excursions.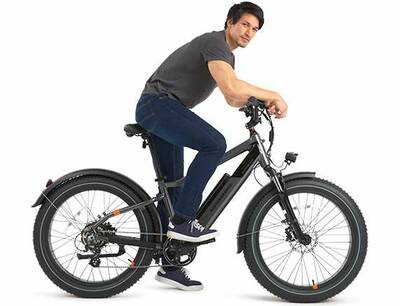 Likewise, Rad Power Bikes offers a range of accessories, including racks and bags, allowing you to gear up for your off-road adventures.
As you load up camping gear or gather groceries, these eBikes are equipped with the cargo capacity to accommodate both tasks seamlessly.
What's more, these eBikes are designed with convenience in mind – the folding models can be easily stored compactly inside your vehicle, making them the ideal companion for road trips.
Alternatively, they can be securely transported unfolded on a vehicle rack, ensuring you're ready for adventure at a moment's notice.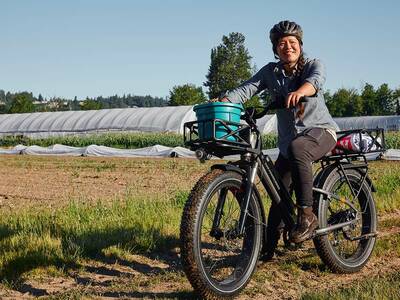 Rad Power Bikes continues to set the standard for electric off-road biking, catering to the diverse needs of all-terrain enthusiasts.
---
Backpackers.com Affiliate Policy: This article may contain affiliate links, which help fund our website. When you click on the links to purchase the gear we get a commission, and this goes a long way to creating guides, gear reviews, and other excellent content.