Rails-to-Trails Conservancy (RTC) has launched a new initiative to strengthen active transportation facilities and networks as part of its goal to create a nationwide network of trails.
Dubbed TrailNation Collaborative, this initiative enables experts, advocates, and public figures to collaborate to accelerate the development of trail and active transportation networks throughout the nation.
The initiative, according to RTC, is utilizing the enormous need for safe places to walk, ride, and be active outside, coupled with a once-in-a-generation opportunity for public financing to develop linked networks of trails, walkways, and protected bike lanes in every American city.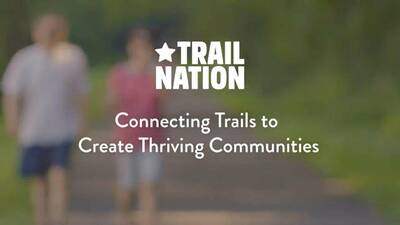 Liz Thorstensen, RTC's vice president of trail development and the thought leader behind the TrailNation program, said they began the work on TrailNation to prove what is possible when trail networks are central to community design.
"This momentum is a result of decades of advocacy, the determination of the trail-building community, and the ingenuity it takes to envision a future where trail networks are embraced as fundamental to the quality of the places where we live, work, and play," she said.
The recent influx of federal dollars and growing demand for trails are the catalysts for the TrailNation Collaborative's vision to ensure that trail and active transportation networks are prioritized in the nation's infrastructure plans.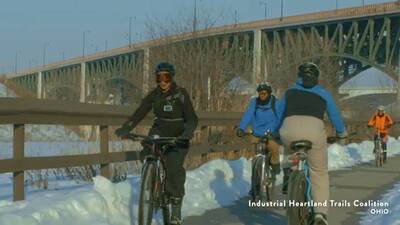 The TrailNation collaborative framework will be made up of the TrailNation initiatives and RTC's wide network of partners.
Together with RTC's experience and network of collaborators around the nation, the collaboration offers tried-and-true resources, tools, and methodologies to hasten the creation of interconnected trail networks.
Learn more about the TrailNation Collaborative by watching this video:
Rails-to-Trails Conservancy is the nation's largest trails organization dedicated to building a nation connected by trails, reimagining public spaces to create safe ways for everyone to walk, bike, and be active outdoors.
---
Images courtesy of Rails-to-Trails Conservancy (Screengrabs from the TrailNation Youtube Video)
Backpackers.com Affiliate Policy: This article may contain affiliate links, which help fund our website. When you click on the links to purchase the gear we get a commission, and this goes a long way to creating guides, gear reviews, and other excellent content.