REI is encouraging the entire co-op community to take part and continue to speak out against hatred and support the LGBTQ+ community.
In view of the recent attack that took place at Q Club, a place that has long been a safe haven for the LGBTQ+ community in Colorado Springs, REI remains committed to ensuring the co-op, the outdoors, and broader society are places where everyone—including LGBTQ+ people—can feel safe, welcome, and included.
REI contributes more than $500,000 per year to programs and organizations that seek to promote equality for LGBTQ+ individuals.
This helps groups like the Pride Foundation, TranSending, The Venture Out Project, and others fight to make our society safe, egalitarian, and inclusive for all.
Several local Colorado organizations have also organized fundraisers to directly assist victims and their families.
REI Co-op members can also help by supporting the Equality Act that would amend existing civil rights laws to finally protect LGBTQ+ people from discrimination in employment, housing, credit, education, public spaces and services, federally funded programs, and jury service.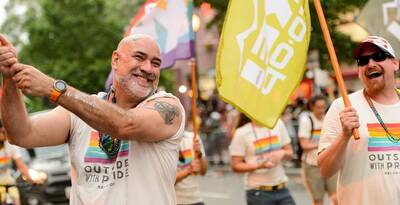 Through the REI Cooperative Action Network, anyone can urge their Senators to pass this essential legislation.
Members can also build an understanding of LGBTQ+ experiences by accessing learning resources from organizations like the Human Rights Campaign, PFLAG, the Movement Advancement Project, the Williams Institute, and Freedom for All Americans.
---
Image courtesy of REI
Backpackers.com Affiliate Policy: This article may contain affiliate links, which help fund our website. When you click on the links to purchase the gear we get a commission, and this goes a long way to creating guides, gear reviews, and other excellent content.