'Tis the season to begin looking for epic deals during the REI GUGO Sale!
It's hard to believe winter's festivities are right around the corner. This time of year blows in quickly, and REI has reminded us of that with the 2023 Gear Up Get Out Sale — save up to 30% OFF now through November 20, 2023. This is one of REI's biggest sales of the year, and we're stoked to share some of the most exciting deals.
If you are an REI Co-op member, you'll be able to use code GEARUP23 to save 20% off of one full priced item and 20% off of one outlet item.
Also, REI Co-op Members will get 20% off of one Re/Supply Gear, Clothing, or Footwear item.
So grab your gift list, get cozy with a cuppa, and check out the REI GUGO sale. It features a bunch of great REI Co-op items and a lot of items from other brands you love, like Smartwool, Garmin, and Cotopaxi.

REI GUGO Sale 2023 Top Picks
Need your order for the holidays? REI has given a gentle reminder to get your orders in by Dec 19, 9:00 a.m. PT.
---
$69.95 Now $48.89

During the REI GUGO Sale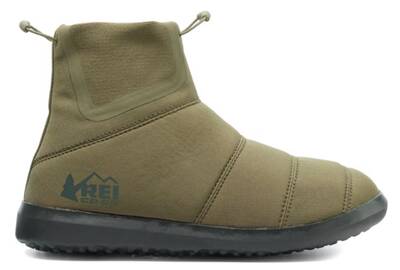 If you enjoy a good puffy jacket and have not yet tried out REI's Dreamer Booties and Slip-Ons, get ready to be dazzled. The Dreamer shoes are a down jacket for your feet! They're great for camp life, cabin life, and chillin' around home.
And let's be honest, they're great for a latte run too. The soles of these shoes are 20% recycled rubber with TerraGrip™ tread that provides anti-slip grip.
These shoes make an excellent holiday gift, as they are more casual than active shoes and more burly than slippers. Get them for someone you love during the Gear Up Get Out sale at 30% off.
See the REI Co-op Dreamer Booties See the REI Co-op Dreamer Slip-Ons
---
$129.00 Now
$90.29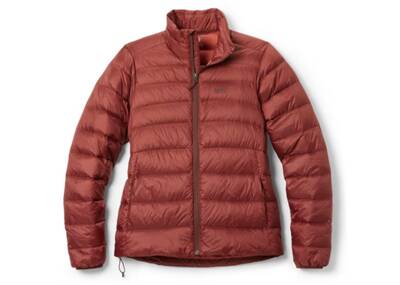 At 30% off, this is a deal to be excited about! REI's 650 Women's Down Jacket is a cold-weather staple. Weighing in at just 10.2 ounces, this jacket features a windproof and water-resistant shell and all the pockets you'd want.
It's made of recycled materials, which helps to keep junk out of landfills. The 650 Women's Down Jacket is available in sizes xs-3x, which is spectacular. A bonus? This jacket comes in quite an array of beautiful colors!
See the REI Co-op 650 Women's Down Jacket
---
$279.00 Now
$195.29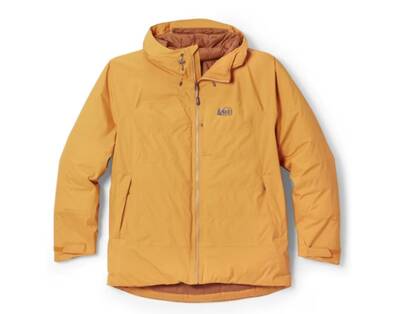 If you're looking for a men's jacket that ticks all the important boxes for outdoor fun, REI's Stormhenge Down Hybrid Jacket is on sale at 30% off during the REI GUGO Sale.
This is a waterproof down/synthetic jacket that features 850 powerfill down, body mapping, and a sleeping-bag-style draft tube at the neck that helps prevent heat from escaping.
The quality of this piece means that it is truly versatile. It's perfect for bopping around town and ideal for an adventure in the forest!
See the REI Co-op Men's Stormhenge Down Hybrid Jacket
---
$59.95 Now
$41.89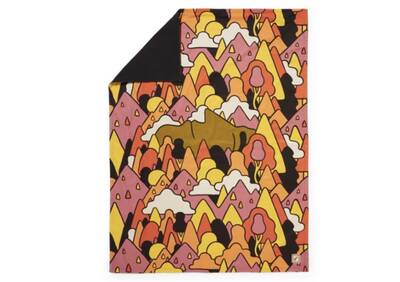 Is it possible to have too many blankets? No. Does everyone love receiving a good blanket as a gift? Yep! Which makes a 30% off sale on REI's Flannel/Fleece Blanket a very hot ticket item. Scoop up a few during the Gear Up Get Out sale and bada-bing bada-boom! You've got some really nice presents to start your shopping season on a high note.
This blanket is as cozy as can be and comes in a good variety of colors and patterns. To sweeten the deal, REI Co-op will donate 10% of blanket sales to the REI Cooperative Action Fund, which makes grants to nonprofits that promote justice, equity, and belonging in the outdoors. A win-win-win.
See the REI Co-op Flannel/Fleece Blanket
---
$89.95 Now
$62.89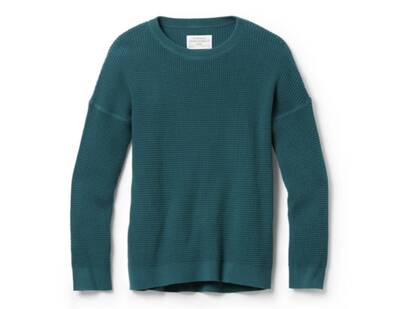 A good sweater is comfy, doesn't itch, is flattering but loose, and can hold up to some adventure. REI's Wallace Lake Waffle Sweater fits the bill! This piece is available in women's and men's sizing and comes in a whole bunch of rich, lovely colors.
This top is made from ethically sourced organic cotton. Because it's cotton, you can toss it in the dryer as long as it's low heat, which is great, because anyone who has the Wallace Lake Waffle Sweater lives in it and will miss it while it's in the wash. Right now, REI is offering it at 30% off!
See the women's REI Co-op Wallace Lake Waffle Sweater See the men's REI Co-op Wallace Lake Waffle Sweater
---
$34.95 Now
$24.39

A good balaclava is a piece of kit that should be in any cold-weather adventurers' gear arsenal. REI's Power Wool Balaclava features a merino wool interior that is breathable, warm, and soft.
Its synthetic fiber exterior is stretchy and durable. And, of course, black goes with everything. By using merino wool, this balaclava won't get stinky. It's also moisture-wicking and breathable. If the temps are dropping and the snow is falling, it's balaclava time!
See the REI Co-op Power Wool Balaclava
---
$19.95 Now
$13.89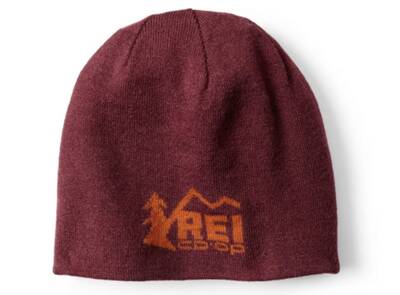 Everyone loves a beanie! Like blankets, you truly can never have enough. REI's Trailmade Reversible Beanie is a two-for-one kind of thing, as it looks totally different when you flip it inside out.
This beanie can fit under a helmet due to its double-layer flat knit. It's not bulky at all. It's not itchy either, constructed of only the softest fibers.
This is a perfect stocking stuffer or "under $20" gift for the holiday party. During the REI GUGO, it is 30% off.
See the REI Co-op Trailmade Reversible Beanie
---
$49.95 Now
$34.89

Warm and durable, REI Co-op Flash Power Wool Gloves are constructed from Polartec Powerwool that is as soft and cozy as it is strong. They're available in sizes xs-xl so you don't need to worry about the dreaded baggy fingers.
These gloves are great to toss in a car, purse, or backpack just so you have them if you need them. They're also great for snowshoeing and any other cold weather hootenanny you can dream up.
If you've ever thought to yourself, I wish I could save 30% on Flash Power Wool Gloves — REI has granted that wish. Snag them at this low cost while you can!
See the REI Co-op Flash Power Wool Gloves
---
$129.00 Now
$90.29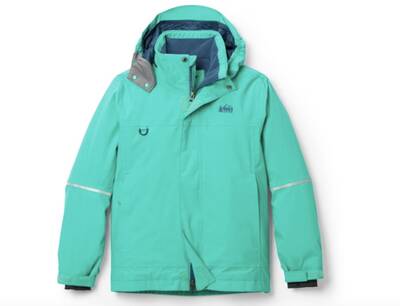 Know some kiddos who are itching to play in the snow? Deck em' out in an REI Timber Mountain Insulated Snow Jacket so they can play in style without even noticing the cold.
At 30% off, this jacket is the best bang for your buck you'll find for a kids snow jacket. It is seam-sealed and waterproof, windproof up to 50mph and highly breathable.
It features a helmet-friendly hood and low-profile powder skirt, making it the perfect jacket to hit some slopes. It's available in kids xxs-xl and comes in some pretty cute colors!
See the REI Co-op Timber Mountain Kids Insulated Snow Jacket
---
$19.95 Now
$13.89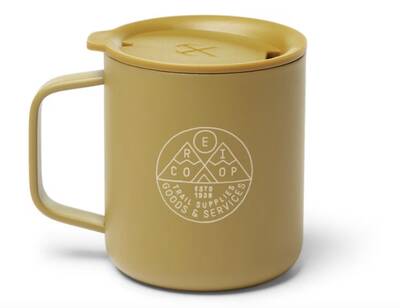 Last on this REI GUGO Sale list, but a true gift-giver's workhorse: the mug. Mugs make perfect presents for everyone, be it your dad or a coworker.
REI's 12oz Solid Graphic Camp Mug is a stylish and durable option. It's made of high-quality 18/8 stainless steel and comes complete with a lid so you can bring it along on errands or a stroll around camp.
Boasting double-wall vacuum insulation that keeps your drink hot or cold for hours, this is the kind of mug that will see use constantly. It's available in 3 colors and all colors feature the same classic logo. During this sale, you can nab it for 30% off!
See the REI Co-op 12oz Solid Graphic Camp Mug
---
All images courtesy REI, All Rights Reserved.
Backpackers.com Affiliate Policy: This guide contains affiliate links, which help fund our website. When you click on the links to purchase the gear, we get a commission, and this goes a long way to creating guides, gear reviews, and other excellent content.