REI USED GEAR – GREAT PRE-OWNED GEAR AT A STEEP DISCOUNT
Pop quiz: how do you save money on gear and keep waste out of landfills while still expanding your gear closet? Easy answer: buy your gear used from REI's Good & Used Gear program. It's like going to your local gear swap, except the gear is already inspected, cleaned, and fairly priced – and it ships right to your front door.
As backpackers, campers, and advocates for protecting the planet, it can be hard to decide when you should repair your old gear versus treating yourself to a new piece. Fortunately, REI both buys back gear and sells used gear, so you can keep your old sleeping bag out of a landfill while buying someone else's pre-owned tent at a great discount. And the range of products is almost as large as REI's new product line, ranging from clothing and camp gear to fitness trackers and sunglasses.
See REI's Used Gear Marketplace
How Does Selling Work?
Ready to sell your gear? A few online companies buy old gear, but we like REI's buyback program the most because it's so darn easy. You don't have to upload photos of your gear, answer questions about it, or go back and forth with a buyer to negotiate what it's worth. Just go to REI's buyback site and type in the product you want to sell – for example, we searched for "Marmot sleeping bag."
Once you've found your product on the site, click the "trade in" button below the product. A pop-up window will appear with a trade-in value range. Apparently, our old Marmot sleeping bag could be worth more than $100!
Once you've clicked "complete trade in," you'll be taken to a page where you enter your REI Co-op membership number and fill out a form with some basic info. You'll need to confirm a few things before confirming your trade in, like ensuring the gear is clean and in good working order. REI only accepts buybacks that meet the conditions below, so make sure you've met all the criteria before you mail it in:
Gear can't be broken, damaged, or more than six years old
It has to be a product REI has sold (duh)
It has to be clean (pull that dog hair off!)
It has to be in re-sellable condition, so if the outsoles are worn down on your hiking shoes, consider donating them instead
They don't accept electronics or safety gear like climbing harnesses
Finally, select if you want just a mailing label or if you need REI to send you packaging, too. REI deducts $6 from your trade-in value to cover shipping – and that's it! You're done. REI's gear pros will evaluate your gear and send you a gift card pre-loaded with that value to put towards a new piece of gear (or something from the Used & Good site, of course.) Here's the full Q & A from REI.
The only downside? You need to be an REI Co-Op Member. But considering a lifetime membership is only $20 – and you get 10 percent back on every purchase in the form of an annual credit – there's really no reason not to join. You don't need to be an co-op member to buy used gear.
How Does Buying Work?
If you thought selling was easy, wait 'til you try to buy. Buying from the REI Used Gear site is exactly the same as buying from the regular REI site – just click "used gear" on the top menu.  Once you've found the item you want, you'll notice a few unique pieces of information on the item page. For starters, you'll notice that only one size is available – after all, there's just one of each item. So you'll probably want to use the "search by size" filter when browsing.
You'll also notice a blurb with the condition of the item. For example, we found this great Patagonia down jacket at a steal of a price (originally $229 marked down to $104!) and the gear evaluator noted that there's a slight bit of wear and a small patch on the chest. Fine by us! Add it to your cart, and you're ready to buy. Used gear ships to your door just like new gear, though you'll need to use the special REI Used Gear Return Form if you want to send it back. You can't return REI used gear to REI stores.
What Are Some of the Perks of Buying Used Gear?
Depending on your point of view, you'll find one of two major reasons to be the most compelling.
First, used gear is far, far more affordable than buying new gear. Discounts can range from 20 to 30 percent off of nearly new items that may have never even been used to 50 or 60 percent off on "heavily used," items, like this HydroFlask Vacuum Bottle. If you don't care that your HydroFlask has a few scratches (and why should you?) you can snag the normally $35 bottle for under $20.
But for some buyers, buying used gear is less about financial savings and more about saving the earth. The EPA estimated that in 2018, nearly 11 million tons of clothing and textiles ended up in landfills. It also estimated that 17 million tons of textiles were generated in 2018, which means that we're putting well well more than half of our discarded fabrics in landfills. Only 2,500 tons (14 percent) were recycled. Yikes.
Selling used gear keeps your gear out of landfills and buying new gear means that's one less new piece of gear that doesn't need to use resources to be made. We love buying new outdoor gear as much as the next person (heck, we work for Backpackers!) so it's wonderful to know that our old gear can go to a better home.
By the way, if you want new gear, REI does sell gear from dozens of climate-neutral companies and companies making products from recycled gear. A few of our faves include the Rumpl Original Puffy Recycled Blanket, the REI Co-op Recycled Duffels, and the unisex Cotopaxi Teca Windbreakers, made with recycled fabric scraps.
Oh, and one more thing: buying used gear is the only way to buy discontinued gear. If a brand stops making your favorite item, do a quick check to see if you can find it on REI's Used Gear site or it may be gone forever.
What Kind of Gear Can I Find?
All kinds! Check out the round ups below for a few great picks we found. Remember that there's usually just one of each item available, so if you find something you like in your size, you might want to snag it before someone else does.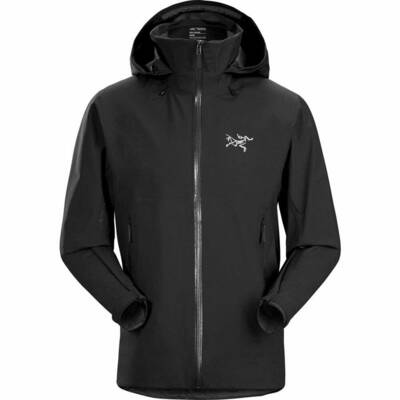 This high-end Arc'teryx Cassiar Jacket is in excellent condition and priced at $377 – more than $200 off the original price!
See the used Casssiar Jacket on REI
---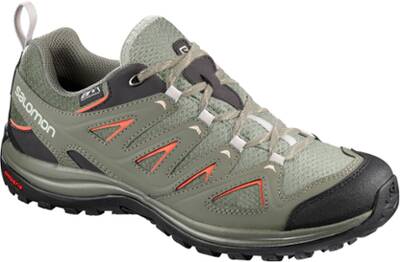 These barely-worn women's Ellipse 3 CS WP Hiking Shoes from Salomon are more than 50 percent off and have a waterproof membrane for those unexpectedly muddy trails.
See the used Ellipse 3 Hiking Shoe on REI
---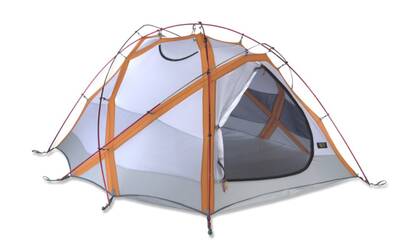 High-quality tents can be expensive, so we were stoked to see the Trango 2 Tent from Mountain Hardware for half off the retail price.
See the used Trango 2 Tent on REI
---
This post is sponsored by REI Used Gear.
All images courtesy REI. All Rights Reserved.
Backpackers.com Affiliate Policy: This guide contains affiliate links, which help fund our website. When you click on the links to purchase the gear we get a commission, and this goes a long way to creating guides, gear reviews, and other excellent content.