Sunglasses aren't just for looking cool (though those who wear them at night may say otherwise). It can be hard to find sunglasses that are both stylish and practical, which is why we're stoked about Revo.
Revo has been creating highly functional sports glasses with polarized lenses since 1985, and they do it well. A good pair of polarized lenses help you to see terrain better by making images sharper and clearer, and they remove glare from the water's surface, enabling you to better see all of the fish underneath. Plus, polarization can help reduce eye strain.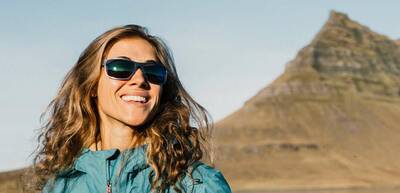 Get 25% off sitewide at Revo using code BACKPACK25 to save on all Revo sunglasses and goggles (valid through 5/5/23). Check out some of our favorites below.
---
Top Revo Sunglasses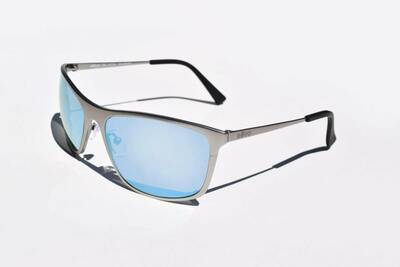 One of the pairs we're excited about from Revo are the Meridian sunglasses. These shades come with a titanium frame, so you know they're made for the toughest adventures while staying light enough on your face so you'll barely notice they are there.
The Meridian glasses fit a small to medium profile. These glasses also feature an adjustable nose piece and wrap further around, making them good for adventures where you might encounter snow or water.
The Meridian offers three lens types for different activities. For those who enjoy time spent out on or near lakes, rivers, and the ocean, choose the blue water lens. Those who will be spending their time in bright sun, like in the alpine where snow may be encountered, will benefit most from the graphite lens. And if you spend a lot of time in the forest, the evergreen photochromatic lens is perfect as it automatically adjusts lens darkness quickly as light conditions change.
See the Revo Meridian Sunglasses
---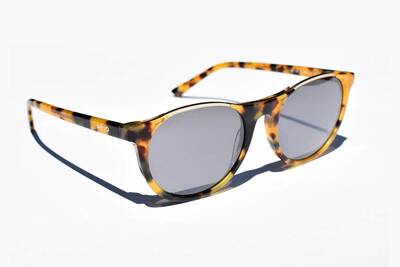 Those looking for a more urban-style sunglass will enjoy the Revo Bolt sunnies. These sunglasses are a collaboration with Kendall Toole, a lifelong athlete and mental health advocate. The Bolt fits a face profile that is medium to medium-small.
This frame comes with a graphite lens, which is perfect for bright and sunny days. Those looking for a sunglass that works for driving, morning runs, outdoor yoga sessions, and beers on the patio will enjoy the style of the Bolt.
---
The future is here with the Revo Sonic 2. The Sonic 2 features RevoWhisper technology that cancels out ambient noise and allows you to listen to music on the go and to also take calls and track your health and fitness. The charge can last up to 11 hours while listening to music. Revo's Sonic 2 fits faces with a medium profile. The adjustable end tips can straighten or bend to give you a personalized fit.
Like the Meridian, the Sonic 2 offers the same 3 lens options: blue water lens, graphite lens, and an evergreen photochromic lens. This means any type of outdoor adventurer can rock out with these Revo's while they're out doing their thang.
See the Revo Sonic 2 Sunglasses
---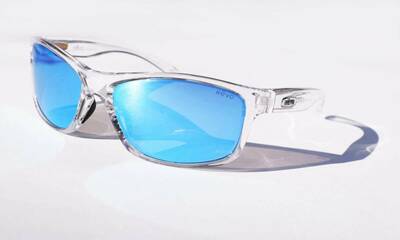 For an all-around sports sunglass, the Harness is Revo's bestseller. More than your average sports sunglasses, the Harness has a versatile, lightweight frame that wraps to protect your eyes from glare. This wrap works well in environments that have high glare from the ground like powder hounds or for folks who need some extra protection from airflow, like bikers. They fit a medium profile face.
The Harness features 6 lens types and 8 frames. Prescription wearers will be thrilled to be able to add their prescription to these frames as well.
The Graphite lens is best for bright, sunny days.
The Drive lens is best for the golf course or driving.
The Champagne lens is good for urban settings or for those who want to get the best light contrast while traveling — they'll perform well even at sunset.
The Blue Water lens is perfect for those who expect to use these lenses on the water the most.
The Evergreen lens is great for hiking and backpacking in forests.
The Spectra lens is good for adventure travelers looking for a lens for all types of settings, both urban and nature, providing refined color definition and sharp contrast.
See the Revo Harness Sunglasses
---
For those who prefer the rimless style of sunglasses, we recommend the Revo Descend N. Despite no frame, these glasses feature a MotionFit design to help ensure a secure fit while keeping the glasses comfortable on your face. Pads on the nose and temple tips help this. The Descend N glasses are a medium fit.
These glasses feature the same lenses as Harness, but with a new lens to this list, the Terra. The Terra brightens up nature's colors and is perfect for all outdoor sports at different times of the day. They do well at lower light conditions like dawn or dusk and would perform well for desert goers. These lenses can also have a prescription added to them if desired.
See the Revo Descend N Sunglasses
---
All images courtesy Amazon, All Rights Reserved.
Backpackers.com Affiliate Policy: This guide contains affiliate links, which help fund our website. When you click on the links to purchase the gear, we get a commission, and this goes a long way to creating guides, gear reviews, and other excellent content.