Ride1Up, a leading name in the electric bike industry, has introduced the highly-anticipated Prodigy V2, promising to revolutionize the world of e-biking.
This successor to the game-changing Prodigy mid-drive e-bike is packed with enhancements designed to make your rides smoother and more enjoyable.
Introducing Prodigy V2: Enhancing Your Riding Experience
The bike now comes standard with front suspension, fenders, and a rear rack. These additions not only boost comfort but also make it adaptable for everyday use.
One of the standout improvements is the inclusion of the silent, German-engineered Brose mid-drive motor.
This advanced motor ensures a near-silent ride, allowing you to connect more intimately with your surroundings as you pedal.
With significant performance gains, this motor promises an exhilarating journey every time you take to the road.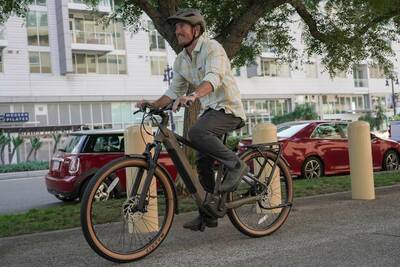 But there's more to the Prodigy V2 – it now offers a continuous variable transmission (CVT) option, taking your riding experience to the next level.
Bid farewell to clunky gear changes and messy chains. The CVT system ensures seamless and smooth gear shifts in a low-maintenance package, delivering a hassle-free and thrilling ride.
What truly makes the Prodigy V2 stand out is its value proposition – loaded with top-tier features like front suspension, hydraulic brakes, Maxxis tires, alloy fenders, lights, and more.




With an MSRP of $2,695, the Prodigy V2 is a premium choice for seasoned e-bike enthusiasts and offers a complete top-tier package to those who are newly curious about electric biking.
---
Image courtesy of Ride1Up
Backpackers.com Affiliate Policy: This article may contain affiliate links, which help fund our website. When you click on the links to purchase the gear we get a commission, and this goes a long way to creating guides, gear reviews, and other excellent content.