In a bold stride towards a more sustainable future, global performance-running lifestyle brand Saucony announced an initiative to transform its product line.
The brand revealed its commitment to incorporate organic, recycled, or renewable materials in 90% of its products by 2025, with a full transition to 100% by 2030.
Underpinning this pledge, Saucony has introduced a groundbreaking addition to its lineup — the Triumph RFG (Run For Good), an innovation touted as its most environmentally conscious shoe to date.
Saucony Triumph RFG Running Shoe
Scheduled for release on September 5, the Triumph RFG is a testament to Saucony's commitment to sustainability.
This shoe integrates plant-based dyes in its upper and incorporates a 55% corn-based PWRRUN BIO+ midsole foam, reducing reliance on plastic components notorious for their detrimental impact on the environment.
The shoe's outsole, composed of 80% natural rubber, offers performance on par with synthetic alternatives.
Marking Saucony's 125th anniversary, the brand's global president, Rob Griffiths, emphasized the intrinsic connection between their commitment to bettering the world and their longstanding heritage.
Griffiths stated that Saucony views sustainability as an ongoing journey, with innovation as the driving force behind positive change in the industry and the sport itself.


Saucony's journey toward sustainability has been marked by noteworthy milestones. In 2020, the brand introduced an apparel line with almost 100% of styles incorporating organic, recycled, or renewable materials.
The Jazz Court RFG, launched in 2021, became a flagship eco-friendly shoe, comprised solely of seven natural materials and devoid of plastic.
In a groundbreaking collaboration with Cycora by Ambercycle in 2022, Saucony became the pioneer running brand to fashion performance running tops using 23% Cycora material, sourced from discarded textiles.
Brian Moore, Senior Vice President of Global Product for Saucony, highlighted the brand's dedication to harmonizing sustainability and running performance.
The newly launched Triumph RFG exemplifies this harmony, as it marries environmental consciousness with optimal performance while remaining accessible in terms of affordability.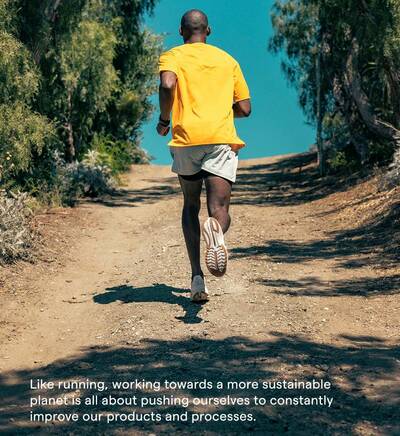 Underlining its commitment, Saucony introduced the RFG Standard, a benchmark that gauges whether a product aligns with the brand's sustainability criteria without compromising performance.
The Triumph RFG, a product that exemplifies these principles, is distinguished by the RFG Badge.
Saucony's Triumph RFG, catering to both men and women, will be available in various sizes, retailing at $160.00.
---
Images courtesy of Saucony
Backpackers.com Affiliate Policy: This article may contain affiliate links, which help fund our website. When you click on the links to purchase the gear we get a commission, and this goes a long way to creating guides, gear reviews, and other excellent content.