Backpackers.com — Blood Mountain is more enticing than it sounds. Actually, summiting Blood Mountain is one of the more popular activities in Georgia for day hikers, backpackers, and even-thru hikers, as the Appalachian Trail (AT) is the main way to reach the summit. Why are we highlighting a well-known, popular destination along the highly trafficked AT? Because it's beautiful, and the loop below (rather than the simple ascent and descent) will provide stretches of quiet even during the peak season.
While we're highlighting this as a Spring Hike, it's also incredible in fall. With deciduous trees dotting the landscape a rush of color will greet you as you walk. In spring, you're more likely to see the bright green of new leaves and an occasional thunderhead, which makes for its own kind of trip.

The Blood Mountain Loop
This loop exists smack dab in the middle of the Chattahoochee National Forest and the Blood Mountain Wilderness in northern Georgia, about an hour and a half drive from Atlanta. "Mountain" is a relative term — Blood Mountain has a peak height 4,458 feet, but it stands as the tallest Georgian summit on the Appalachian Trail.
You'll start this 6 mile hike at the Byron Reece Trailhead, just north of Neels Gap, the Walasi-Yi Interpretive Center, and the Mountain Crossings outfitter store. Make sure to get there early, because during this hike you'll gain and lose about 1,500 feet in elevation. Also, there will probably be a good handful of other cars, and you'll want to be able to park.
Head out on the Bryon Reece trail for just under a mile until you reach Flatrock Gap. You'll find a three-way intersection of trails — Byron Reece (on which you came), Appalachian Trail (which extends in two directions, to the right and left), and the Freeman Trail.
This is the real start of your loop. You can choose between heading out on the Freeman Trail first, which means you'll summit Blood Mountain much later in the hike and descend quickly. You can also head right on the Appalachian Trail and ascend the mountain quick, then take your time looping back to this point via the AT and the Freeman Trail.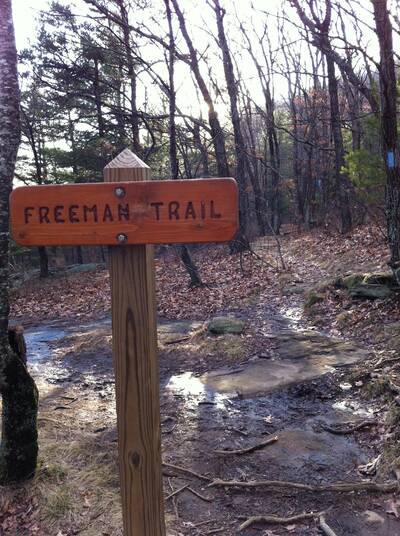 For the sake of diversity (many sites have covered this hike), we'll recommend you start on the Freeman Trail and go the less traveled route. The Freeman Trail has a blue blaze trail marker, and you'll hike on it for a little less than 2 miles. Due to the AT's popularity and close proximity, the Freeman Trail will have far fewer people. It's a gorgeous, slow uphill part of the hike under the cover of trees. The ground is rocky and you'll see many large boulders and wildflowers in the spring.
You'll hit Bird Gap and the Appalachian Trail, turn right, and continue your ascent to the summit of Blood Mountain. You'll hit a few switchbacks as the elevation begins to rise, pass Slaughter Gap (and Slaughter Creek Trailhead), and continue to even more switchbacks. These will be particularly steep, and in breathless minutes you'll find yourself at the top of Blood Mountain.
You'll know it's the top becuase of the signs, the people, and the historic Blood Mountain Shelter, a large brick building at the peak. Thru-hikers and backpackers sleep here, though it's known to be infested with mice. The shelter was built by the Civilian Conservation Corps (CCC) in 1934, and is listed in the National Register of Historic Places. A good place to wait out a storm if you find yourself in one. Make sure to check this structure out, as well as Picnic Rock, a flat surface on which to sit and eat your well-deserved lunch.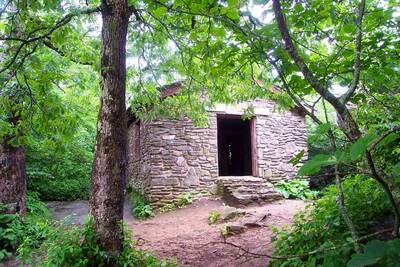 You will continue down the AT for about 1.5 miles, passing the scenic overlook, descending steeply until you hit the Bryce Reece Trailhead again, and you'll take this back to where you started the hike.
Safety and Resources
When it comes to safety, the Blood Mountain Wilderness is well-traveled and typically full of hikers. While there is safety in numbers and highly trafficked paths, it's best to be prepared with a basic emergency kit. Also, unless you're going to find water (and bring a filter) at Slaughter Creek, there's no water on this hike. Make sure to bring plenty, because the elevation gain is serious. In spring you'll want to be prepared for rain, too. If you want to backpack here, there are plenty of places to camp.
Blood Mountain is one of the more well-known areas of the AT due to its close proximity to Atlanta and accessible, stunning scenery. As such, there are a huge host of resources at your disposal. We'll list them below, in addition to an interactive trail map. The map is courtesy Atlanta Trails, but note that it shows the trail veering off the AT before Slaughter Gap. This is incorrect — our trip takes you to Slaughter Gap and down the AT.
Images in order: Blood Mountain View by McDowell Crook via Flickr; Freeman Trail by TranceMist via Flickr; Blood Mountain Shelter by John Hayes via Flickr