Backpackers.com — Rugged, full of fierce weather, and part of the northern section of the Appalachian Mountains, the White Mountains in New Hampshire are some of the most popular and gorgeous destinations in New England. With spring finally here, we thought we'd highlight a solid hike in the White Mountains — the Franconia Ridge Loop.
Hike the Franconia Ridge Loop
The Franconia Range contains the second-highest peaks in the eastern continental U.S. This loop, which is a total of 8.9 miles, hits three of those peaks:
Mount Lafayette, 5,249 feet
Mount Lincoln, 5,089 feet
Little Haystack, 4,780 feet
The loop is located in the Franconia Ridge State Park, which itself lies in White Mountain National Forest. Because this area is so popular, it's best to go during the week. But, if you can't swing that, know that the ruggedness of this hike will weed out a fair number of people for the entire loop, so you'll be left with the hikers looking to make a mark on this iconic range. Still, it's usually crowded on a beautiful day.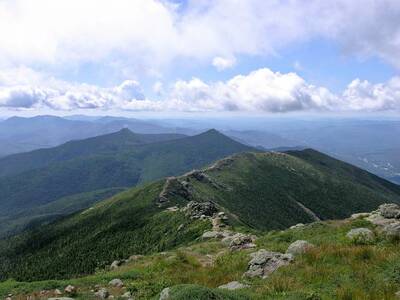 You'll gain roughly 3,260 feet during this 8.9 mile hike, so be prepared for a full day and exhausted legs.
You'll begin to hike the Franconia Ridge Loop by heading into Lafayette Camp Ground, which is easily accessible off Interstate 93 (from the North or South). This is also where the Visitor Center for the Park is — you can camp here (many people do), or, if you're in the area, just come through for the day hike and park in an appropriate location.
Because this is a loop, you'll have two choices when hiking the Franconia Ridge Loop. After walking a short way into the park on the Old Bridal Path, you'll see a split. You can take the Falling Waters Trail or Old Bridal Path all the way up to the ridge, and these two separate routes will change your trip.
We recommend the Falling Waters Trail because you'll see a host of waterfalls at the beginning of the trip, rather than the end, when you are exhausted. Falling Waters Trail also has more protection from the elements than Old Bridal, which can make a nicer warm-up as you begin your hike — of course it will mean a rougher one on the way down.
So, take the fork that leads to Falling Waters. Be prepared to cross brooks and streams, and listen for the sound of roaring waterfalls. After this you'll begin your real ascent with a number of steep switchbacks, and then a straight hike to the Franconia Ridge Trail. Reaching the ridge is about 3 miles in total.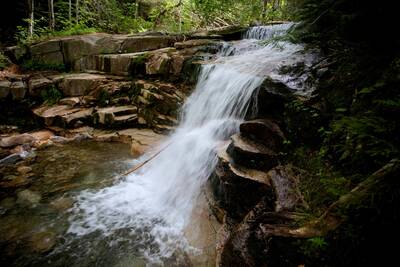 Turn left onto the Franconia Ridge Trail and get prepared for epic views. Now, this hike is hard for a number of reasons.
One is the inclement weather. Check the weather before you head out, because in serious rain or snow you will struggle to get up or down the ridge, let alone enjoy the 60-plus MPH winds that will pound at you once you're there. Another is the ridge itself, which is absolutely stunning, but also above the tree-line and therefore very exposed. You'll be at the mercy of the day, at pretty good elevation, and will need to come back down at some point. So, to put it simply, be prepared with food and water and whatever gear is necessary for the weather you face that day.
The first ascent is Little Haystack, which is where the Franconia Ridge Trail really begins. As you continue, you'll summit Mount Lincoln and Mount Lafayette. Each mountain is a steep climb to get to the top, and then the trail will sag a small ways until the next. After hitting all three — and witnessing the beauty of the panorama that extends well into the eastern U.S. on all sides — you'll begin your descent.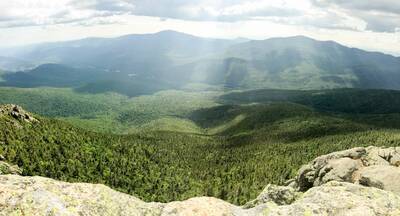 Turn left on the Greenleaf Trail after Mount Lafayette. Make sure to stop at the Greenleaf (AMC) Hut just past Eagle Lakes. This isn't really a hut — it's a full-service lodge where you can book a room, eat a hot meal, and chat with other hikers. If you want a comfy experience stay a while, but if you're needing the rugged wilderness just get some water and keep moving.
You'll swing onto Old Bridal Path just after the Hut and continue 2.7 miles back to the trail junction you started at — sweating, sore, and ready for food, no doubt.
Resources
As we've stated throughout this article, you need to be prepared for this hike. It's best on a cool, clear day so you don't get baked on the ridge, overwhelmed by mosquitos, or stuck in snow or torrents. Yes, the White Mountains can get unpleasant, to put it lightly. So for those embarking on the trip, check the weather. Then check these resources, because they are invaluable in hiking this part of the world:
Franconia Notch State Park: Official information with maps, planning tools, and how to's for everything in the area.
Summit Post: An incredible resource with a user-submitted review and trip detail of the Franconia Ridge Loop. Pictures, elevations, and more detail than we have above.
SectionHiker: One of the best sources of backpacking information online, SectionHiker (a.k.a. Philip Werner) did a trip report on the Franconia Ridge Loop going in the opposite direction. Lots of tips and tricks in his article.
EveryTrail: Interactive trail map with brief description, good for smartphones and quick trip info.
AllTrails: Another smartphone-enabled site, AllTrails has a robust community and user-reviews of Franconia Ridge Loop and State Park.
Dan Lavoie: A YouTube user with a great live video of hiking the Franconia Ridge Loop.
Enjoy the hike, and make sure to check the weather!
Images in order: Lincoln by Tim Sackton via Flickr; Waterfall by Andrew K. Smith via Flickr; Franconia Notch from the East by Wesley Carr via Flickr