Backpackers.com — You probably came here because of the words "hot springs." Yeah, we know. We wrote this article because of those same words. A natural pool of hot water deep in the wilderness is something few explorers can pass up. As part of our ongoing Spring Hikes series, here's an adventure that will take you to deep into Gila National Forest.
Gila is a massive forest, spanning 3.3 million acres if you include all the federal land it attaches to. It also contains the Gila Wilderness, which was the first Wilderness Area in the U.S., established in 1924. The hike to the Jordan Hot Springs is in the Wilderness Area, near the Gila Cliff Dwellings, which are a National Monument.
Can we build up the history any more? Probably. But we won't. Gila National Forest is huge, and sits entirely in southern New Mexico, on the border of Arizona.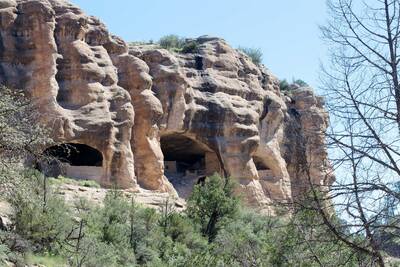 If you're in the area, or planning a trip here, Jordan Hot Springs is an excellent single-day or overnight backpack in this wilderness. There are two trails you can take to get to the hot springs — Little Bear Canyon Trail, which is 6 miles, or the Middle Fork route, which is 8 miles. You can also make a loop of these, hiking to the Springs on one, and out on the other, but it'd be best to park a car at either trailhead if you plan this route.
The Hike to Jordan Hot Springs
We'll focus on the Little Bear Canyon Trail, which is a shorter hike overall. Park at the Visitor's Center near the Cliff Dwellings (which are a sight of their own worth seeing), and seek out the Little Bear Canyon Trailhead. This starts at the TJ Corral, just north of the Visitor's Center.
It'll start with uphill, gaining a plateau pretty quickly. This height will allow excellent views of everything around you, including the Mogollon Range. The total gain is around 750 feet, and will be the only uphill for the hike into the springs.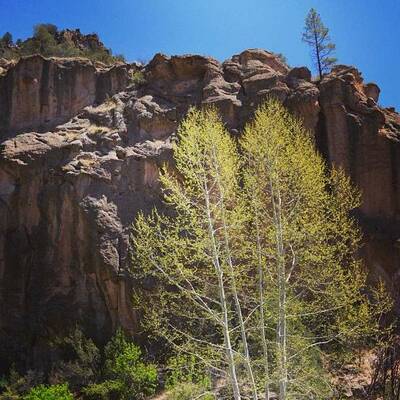 After hiking through the plateau you will begin to descend into Little Bear Canyon, the trail's namesake. This continues for 4-5 miles. The slow descent into the canyon will contain beautiful trees (junipers, cottonwoods, oaks) and will eventually meet up with the Middle Fork trail and river. At this juncture you'll merge West (left) briefly, then continue North and follow the Middle Fork river. This is a vertical canyon, and you'll have to cross the stream multiple times.
The Jordan Hot Spring is about two miles after the trails merge, and can be found just north of the main river. Look for a steep path that leads to a small dammed pool. This is the hot spring, which you'll be able to judge easily on your own.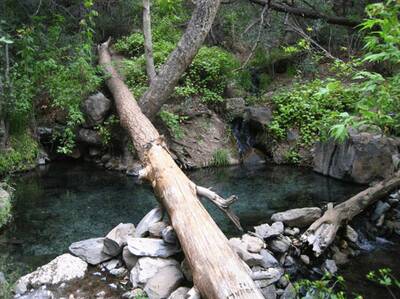 For the trip out, you can take the Little Bear Canyon trail, just like you came in, or you can take the trail split and head back along the Middle Fork trail. This will follow the river, and while it's longer overall, you'll get to see something new. Just know that the trailheads are about 1.5 miles apart, so you'll either have to walk that extra mileage at the end of your hike, or park two cars on each trailhead.
Preparedness
There are a few things to note about this trip in terms of preparation.
You will get wet. Bring an extra pair of socks, and potentially some water shoes and a pair of boots, so you can be sure you have a dry alternative when you need it. People have counted 19-27 river crossings on this journey, and, depending on the time of year, water that is up to waist deep. Be prepared.
The trail is hard to see at times. In 2012 there was a large fire, and then heavy rains, which caused the trail to wash out. It is still easily accessible and plenty of cairns guide you, but know that there will be points where no trail is specifically visible. We suggest downloading or purchasing a map of the area, and carrying a GPS device.
The Jordan Hot Springs run anywhere from 94-100 degrees Fahrenheit. They are not scalding hot springs, but rather very warm springs. They also contain an organism in the water that can cause a form of meningitis. Do not put your head under the water when in the springs.
And we'll say that while this can be done as a strenuous day hike (12 miles in and out, at least), there are many backcountry camping spots in and around the springs. You can camp on the trail to the springs, but a number of prime sites are available near the Jordan Hot Springs. We recommend at least an overnight trip to really enjoy the hot spring.
This hot spring is fairly popular, especially in summer, which is why it's one of our Spring Hikes. If you go in April, during the week, you might get this place all to yourself. That is less likely to be true on the weekend as summer gets closer.
To get there, just head to the Gila Visitor Center, located easily on a map. You'll most likely be coming from Silver City, New Mexico, and head up Highway 15 until you reach the Visitor Center.
Resources
There are numerous helpful resources on this hike and the surrounding areas. However, we will say that no easy map is readily available. To get a solid map, we suggest you purchase an area specific guide from the Visitor's Center. Regardless, here are the very helpful resources:
Images in order: Jordan Hot Springs screenshot courtesy DesertMarmot, All Rights Reserved; Gila Cliff Dwellings by Alan Levina via Flickr; Middle Fork of Gila River by Christopher Holden via Flickr