Backpackers.com — Spring in the Pacific Northwest is a unique time of year. Those heavily forested lands tend to receive rain on a daily basis, so while winter is technically over, that wet, cold thaw still has its grip on everything. Don't get us wrong, warmth is still possible. The hot days are muggy and pleasant, while the wet ones don't often dip below 50 degrees.
This talk of weather is to prepare you for the hike to Marion Falls and Lake, just outside Cascadia, Oregon. It's a well-tread trail that can seem quite crowded on a fine summer's day, so we recommend taking the excursion in spring. Mist, fog, and a rain jacket will almost certainly be present, but that will add to the shrouded, peaceful vibe of the place.
The hike involves an off-trail waterfall hunt, and a small loop that walks along one edge of a lake.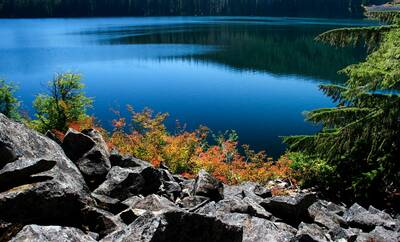 The Hike to Marion Falls and Lake
The hike to Marion Falls and Lake is 6-7 miles in total. Overall it's moderate, has clear signage, and should be an excellent outing for most people. Also, if you're looking for longer hikes, there are plenty of trails that spawn off this original hike, so you can simply keep going.
Getting There
This hike is about 100 miles northeast of Eugene and 120 miles southeast of Portland, making it a great destination spot. You can also backcountry camp in this area easily, so for those wanting a longer experience consider the Marion Lake area.
You reach the trailhead by getting onto Highway 22. Depending on the direction you come you'll either turn left or right in the town of Marion Forks onto Marion Creek Road. After 5.5 miles on this you'll hit the trailhead. There will be space for parking, but we suggest you do this hike on a mellow weekday to avoid crowds.
The Hike Itself
You'll head out on Marion Lake Trail #3436 and hike up a slight incline, passing through Western Hemlock, Douglas-Fir, and Western Red Cedar. The growth of this forest initially will be young, but as you continue on the trail the trees become old and epic.
In just over a mile you'll pass the smaller Lake Anne. After this lake you'll see a sign for an "outlet trail" that, while marked, won't look very legitimate or maintained. This is the trail that will take you to a number of waterfalls along Marion Creek, which runs off Marion Lake. This path can take some time to navigate because it's not well-maintained. Take the path to right until you find a more distinct trail, then head on that for 4-5 minutes.
You'll be close to the falls at this point — listen for them. After continuing a bit more, following the creek the whole way, you'll come across Gatch Falls. Stop here to admire the waterfall and then continue to head further down. Marion Falls is the next one, and at certain vantages you can see both falls at once. You have the option to continue down the creek for more falls, but note that it's not the easiest hiking. Lots of scrambling will be needed to make it down further, as opposed to a clear-cut trail.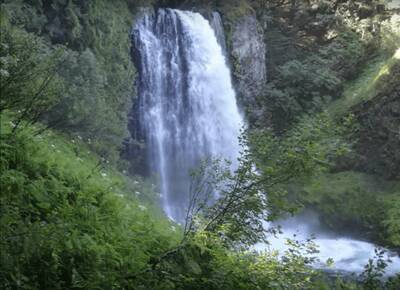 Once you've had your fill of the falls head back up the trail you came in on. This little trek will add about a mile to your overall trip, which is good because this hike is short.
After coming back to the Marion Lake Trail turn right. It won't be long, under a mile, until you hit a fork in the road. You'll have the option of continuing on Marion Lake Trail or branching over to the Marion Lake Outlet Trail. For now stay on Marion Lake Trail, and in a short while you'll begin to see Lake Marion through the trees, a 300 acre stretch of blue.
You'll hit another junction. This time head onto the Blue Lake Trail. This will walk right along the northern edge of Lake Marion, giving you ample views and time to enjoy. Eat your lunch and take a dip in the water. If you're backpacking out here, you can scout for campsites along this trail, but you'll have better luck continuing up the Marion Lake Trail for longer and camping farther away from the main traffic.
The Blue Lake Trail loops around to the Marion Lake Outlet Trail — head right once you hit this, travel until you see the Marion Lake Trail again, then start your descent back to the car.
Resources
This is a perfect, mellow hike for families or individuals that want great scenery without too much strain. For those that do want strain, check out the 11 mile hike that goes up Marion Mountain.
There's not too much you have to worry about on this hike in terms of animals or exposure. As usual bring water, food, and a light, but you'll never be too far from the trailhead and, if you have a filter, water is available everywhere. A $5 vehicle fee is taken at the trailhead, but you don't need a permit unless you're camping. Dogs and horses are also allowed on this trail, so those with a furry friend will enjoy it. You can fish in Marion Lake, and you'll see individuals with small blow-up boats out in the lake collecting dinner.
Here are a number of helpful resources for going on this hike:
Good luck, and stay safe!
Images in order: Marion Lake Colors by Sheila Sund via Flickr; Still from Marion Falls in Oregon YouTube Video