Backpackers.com — To the north of San Francisco, just over the Golden Grate Bridge, lies the Point Reyes National Seashore. It's a diverse and breathtaking landscape that has been in protected existence since 1962. The seashore covers an area of more than 70,000 acres, and lies on a piece of land mostly separated from the continental Pacific coast. Technically, it's on a separate tectonic plate than the coastline it borders, which makes for unique soil and wildlife.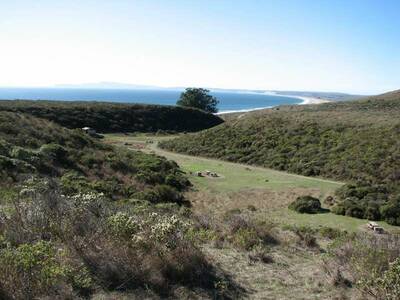 With over 2.5 million annual visitors, Point Reyes is not exactly unknown. But if you head there in Spring during the week, you'll be sure to have a plethora of lonely trails at your disposal. One of the best parts of hiking or backpacking in this area is the diversity of landscapes. Oak, fir, and pine forests, coastal plains, and the Pacific are all within a day's trek, and the weather is excellent most times of year.
We've chosen a specific hike for you to enjoy, which can also serve as a backpacking route.
Point Reyes Forest to Sea Hike
One thing to know about Point Reyes is that much of its hiking can be found in the lower half of the Seashore. The upper half contains many historical sites, well-paved roads, and excellent beaches for exploration, in addition to the Tule Elk Preserve, which is worth a visit in its own right.
For hikers you will likely begin your day at the Bear Valley Visitor Center, a well-maintained and heavily trafficked facility that provides maps, camping permits, and is at your disposal for information.
The forest to sea hike we're recommending is a lengthy loop — 12 miles in a single day. Unless, of course, you decide to backpack for a night, which this hike is also perfect for. The hiking is not particularly hard, and during this time of year the weather will be just peachy.
Leaving from the Bear Valley Visitor Center, follow the Bear Valley trail, which starts just beyond the large parking lot, until you hit the Mt. Wittenberg trailhead in under a mile.
Head right up the mountain, which has a peak height of 1407 feet. You gain most of that in just under two miles, and this will be your first of two climbs for the day. The stunning nature of the tall conifer forest should distract you for most of this uphill, but your heart rate will certainly be up by the time you reach Sky Trail and the top of the mountain.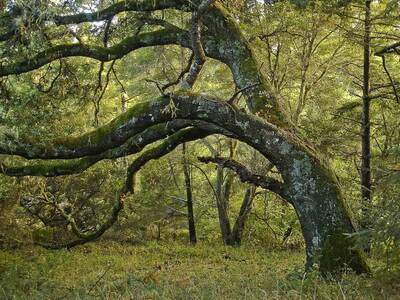 Upon reaching this trailhead you can fork right to see Sky Camp, a backpacking site. We'll note here that if you want to wilderness camp in Point Reyes, you'll need some time to get a reservation. It often fills up quickly, and you will absolutely need one to stay outdoors overnight. This backpacking is great for beginners as the sites are predetermined and clustered with local running water and bear boxes — a nice in-between stage for campers who want to step it up a bit.
Assuming you aren't sleeping at Sky Camp, fork left on Sky Trail for just under a mile until you hit the Woodward Valley trailhead. You will get epic views of the forest, plains, and the Pacific ocean. The Woodward Valley trail begins your two mile descent to the coast. This trail opens up as it goes along, and soon you'll hit the sandy shores of Northern California. The water will be icy, but on a good day there will be ample reason to set up lunch on the beach.
As we've said, this is a perfect hike for backpackers. At the base of the Woodward Valley trail lies the Coast Trail and another wilderness campground — Coast Camp. Take a right on the Coast Trail to reach these. You can refill on water and snack here if you're passing through, or call it a day after 6 miles and set up your tent (assuming you have a reservation).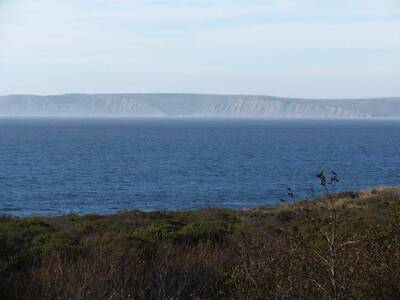 If you're set on hiking out, complete the loop by heading up the Fire Lane trail. This trail will appear just after Coast Camp, and lead back up the slope of Mt. Wittenberg. After 2.3 miles on the Fire Lane merge back onto Sky Trail, then take the Horse Trail back to the Bear Valley Visitor Center.
While fire lanes and horse trails aren't typically the best for hikers, in Point Reyes they are actually wonderful trails that add diversity and a unique perspective. They are also less traveled than the other trails, which makes for a potential solo journey through these epic lands.
Resources
This is a Spring Hike in a well-maintained Seashore in Northern California. As such, there are a lot less warnings we have to dish out here. Yes, there is danger. There are occasionally wildcats in this area, and dehydration can be an issue for those unaccustomed to heat. Make sure to check the forecast, too, because this area of the San Francisco Bay Area can get real foggy, wet, and windy, which will make for a dreary day if you're not prepared. Other than that, this trail is perfect for families or individuals that want a moderate excursion in a beautiful part of the world.
Here are some helpful resources for this hike:
National Park Service: The official source of information for the Point Reyes Seashore, complete with park updates, links to activities, and anything you might need.
NPMaps: An easy to use collection of official maps. Check out the full Point Reyes map and the south Point Reyes trail map for orientation.
EveryTrail: Good basic resource with integrated maps and trail routes. Includes the first half of the loop. See the maps above to make sure you understand the loop route we've listed here.
Enjoy the hike!
Images in order: View of Coast Camp from Coast Trail by Dave Berry via Flickr; Oak on Mt. Wittenberg Trail by Miguel Vieira via Flickr; View from Coast Camp by Chuck B. via Flickr