Backpackers.com — As spring comes to a sweltering close we wanted to highlight one of the better places, hikes, and vibes in California. Joshua Tree National Park is known for mesmerizing desert landscapes, world-class rock climbing, and the iconic spiked tree that grows in plenty on the land.
Spring really is the end of the visiting season at Joshua Tree as temperatures start to rise into the 90s and above. Summer is not a friendly place at this stunning park, so the end of May and beginning of June tends to be the final time to visit before fall comes around.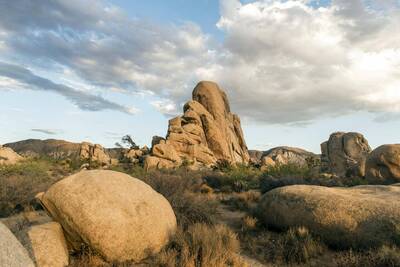 Even with all that potential heat, Joshua Tree is getting more and more crowded each year. We decided to highlight a trail that is more off the grid than some of the others so that even if you're camping with a bunch of other people, you can get a day hike that's mostly secluded.
The North View, Maze Loop, and Window Rock Trails
The different trailheads listed above combine to form one 7 mile loop through a section of Joshua Tree. Just a few years ago these trails were not very well marked and therefore difficult to navigate and find. The Park has added signage since then, but still it is not the most obvious trail in the world.
A big portion of that is due to the natural environment. This is a desert that's full of sand and rocks. Those are the worst two elements to have when it comes leaving well-marked trails, as cairns tend to blow over and blazes can't really be rooted into anything. Joshua Tree likes to keep the trail somewhat obscure as well, so there aren't posts every 100 feet telling you which way to turn.
What we're saying is be aware, have a map, and let the rangers know you're going for a hike in the Maze. It's called that for a reason.
You'll gain and lose about 400 feet in elevation over the 7 miles and reach peaks that provide incredible views of the entire National Park and Mt. San Gorgonio in the distance, if it's a clear day. The classic rock formations, wild expanse of land, and Joshua Trees will all be present.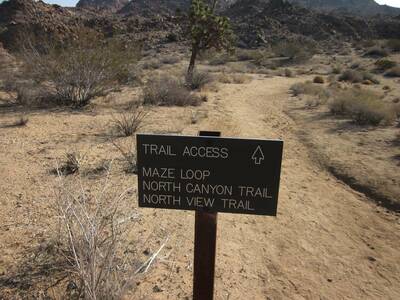 Getting There
If you're driving into Joshua Tree National Park you'll want to head to the northwestern entrance, specifically the entrance at the north Visitor Center. You'll want to get onto Park Blvd and continue into the National Park. You'll cross through the West Entrance and see the Mile Marker 24 about 1.7 miles after entering. You will see a small dirt parking lot on the side of the road with a couple signs — this is the trailhead.
If you're already in the Park — say, at Hidden Valley Campground or Jumbo Rocks Campground — you'll want to drive as if you're heading out of the West Entrance and stop here before exiting. Only a few campgrounds are on this road — the main ones, Indian Cove Campground and Black Rock Campground, are accessed via separate roads.
Once you've reached the trailhead you'll see signs for Maze Loop Trail. There are two main trails that branch out of this little area: Maze Loop and North View or North Canyon, depending on the direction you're heading. This loop follows Maze Loop and eventually hits North View Trail, but if you wanted you could start on North View and eventually come around to Maze Loop. Either way, the hike is around 7 miles, will take 4-5 hours, and provides a solid workout.
Maze Loop in Joshua Tree National Park
In recent years this trail has been a little more built up, so it will be clear when you're on Maze Loop. You take this and are immediately set in the Joshua Tree landscape with low-lying shrub and strange rock formations. Take the Maze Loop trail just under 2 miles until it hits the Window Loop Trail. Follow Window Loop, which will begin to gain in elevation.
The rocky outcroppings in the Window Loop section of this hike are incredible, and are named for a specific square-cut window formation. Make sure to spot this, and if you have your bearings and aren't breathing too hard, try scrambling up some of these formations.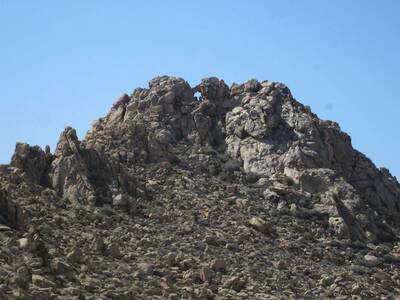 The Window Loop will curve back around and eventually reconnect with the Maze Loop. Don't follow the Maze Loop back (it would take you mostly west, a little south). You will want to continue straight at this juncture, and at the next Maze Loop trail split, too. The Maze Loop trail is essentially a big box, and you're adding two separate trails around this box.
Eventually you will hit the North View Trail and a junction at Big Pine Trail. Big Pine leads towards Indian Cove Campground — don't head that way. Continue on North View Trail for the rest of your hike. You will gain the most elevation during this leg, getting access to Copper Mountain View and West Hills View, each of which give you a different panoramic of the surrounding land.
This part of the hike is a little strenuous, so make sure to eat and hydrate as you start the climb.
The North View Trail will cut south after climbing and head back to the original trailhead.
Resources and Safety
As we've said, in recent years the Park has increased signage for all of these trails. There shouldn't be an issue when actually coming to a new trail — this will be marked. However, there are large stretches that are sandy or on flat rock, so no real trail can be carved out like there would be in a forest.
It is important to bring a map, compass, and have a general understanding of the land before embarking on your trip. Make sure to follow cairns where you can (stacked rocks or other objects), though make sure you are able to deduce a man-made cairn from a natural rock formation. Water is essential in Joshua Tree, and you should not leave without a day's supply.
While this trek really goes around the Maze, if you plan to scramble or venture into the rockier sections, make sure you know how to get back. Going with a partner is strongly recommended.
There are a number of excellent resources on this hike, though some are outdated. Likewise, the National Park Page does not list this as an official hike, so ask the rangers about it when you arrive.
While we billed this as a Spring Hike, you can do the Maze Loop in Joshua Tree National Park in fall and winter as well. Summer is not much of an option, unless you like extreme heat.
Images in order: Joshua Tree National Park by Christopher Michel via Flickr; Trail Access and Window Loop screenshots courtesy Smoky Scout's Hiking Adventures, All Rights Reserved