Sterling Rope Company Launches Category Changing XEROS Technology: A Revolution in Dry Rope
Sterling Rope Company is proud to announce the release of XEROS technology to most of their climbing ropes. XEROS is a new way to manufacture a UIAA Certified dry rope that is more effective, wear-resistant, better for the environment, and at a lower cost. This also significantly reduces the number of SKUS and helps make the rope buying process easier on consumers and dealers. XEROS is exclusively available from Sterling Rope.
So, why are XEROS ropes so amazing?
Wet rope is weaker rope. The numbers don't lie: Rope loses 20% to 40% of its strength when wet. And that can happen if you're caught in a downpour, climbing an icy pitch, or even just dealing with prolonged exposure to high humidity.
The solution? Dry rope.
But it's not a perfect solution. Traditional dry ropes are made "dry" with an exterior coating that keeps water out. That coating can wear (leaving the rope vulnerable to water), the finish can feel tacky (so it picks up dirt), and the process to coat the rope is labor-intensive—increasing cost and waste.
Sterling wanted to do better and went back to the drawing board for what a dry rope could be. In the process, they uncovered a whole new way to make dry rope.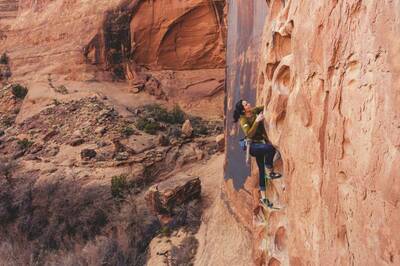 This is XEROS technology
Through an exclusive partnership, Sterling spent the past three years working closely with their bluesign®-certified nylon yarn supplier to develop an entirely new way to create dry rope.
What Sterling created is not a coating applied to the rope, or a separate liquid bath treatment. It's a new step in the manufacturing process of individual nylon fibers, before they're even twisted into yarn, that makes each fiber water resistant. When making dry rope using these fibers, the result is a product that blows traditional dry rope out of the water.
"Overall, I am blown away by the performance of the XEROS dry treatment. There is simply not enough to be said about its quality. The DryXP NanoIX we've all used for a long time is already my preferred rope and I'm psyched to see it evolve to the next level with XEROS technology."—Benny Lieber, Sterling Athlete and field tester
And that's not the only thing that makes XEROS technology a breakthrough. Along with being PFOA-free, like all Sterling ropes, the XEROS technology process:
Reduces waste
Reduces energy use
Reduces labor
In other words, this new process is better for the environment. And best of all, climbing rope with XEROS technology costs significantly less than rope made with traditional dry treatments. That's right—there's no premium to pay for a rope that's truly ready for anything.
Stay strong in the wet XEROS technology creates a dry rope with next-level performance—and without a sticky, vulnerable-to-wear outer coating. Because of the process, both the core and sheath are protected with XEROS, which reduces performance issues related to sheath slippage. All for a minimal price increase over traditional non-dry rope.
Sterling XEROS Ropes are available in:
Duetto 8.4 mm
Aero 9.2 mm
Ion R 9.4 mm
Quest 9.6 mm
Velocity 9.8 mm
 T-10 10.0 mm
Sterling Xeros Ropes are available at REI, MEC, and at SterlingRope.com.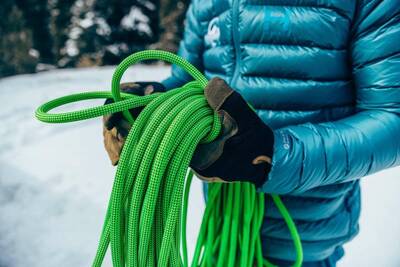 About Sterling Rope
Sterling Rope Company, Inc. is a leading manufacturer of life-safety rope, cord, and hardware. Made in the USA, Sterling has worked hard to develop the best product for use in climbing, rope rescue, arbor, fire, industrial safety, work access and OEM markets. Sterling strives to be the front runner in innovation and work closely with companies, both large and small, to develop superior products for their needs. Sterling Rope Company is owned by Vertical Supply Group. For more information, www.sterlingrope.com and www.verticalsupplygroup.com.
---
Images and content provided by Sterling Rope Company.
Backpackers.com Affiliate Policy: This article may contain affiliate links, which help fund our website. When you click on the links to purchase the gear we get a commission, and this goes a long way to creating guides, gear reviews, and other excellent content.