How many of us have finished an epic trek, or even a short hike, and found our feet aching? There's always some muscle tenderness after a workout, but if your feet are always sore, or if they hurt way more than your journey warranted, insoles may be in order.
Superfeet is the main insole maker for the outdoor community. The company has many individual models built for hiking, running, and post-hike relief, but it also tackles common foot issues like achilles tendonitis, high arches, shin splints, and the dreaded plantar fasciitis. If you've ever dealt with one of these — at the office or miles deep in the backcountry — you know how painful they can be.
The insoles by Superfeet are engineered by scientists to tackle these issues, provide general relief to overtired feet, and make your footwear feel like they were made just for you, from hiking boots to trial runners to casual shoes. And beyond an outstanding product, Superfeet is 100% employee owned and gives back 1% annually to causes that build strong foundations. Help your feet, and help the world.
All of Superfeet's insoles are 25% off for their holiday sale — November 12th through December 2nd — and the discount is automatically applied. We've highlighted our favorite five insoles for outdoor pursuits below.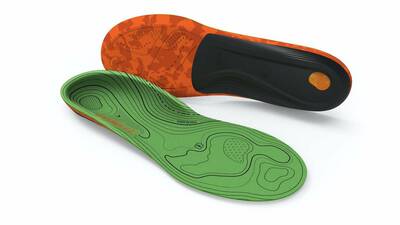 While most of Superfeet's insoles work exceptionally well for the outdoors, the Trailblazer Comfort was literally built for them. This insole was designed to sit in your hiking boot and offer superb on-trail comfort. Superfeet analyzed the insides of dozens of popular hiking boot models to narrow in on how to best shape these insoles.
There's an evolite carbon fiber cap on the bottom of the insole, which fits the heel area of your boot to provide maximum support and comfort when you walk. There's even a gel pod at the main strike point on your heel to help disperse impact, which you'll do over and over on the trail.
There's a deep heel cup to keep your foot from rubbing and the front of the insole is designed to keep your toes from slamming into the front of your boot. It has moisture-wicking tech on top to control odor and a playful topographic design so you know which insole to grab before your hike.
The Trailblazer Comfort insoles have male- and female-specific versions for a precise fit inside boots.
Get 25% off Men's Superfeet Trailblazer Comfort
Get 25% off Women's Superfeet Trailblazer
---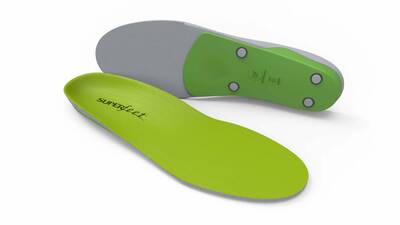 Superfeet's GREEN insole is the original, by far the most popular, and works well for most people, especially those with high arches that need firm support. As the classic they sport the insole-specifics that made Superfeet a leader in the category.
This includes the deep heel cup, which is both wider and deeper than other insoles, giving your heel the most support possible while also helping with shock absorption. Your feet won't feel "lifted" up like with a lot of other insoles.
The stabilizer cap is another classic feature. It's the bottom back half of the insole and provides a ton of structural support, increasing the durability and longevity of the insole. Superfeet guarantees shape and support of this insole for 12 months or 500 miles, whichever comes first. This pairs with a high density foam top that controls odor to keep your feet (and shoes) smelling fresh.
---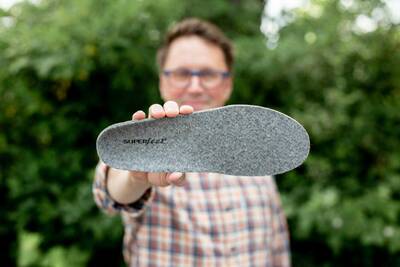 The Superfeet Merino may surprise you. Structurally, it's the same as the GREEN insole above, but the top is coated in merino wool. The same merino wool that's touted as the best in moisture wicking, odor protection, and warmth for socks, hiking shirts, and baselayers.
The merino wool that's used by Superfeet here is felted, and coats the top of the insole. This makes it naturally thermo-regulating, meaning it helps keep your feet warm in frigid climates. Pair with some merino socks and you'll be all set.
Outside of the merino wool layer, it sports all the same supportive features as the GREEN insole above, and provides exceptional support.
---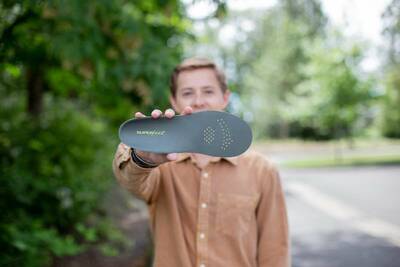 We love it when outdoor brands use carbon fiber in products because it's light, incredibly strong, and durable. Superfeet's Carbon insole is unique: it's an ultralight, ultra-thin insole meant to fit in tight-fitting athletic shoes. It even has small perforations in the front of the insole to reduce weight and increase breathability.
Compared to Superfeet's other insoles it's significantly less material, and lets your feet sit more naturally in the shoe while also providing high-end comfort. It uses a carbon fiber stabilizer cap in the rearfoot — the reason it's called "carbon" — and provides impressive support yet remains very lightweight and minimal.
Get 25% off the Superfeet Carbon
---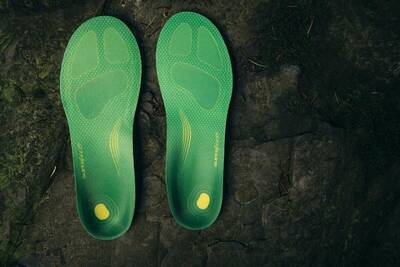 Much like the Trailblazer up above, the RUN Comfort insoles are built for one specific activity: running. There's a big difference in your body's movements when running versus walking, even if that walking is a hard hike uphill, and the RUN Comfort insoles are engineered to help each footstrike feel better, keep your feet from getting fatigued, and actually make them stronger over time.
The main way the RUN Comfort does this is through Superfeet's Heel Impact Technology (H.I.T) Pod, which is a small gel cap at the back of the heel that helps to disperse impact every time your foot strikes ground. The RUN Comfort also use two layers of Aerospring foam throughout the entire insole, which gives your whole foot (not just a part of it) support. There's even a bit of carbon fiber in the heel cap for increased durability.
Get 25% off Men's Superfeet RUN Comfort
Get 25% off Women's Superfeet RUN Comfort
---
This post is Sponsored by Superfeet.
All images courtesy Superfeet, All Rights Reserved.
Backpackers.com Affiliate Policy: This guide contains affiliate links, which help fund our website. When you click on the links to purchase the gear we get a commission, and this goes a long way to creating guides, gear reviews, and other excellent content.