The Sustainability Matters series is a year-long feature that highlights the organizations, retailers, and brands that are changing the landscape of sustainability in the outdoor industry. This article in the series is in partnership with Moosejaw.
---
You may know Moosejaw from its iconic antlered logo. Or maybe the endless wit that adorns every square corner of its website. It could be the rocking deals, or the epic midwestern stores. What you should know is that Moosejaw is doubling down on its commitment to sustainability and the environment.

As a retailer, the main way it's doing this is through carrying and highlighting sustainable brands. This can be seen clearly on the new landing page for Sustainability. It also has a history of selecting and advertising products that use innovative technologies for sustainability. Brands are doing this more often, and they're being rewarded with premium placement by retailers like Moosejaw.
Below, we'll go into the specific ways Moosejaw is changing its shopping experience to feature sustainable brands, how Moosejaw has gotten more sustainable at HQ, and what brands in specific are excelling.
The Search for Sustainability
When you head to a retailer to purchase gear, you encounter a lot of information. There are brand logos, inspiring graphics, unreal deals, and a seemingly endless number of product categories all vying for your attention.
The art of this display has been mastered by Moosejaw, who combines each element so that you find what you're looking for. Up until recently there wasn't a specific way to search, or display, sustainable-oriented products.
The company has changed that. The new Moosejaw Sustainability landing page gives consumers an easy way to see exactly who is sustainable, why it matters, and what products may spark their interest.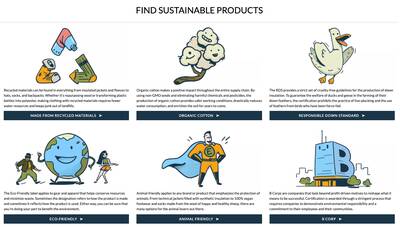 Then there's the search bar.
You can search terms like Made from Recycled Materials, Organic Cotton, B Corps, Ethical Standards, and Responsible Down. These terms continue to grow as more and more methods of sustainability are being added to product SKUs.
Moosejaw has also added "Sustainability" as a product specification to its product listing — right next to Size, Weight, and other key product metrics.
Upon searching you will see the classic display of products, but each of them contains the sustainability specification you just queried.
Impressive.
The Gangreen Team
While the consumer side of Moosejaw is highlighting sustainability, the corporate offices are working towards a greener existence as well. Dubbed the "Gangreen Team" — yes, that's a punny example of Moosejaw's exceptional copywriters — there are a few key green initiatives within the office and community.
Reduce, Reuse, Recycle
The classic "R's" are in practice at Moosejaw HQ, specifically, "implementing headquarter-wide recycling with a single-stream recycling company, working with a local organization to compost our food waste, switching office cleaning supplies to environmentally-friendly options, swapping plastic tableware for reusable ones and compostable tableware for office events, swapping our old lights with LEDs, handing out reusable water bottles to new hires, and switching to 100% recycled copy paper."
They also work with Terracycle for difficult to recycled items.
Detroit Hives and Garden Lives
Moosejaw has also given a $5,000 grant to donate to Detroit Hives, a local green organization that transforms vacant lots into bee farms. Their funding "will be used to support their Bee The Change program that empowers and equips inner city youth to become community change agents to help combat vacant lots, blight, and food insecurity."
This goes hand-in-hand with the local community garden they created, and a general merriment towards sustainability in the office.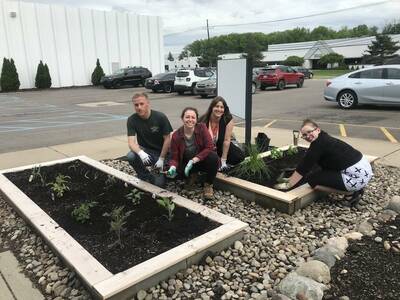 Change has to start somewhere, and at home is usually the best. Or, in this case, at work.
Sustainable Brands and Product at Moosejaw
Given the above search and efforts, we have a selection of our favorite sustainable brands (and their products) featured at Moosejaw. Each of the brands below is doing their part for sustainability, and that's part of the reason Moosejaw carries them.
The North Face is one of the largest outdoor brands on the planet. They make a huge range of products, from casual lifestyle clothing to professional mountaineering gear. They have worked to make as much of their product line as sustainability as possible, specifically through recycled polyester, responsible cotton from the Better Cotton Initiative, and their commitment to the bluesign system, which helps identify and reduce supply chain impact for apparel brands.
The biggest story for The North Face's sustainability effort is FUTURELIGHT, a waterproof membrane technology that debuted in October 2019. FUTURELIGHT is an ultra-thin nanomembrane that allows hot air to escape as you sweat, yet keeps water out. It's durable, soft, and comes in a huge range of jackets, but most importantly it is crafted with 90% recycled materials, and is The North Face's most sustainably-produced fabric to date.
---
Flight FUTURELIGHT Jacket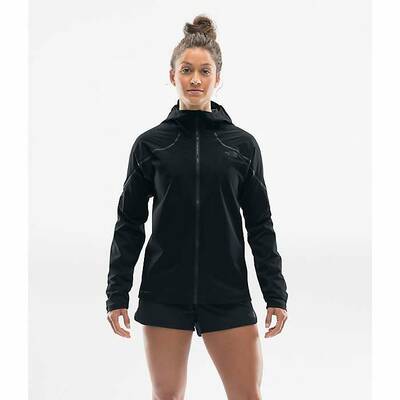 Just released, the Flight FUTURELIGHT jacket is built for runners, but it's a fully functional, super lightweight rain shell that excels at hiking and backpacking, too. At roughly 9 ounces, the Flight is still a 3-layer jacket (almost unheard of for the weight). It's made with 20-denier fabric thickness, the FUTURELIGHT membrane, and recycled nylon. The durable water repellent finish is not only C0 PFC-free, but it's woven into the elastane.
Highly sustainable, highly techy, and highly protective.
See Women's The North Face Flight FUTURELIGHT
See Men's The North Face Flight FUTURELIGHT
---
The North Face Denali 2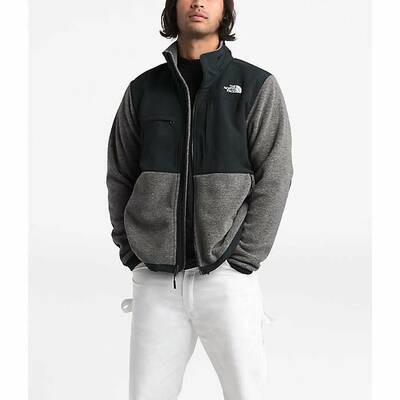 The North Face is known for a number of classic products, and the Denali fleece is one of them. During the 90's we're pretty sure a Denali fleece jacket could be seen on every school campus in the U.S. Two decades later, The North Face released the Denali 2, an improved version of the original, specifically on the sustainable front.
The North Face Denali 2 is an overwhelmingly warm and rugged fleece jacket, and it's made with 100% recycled polyester fleece. The body contains a nylon overly for wind protection, which is made with a non-fluorinated durable water repellent. It also has a lifetime warranty, which greatly reduces the chance of it ending up in a land fill.
See Women's The North Face Denali 2
See Men's The North Face Denali 2
---
prAna is one of the better-known outdoor lifestyle brands, and sustainability has always been at the heart of their product and culture. It was the first North American apparel brand to produce Fair Trade Certified clothing, it uses organic cotton, recycled wool, and down that has been sourced responsibly in most of its clothing, which often meets bluesign standards.
They've also cut nearly 72,000 metric tons of greenhouse gas emissions through a "greening" of electrical use in their production and facilities.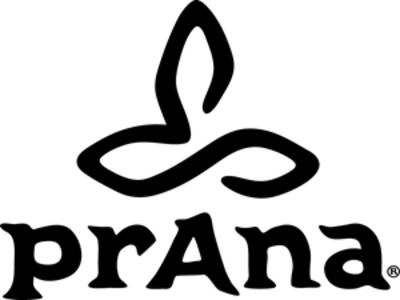 prAna has a huge range of active, casual, and yoga-specific wear for men and women. These are two of our favorite sustainable products.
---
prAna Showdown Jacket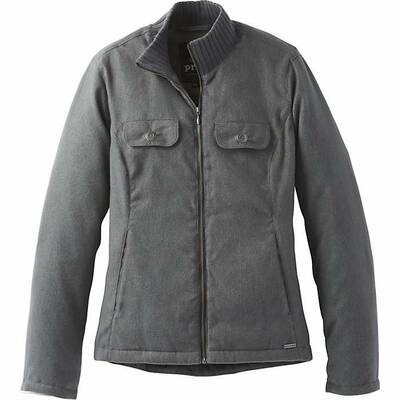 The Showdown Jacket is a unique piece from prAna that combines flannel aesthetics with down insulation. It's essentially a shirt jacket, which means you can throw it on as an outer layer, or have a super warm, good-looking shirt.
Perfect for Urban Hikers, Car Campers, and travelers, it has an interior zip pocket for securing items, stretch panels for freedom of movement, and is insulated with 650-fill RDS down. It's bluesign approved, made with recycled polyester, and uses a PFC-free DWR finish.
The women's version zips up (and is sometimes called a Bomber Jacket), while the men's has buttons.
See Women's prAna Showdown Jacket
See Men's prAna Showdown Jacket
---
prAna Mojo Short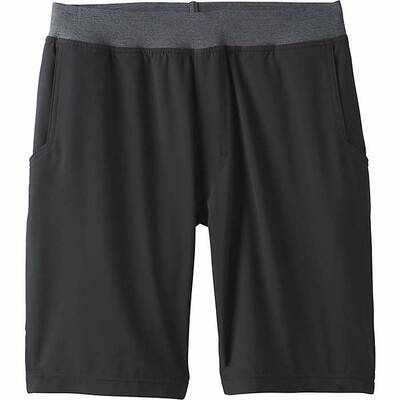 The prAna Mojo collection is all about durable, stretchy shorts for men. The Mojo Short is the original version, and takes the cake when it comes to bouldering, yoga, and even hiking. They  have a plush elastic waistband, which seriously ups the comfort, and are quick drying enough to sweat or get wet.
The Mojo Shorts are made from 100% recycled polyester and use a recycled polyester microfiber fabric.
See Men's prAna Mojo Short
---
Norrona is a Norweigian outdoor company that focuses on premium technical apparel built for mountaineering and alpine conditions. It's mission is to "to search for the best in technical advancements and to create the ultimate performance products."
Part of its mission is to focus on sustainable products to continue getting out in nature. This includes a plan to use recycled polyester in 100% of its product line by 2020, and recycled nylon in 75% of its product line by 2020. Norrona is a member or certified  by a number of agencies in apparel sustainability, including the OEKO-TEX, bluesign, Textile Exchange, Responsible Down Standard, and Responsible Wool Standard, and it donates 1% of its yearly sales to non-profits for sustainability.
---
Norrona Roldal Insulated Hooded Jacket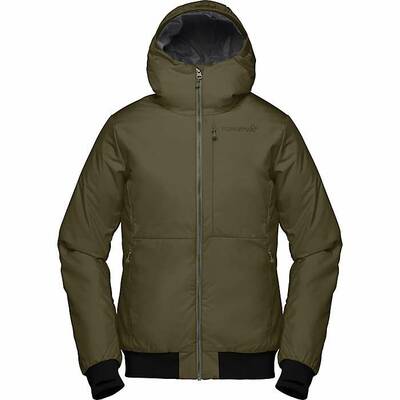 Norrona knows a thing or two about cold-weather clothing, and the Roldal is one of their more versatile synthetically insulated layers. It's a hooded jacket that can do double duty for a ski session or commuting in a cold city, like Oslo (Norrona's HQ). With a full hood, wool-based cuffs that warm your hands, and three zippered pockets, the jacket is built to keep you warm and moving.
It uses Primaloft Silver ECO for insulation, an environmentally oriented synthetic fiber, and is made from 100% recycled polyester. It uses PFC-Free DWR and uses bluesign certified fabric.
See Women's Norrona Roldal Insulated Jacket
See Men's Norrona Roldal Insulated Jacket
---
Norrona Wool Hoodie Baselayer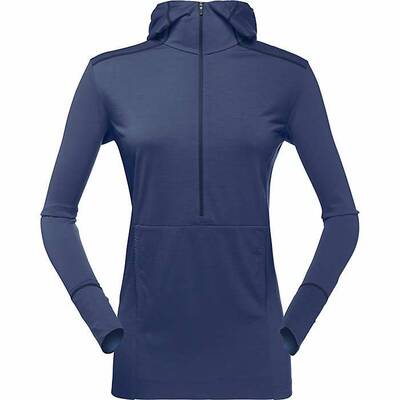 We love a good baselayer, and Norrona knows how to make one that's warm, comfortable, and built to last. These baseleyers have hoods for maximum warmth, and are made from wool that's been harvested to the Responsible Wool Standard. By definition this makes them sustainable, as it's a natural product. We hope to see an increased trend in natural-based fibers for clothing, and this is a good example of a product leading the way.
See Women's Norrona Wool Hoodie Baselayer
See Men's Norrona Wool Hoodie Baselayer
---
United by Blue makes gear and apparel for the outdoor lifestyle market, and has sustainability at its core. It was founded on the promise that, for every product purchased, they would remove one pound of trash. It has since removed over 2 million pounds. The company leads research and usage of sustainable materials, including hemp, corozo, micro modal, and Tencel, alongside the more standard ones like organic cotton and recycled polyester. It has also committed to remove single-use plastics from its supply chain by Spring 2020.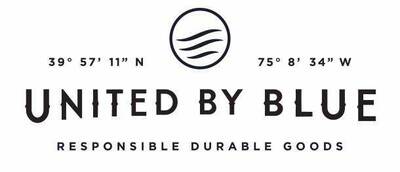 United by Blue is also a B Corporation, which means its are committed to both profit and the good of the planet.
---
United by Blue Base Backpack 30L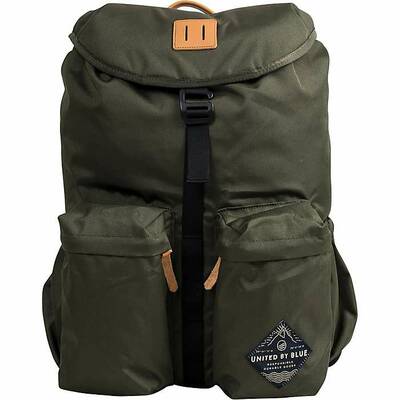 The United by Blue Base Backpack is functional, unique, durable, and made from 100% recycled polyester, which is very rare for a backpack. WIth a 15-inch padded laptop sleeve, a DWR exterior finish, felt-lined pockets, and a hip look, this pack will get you through most commutes, airplane rides, and even hikes.
The Base Backpack is a part of the (R)evolution series from United by Blue, which uses plastic water bottles to make products like this.
See United by Blue Base Backpack 30
---
United by Blue Arc Duffle 55L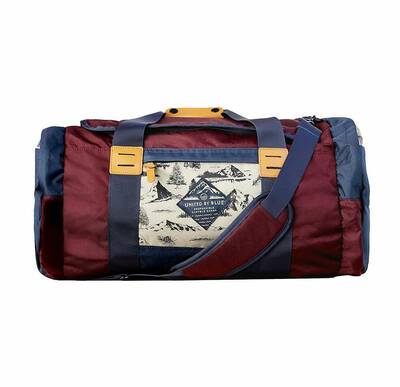 The Arc Duffel is very similar to the Base Backpack, but it can hold 50 liters, comes with hip, interesting designs sewn on, and can haul way more of your stuff. It can be carried on a plane, works well for car camping trips, and has a few pockets for easy access and storage of essentials.
It's also made with 100% recycled polyester, and is part of the (R)evolution series.
See United by Blue Arc Duffle 55
---
Cotopaxi's slogan is "Gear for Good," and it does good through a combination of memberships, like its B Corporation status and the Cotopaxi Foundation, which was set up to allocate 1% of its annual revenues to grantees. The company also operates very closely with its factories, ensuring they are meeting practices like Fair Trade Certified and using scrap material to create custom products.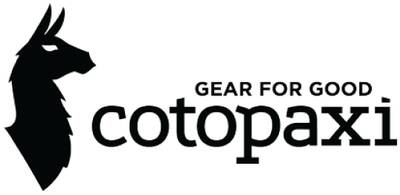 This last practice, using scrap materials, has been wildly successful in its Del Dia line, which makes one-of-a-kind runs of backpacks and jackets, with color patterns never to be repeated again. Turning a recycle-able practice into a unique product line is a very smart approach that furthers sustainability in a highly consumable fashion.
---
Cotopaxi Teca Full-Zip Windbreaker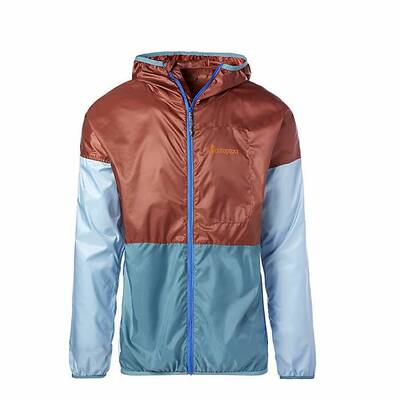 The Teca line from Cotopaxi utilizes remnant fabric, which is very unique in the outdoor industry, let alone the garment industry. Cotopaxi asks its factory to use scraps that would otherwise be thrown out (from other products) to create the Teca Windbreaker (and other Teca products). This keeps material out of landfills, and makes each colorway a limited edition piece.
Cotopaxi also uses repurposed polyester taffeta in this jacket, which is very lightweight, easy to stow, and works for anyone.
See Cotopaxi Teca Full-Zip Windbreaker
---
Cotopaxi Luzon Del Dia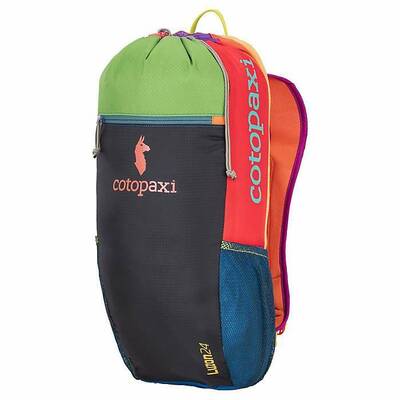 The Luzon backpack from Cotopaxi is a simple 24-liter stuff-style pack, with a unique fabric twist. Like the Teca above, the Luzon Del Dia uses 100% remnant fabric, meaning it keeps scraps out of landfills. The pack itself has a water bottle pocket, external zippered stash pocket, and a big chute for stuffing a day's worth of goods. Solid straps and a very colorful design make this pack stand out.
See Cotopaxi Luzon Del Dia
---
Moosejaw and Wal-Mart Carve a Path Forward
In case you're out of the outdoor industry loop, Wal-Mart acquired Moosejaw in 2018. This came as a surprise to many, but a year and a half later, it's starting to make a whole lot of sense.
What do Wal-Mart and premium outdoor gear have in common? For one, an eCommerce experience that's focused on recurring, dedicated customers. Moosejaw provides both of those for the outdoor segment.
More importantly though, if we look at sustainability, it gets very interesting. Wal-Mart was the "first retailer with an emissions-reduction plan approved by the Science Based Targets Initiatives," which was in line with the Paris Climate Agreement of December 2015 . And the most recent plan aims to cut greenhouse gas emissions "by 18 percent by 2025, and 50 percent renewable energy by the same date.
We may not think of Wal-Mart as a sustainably-conscious brand, but we should. It operates on a larger scale than most outdoor brands, and was one of the co-founders of the Sustainable Apparel Coalition, along with Patagonia and Nike.
Moosejaw has always focused on sustainable brands, and they are now featuring them in a new way. With the path forward that Wal-Mart has embarked upon, it will be powerful to see how the industry, and Moosejaw, change.
---
This article is sponsored by Moosejaw. All images courtesy Moosejaw. 
Backpackers.com Affiliate Policy: This guide contains affiliate links, which help fund our website. When you click on the links to purchase the gear we get a commission, and this goes a long way to creating guides, gear reviews, and other excellent content.