The Sustainability Matters series is a year-long feature that highlights the organizations, retailers, and brands that are changing the landscape of sustainability in the outdoor industry. This article in the series is in partnership with REI.
---
In the outdoor industry, the fight against climate change and towards increased sustainability is ramping up across all sectors. Outdoor organizations have taken a myriad of stands to stem climate change, most notably in defense of keeping public lands public, and in cleaning up how outdoor gear is produced.
REI, an 81-year-old institution with a history of defining the industry and its consumers, is the main retailer leading this fight. As REI stated in The Path Ahead outlook report in 2016,  "There are now at least 17 companies globally making $1 billion or more a year from sustainability-minded products and services. REI is one."
From cleaning up its own product manufacturing process and supply chains to requiring all brands it carries to do the same, it has set a national standard that outdoor brands are, en masse, beginning to follow.
REI Sustainability Standards
The official announcement came in 2018 when REI published its Sustainability Standards — a combination of thought leadership and strict, actionable requirements. These Standards are either currently met or will be met by REI in 2020, and it will require all brands the retailer carries to meet them as well.
It's one thing to change your own company, but if you have the power to change a huge number of other company policies, and do so clearly and with support, you have instigated very real change.
The impact and process of these changes will be measured by the Higg Index, "a suite of tools that enables brands, retailers, and facilities of all sizes…to accurately measure and score a company or product's sustainability performance." The full tool is debuting 2020, and was developed by the Sustainable Apparel Coalition, which has a number of outdoor brands as members, including REI.
REI's Environmental Changes
The full list of in-house environmental changes is large (and you can read it all in their report), but we wanted to highlight the actions that will most seriously influence consumers, right now.
Sustainable Filter
The main shopping change is the addition of a "Sustainable" filter, and a specific category for Sustainable Clothing. The filter sits alongside other defining categories that shoppers love, like Best Use, Color, Featured Technologies, and Size/Size Type. Adding this as a filter eases the shopping experience, which will increase overall sales of sustainable products.
REI elaborates in their blog post, "We're also making it simpler to buy sustainably sourced gear. You can now go on REI.com, type in one of the preferred attributes like 'Fair Trade,' and see an entire collection of product that was made to that standard."
Currently it's only available for clothing, but we imagine REI will introduce it to other product categories (like tents) soon.
In the same year that REI debuted its Sustainability Standards, it also opened the Used Gear shop. Notably different from its normal shop, its outlet shop, and its Garage Sales, Used Gear is a continuously updated online marketplace for (you guessed it) used outdoor gear.
REI selects what to include by manually sorting through all of its returned gear — the company has a 1-year no-questions-asked return policy — and posting it on the website. You can select from five different condition levels, and price discounts can be up to 70% in some cases.
Obviously this helps REI go through the large inventory of product they get back, but it also greatly reduces the amount of gear that goes to landfills, and gives people an opportunity to score expensive gear on the cheap. This gets more people outside, which in turn evokes the desire in those people to protect the outdoors, which continues to churn this fight forward.
Sustainability Certifications
The biggest concrete change for brands that want to continue doing business with REI — let's not kid ourselves, that's basically every outdoor brand — is the list of Sustainability practices and certifications they must abide by.
As the Sierra Club reported, "The new sustainability standards are almost encyclopedic in their range." We won't list all the specifics — you can read through them in the full brief — but what we find most promising is the list of certifications and standards they want brands to utilize in their gear. Below is the full list of Preferred Sustainability Attributes, which go beyond the Expectations.
Fair Trade Certification through Fair Trade USA or Fairtrade International Certification for labor
bluesign certification for chemicals management
Leather Working Group Certification for chemicals management
Forest Stewardship Council Certification for land stewardship
Organically Grown Cotton for land stewardship
Responsible Down Standard and Global Traceable Down Standard for animal welfare
Responsible Wool Standard for animal welfare
Recycled Materials and Packaging for environmental management
This is a huge list, and one that elevates every product sold at REI to a standard we have not yet seen in the outdoor industry.
#OptOut Shifts to To Action
You are likely familiar with the #OptOutside movement, which REI began in 2015. The company now closes its stores every Black Friday, pays all of its employees on that day, and encourages everyone to get into nature.
The movement has grown every year, but this year, REI is shifting the messaging. Opt Outside has become Opt To Act — as in, don't just get outside, but commit to cleaning up the outdoors, too.
REI has created a weekly action plan from December 2019 to December 2020, with ideas sourced from its workers and community, to help encourage sustainable practices.
5 Sustainable Brands Carried by REI
Given that every brand carried by REI must meet its Sustainability Standards by 2020, know that whenever you shop REI you'll be doing something positive for the environment, at least from a consumer perspective.
That said, we wanted to highlight five brands that are going above and beyond for the sustainability movement.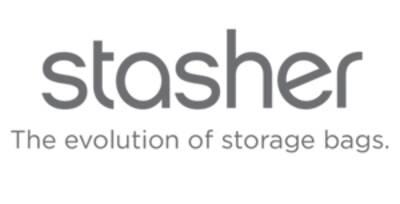 Stasher is a relatively new addition to REI, but makes products we love and use every day. The company is focused on food storage through reusable bags made with pure platinum silicone, which is disrupting the single-use plastic food storage industry significantly. The company is built on a sustainable product, they are a 1% for the Planet Member, and are B Corporation certified.

You probably know Light My Fire for their clever sporks, which are a perfect backpacking companion. The Swedish company has recently upped its sustainability game by using BIO-based plastic in all of its classic products (sporks, travel mugs, mess kits and more). This new kind of plastic is "derived from renewable crops including corn, sugar cane, and tree cellulose" — foregoing the traditional petroleum route.
These products are exclusive at REI, for now.

You know Patagonia. In the conversation around sustainability, they are as large a force as REI. Much of Patagonia's range of clothing is sustainably made, and the company has helped to create many of the standards that REI is including in its Sustainable Standards, like blusign and the use of organic cotton in t-shirts.
They're on this list because of their unwavering commitment to the environment, illustrated by their updated mission statement: "We're in business to save our home planet." The sheer number of environmental causes Patagonia has spearheaded is too long to list here: just know they are consistently the most actively engaged outdoor brand in the fight.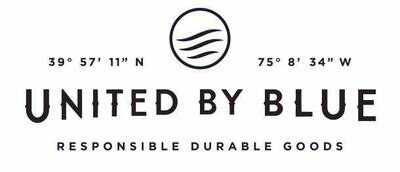 United by Blue is an outdoor lifestyle apparel and gear company that was founded with sustainable principles at its heart. This is illustrated simply in it's "every product purchased, one pound of trash removed" promise, by which it has removed over 2 million pounds of trash (at the time of publication).The company has committed to rid its supply of single-use plastics by Spring 2020, and it organizes cleanups across the U.S. to help reduce waste in the environment. They are leaders in unique material manufacturing, and use hemp, organic cotton, recycled polyester, corozo, micro modal, wool, and Tencel to create their products.
They have a full range of products at REI — from camping and hiking gear to casual clothing — but we're most excited about the (R)evolution series, which uses recycled plastic to create packs, duffels, and accessory holders.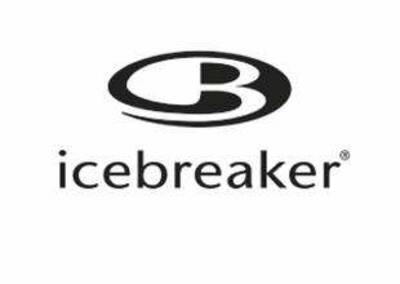 Icebreaker is another well-known brand in the outdoor industry. As a leader in wool-based apparel (baselayers!) they have always been on the forefront of sustainable, naturally-sourced product. But they've notched that up in recent years, and 2020 is bringing a wave of change.
The general idea is that clothing made with plastic ends up releasing microfibers into the ocean, which negatively affects entire ecosystems. Icebreaker will stop using acrylic (a plastic) in its clothing by Spring 2020, and will be introducing a bio-bag for products (instead of any plastic packaging) by the end of 2019. Icebreaker has also created and led a number of panels on sustainability in the clothing industry, and created the Vortex Swim, a film and event that highlights a 338-mile swim by Ben Lecomte, from Hawaii to San Francisco, through the highest concentration of microplastics in the ocean.
Raising awareness and moving towards a 100% natural product line puts Icebreaker on this list.
Our Favorite Sustainable REI Co-Op Products
With the above brands in mind, remember that REI makes a huge range of products, many of which we have reviewed and awarded. Below we list our favorite sustainable REI Co-Op products.
1. REI Co-Op 650 Down Jacket 2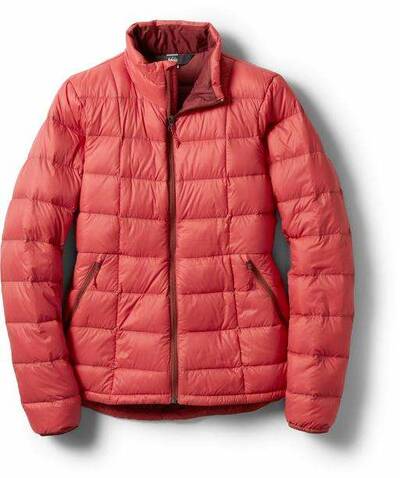 REI makes a mean down jacket, and this is a surprisingly affordable piece that nails it on the sustainability front. The 11-ounce jacket is made with a recycled nylon shell, uses 650-fill down that's certified by the RDS, and contains bluesign materials.
If you need an all-purpose down jacket, this is your first stop.
See Women's REI 650 Down Jacket 2
See Men's REI 650 Down Jacket 2
---
2. REI Co-op Magma 15 Sleeping Bag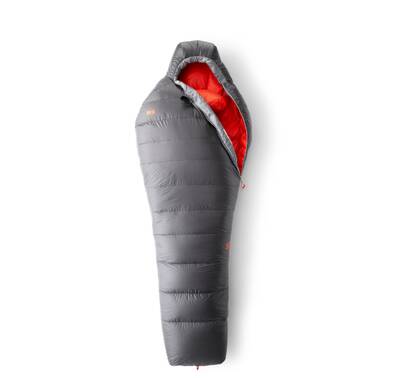 High-end sleeping bags are not for everyone, but if you're an ultralight junkie who needs a mind-blowing warmth-to-weight ratio for the cost, the Magma 15 sleeping bag is unreal. It uses bluesign approved Pertex ripstop nylon for the shell and 850-fill down that's been certified by the RDS.
We awarded this product, and still find it to be one of the best bags on the market.
See Women's REI Magma 15
See Men's REI Magma 15
---
3. REI Co-Op Groundbreaker Insulated Vest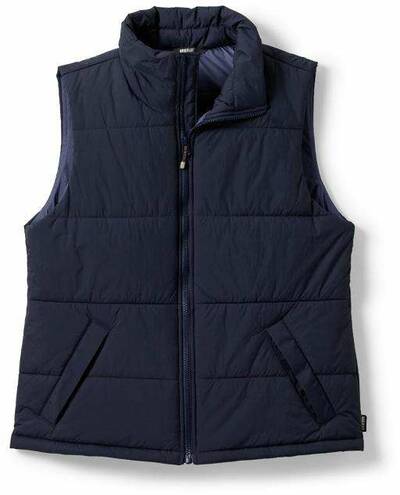 The new Groundbreaker line from REI is all about economy of cost over function. We love the Insulated Vest, because people want a basic, affordable insulated vest that can be used for life's generic activities. This is not a technical piece, so don't expect it to be!
The vest has been updated so that it's not only made with recycled polyester that has been bluesign approved, but it has a recycled lining and recycled ocean plastic zipper pull.
See Women's REI Groundbreaker Vest
See Men's REI Groundbreaker Vest
---
4. REI Co-Op Rainier Rain Jacket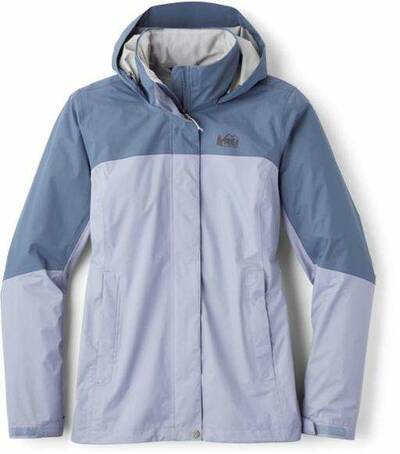 The REI Rainier rain jacket combines a great price tag with solid 2.5-layer waterproof protection. It's offered in a range of sizes (plus sizes too!), has pit zips, and weighs just over 12 ounces. It's a good mix of lifestyle and outdoor-specific, and will serve as a solid shell for most people.
The Rainier contains recycled nylon ripstop, which has been bluesign approved.
See Women's REI Rainier Jacket
See Men's REI Rainier Jacket
---
5. REI Co-Op Flexlite Air Chair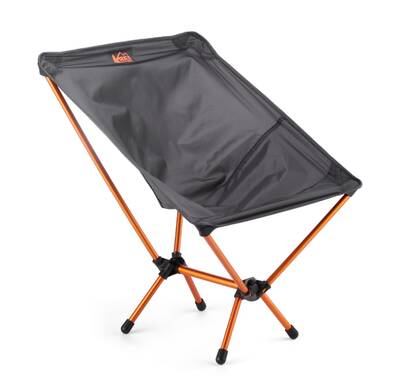 If you haven't gotten on board with the minimal, lightweight backpacking chair movement, now is the time. REI's popular Flexlite series got a major weight reduction in the Air version. It weighs one pound, and the seat material uses ripstop nylon that has been bluesign approved.
Getting this amount of comfort for the weight and cost is unrivaled.
See REI Flexlite Air Chair
---
6. REI Co-Op Flash 22 Backpack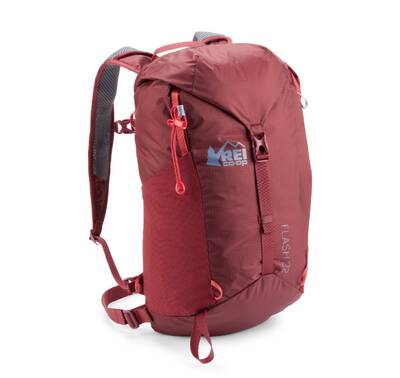 The REI Flash 22 is one of the most popular chute-style packs on the market. Just big enough to hold your day's stuff, hike-able on the trail or in the city, and stuffed with nifty features that make it quite versatile, we love and awarded the Flash 22.
The nylon in the Flash 22 has been bluesign approved, making this an environmentally friendly pack to boot!
See REI Flash 22
---
7. REI Co-Op Midweight Base Layer Half-Zip Top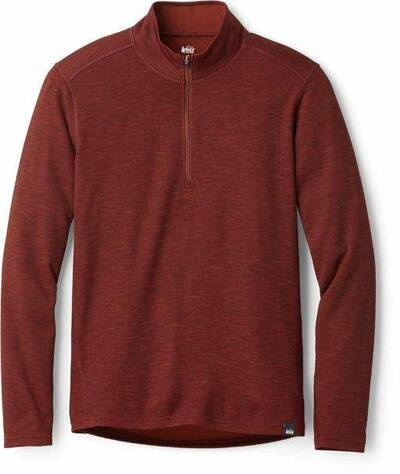 We think baselayers make the outdoor overnight experience fun, and REI has a long history of creating excellent, affordable layers. These midweight layers with a half-zip are perfect for moderately chilly evenings (with appropriate insulating garments). They have 4-way stretch for movement, the fabric wicks moisture, and they are attractive!
These Midweight Base Layers are made with polyester that has been bluesign approved.
See Women's REI Midweight Base Layer Half Zip
See Men's REI Midweight Base Layer Half Zip
---
8. REI Co-Op Traverse 65 and 70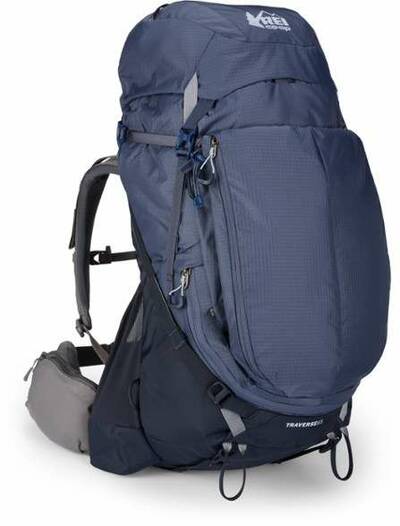 The REI Traverse line are classic backpacking packs with a unique design. They have all the bells and whistles of a premium backpacking backpack, including a rain cover, hydration port, aluminum frame, and 11 (!) exterior pockets. They use a unique ActivMotion harness for maximum comfort while walking (the backpack moves independetly of the hip belt), and the hip belt is interchangeable for sizing and is contoured in 3D.
They are made with recycled materials, specifically the recycled 200D double ripstop nylon body, and recycled 420D nylon oxford bottom fabric.
See Women's REI Traverse 65
See Men's REI Traverse 70
---
9. REI Kindercone Bag 25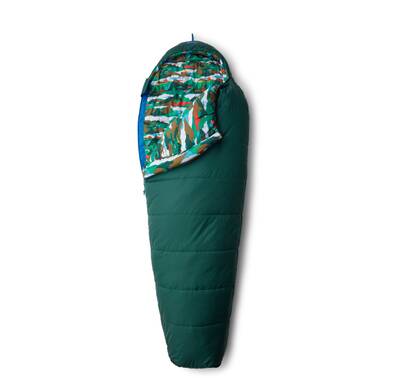 Who doesn't love a cute kid's sleeping bag? The Kindercone is colorful, cheap, and rated to 25-degrees F, which will keep your child toasty on any cold night. This is a perfect product to ensure your kid loves sleeping outdoors — cold is often the reason people don't. Start them off right!
The Kindercone bag shell is made from bluesign approved ripstop nylon.
See REI Kindercone Bag 25
---
10. REI Co-Op Trail 25 Backpack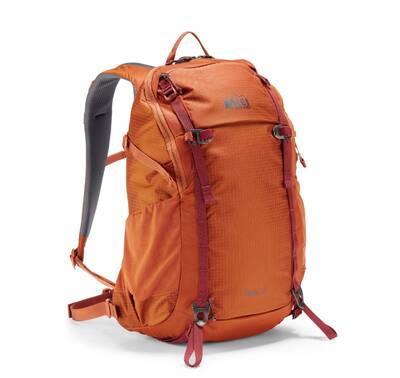 The REI Trail 25 is a robust day hiking backpack that has tons of storage, a solid carry system, and is often on sale. We have reviewed and awarded this product, and think it's an excellent choice for those who want to haul a solid load during their day hikes. It works well for travel too, as it fits overhead or under seat, can store quite a bit, and the panel-loading top pocket allows full and easy access.
The REI Trail 25 is made with materials that are bluesign approved, specifically the nylon body.
See Women's REI Trail 25
See Men's REI Trail 25
---
This article is sponsored by REI. All images courtesy REI. 
Backpackers.com Affiliate Policy: This guide contains affiliate links, which help fund our website. When you click on the links to purchase the gear we get a commission, and this goes a long way to creating guides, gear reviews, and other excellent content.