From its beginning as a company, REI Co-op has always been known for helping people get outside and enjoy nature, putting sustainability at the center of product development.
REI has made a bold commitment to sustainability by creating its first trail running shoe.
Swiftland MT is REI's Foundational Trail Running Shoe
For the past two and a half years, REI has been designing its first running shoes: the Swiftland MT Trail-Running shoes.
The MT stands for multi-terrain, but it could also stand for member tested because these are designed with insights from 8.8K trail runners and with prototypes tested over 2,500 miles of trails.
The Swiftland MT trail-running shoe is the only running shoe at REI Co-op that is designed using Cooperative Design.


Footwear With a Lighter Footprint
The goal has been to reduce the environmental impact of these shoes ever since REI resumed production of footwear in 2020.
The Swiftland MT running shoes have every significant component made of either recycled or algae-based materials.
Without sacrificing performance, these shoes still deliver trail-ready comfort, stability, and quality.
Outstanding Features of Swiftland MT
The trail running shoe features a recycled rock guard dispersion plate that helps with rock punctures and underfoot irritation.
Along with cupped sidewalls that provide a secure, self-assured platform, it includes an incorporated tongue that prevents debris from distracting from the views.
With a stack height 27 – 19 with an 8 mm offset, the stable rocker build helps you move from heel to toe quickly.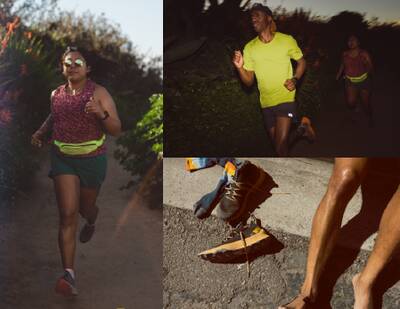 Swiftland MT's Tech Components
What makes this shoe a cut above the rest are the following tech components:
FirmaKnit Run – Knitted seam-free upper for lightweight durable comfort made of 80% recycled materials. Quick-drying fibers manage moisture for variable trail conditions.
TerraGrip Wrap – Forefoot extension wrap gives you extra grip
TerraLoft Run – The run-specific compound is cushioned and responsive to absorb the impacts of the trail while springing you along
TerraGrip Run – Sticky and durable recycled rubber outsole is made to create confidence on the ups, downs, and everything in between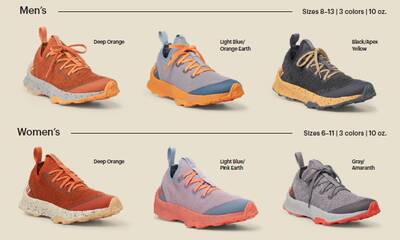 These shoes come in sizes 8 through 13 and have three hues for men: deep orange, light blue/orange earth, and black/apex yellow.
While also being offered in three colors—deep orange, light blue/pink earth, and gray/amaranth—the shoes for women come in sizes 6 to 11.
Beginning today June 1, REI Members will get first access of the Swiftland MT until June 30 when everyone will be able to purchase.
---
Images and content courtesy of REI Co-op
Backpackers.com Affiliate Policy: This article may contain affiliate links, which help fund our website. When you click on the links to purchase the gear we get a commission, and this goes a long way to creating guides, gear reviews, and other excellent content.