Insoles are the unsung heroes of the footwear industry. Your favorite, most comfortable shoes likely started out with a good pair of insoles. But, when they eventually start to wear out and feel uncomfortable, that doesn't have to be a portent of their end. No! Revitalize your favorite shoes with Superfeet insoles!
Superfeet insoles are almost like an insider secret of outdoor recreation communities. Those who know, know. Not only can they revitalize old shoes, but Superfeet insoles can elevate new shoes to the next level.
They're wonderfully comfortable and supportive, and some models have been specifically designed for outdoorsy folks that like to hike or run trails.
Gift a pair to yourself or someone else this holiday season. Now through November 30th, 2021, all Superfeet insoles are 25% OFF, and shipping is FREE.
Read on to see some of Superfeet's best products, or visit Superfeet to browse the entire collection.
---
$49.95
$37.46

(

25% Off

)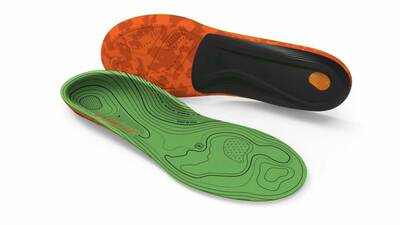 Hiking is hard on your feet, especially when the trails get rocky. The Superfeet TRAILBLAZER Comfort insoles were specifically designed for hiking and trails. They provide reliable stability and impact protection using Aerospring dual comfort foam, Evolyte carbon stabilizers caps, and Heel Impact Technology pods.
This high-tech combination reduces foot shifting, keeping your toes in the best position to prevent blisters and hot spots. Likewise, fatigue becomes less of a factor due to the insole's increased support, meaning your feet will feel fresher for longer. Plus, you can trim these to your exact shoe size—and that means you can't go wrong giving these as a gift.
See the men's Superfeet TRAILBLAZER Comfort
---
$49.95
$37.46

(

25% Off

)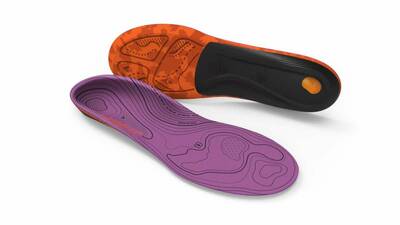 The women's Superfeet TRAILBLAZER Comfort insoles carry over the same stellar attributes. Likewise, these insoles were designed for hiking and trail traversing, but they were also sculpted for the specific dimensions and contours of women's feet. That translates to optimal stability, support, and comfort for women.
As such, the heel cup and arch shape are ideal for women. Though these insoles are remarkably comfortable, they're also exceptionally durable, able to survive 500 miles of trail travel without breaking a sweat.
See the women's Superfeet TRAILBLAZER Comfort
---
$49.95
$37.46

(

25% Off

)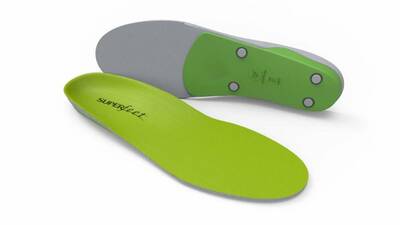 Superfeet GREEN insoles are the brand's best-selling product, and that's because their level of support reigns supreme. Superfeet GREEN insoles provide professional-grade orthotic support, making them a superb choice for anyone with high arches.
While great for the trail, these insoles work just as well in town and elsewhere in your daily life. They're an inexpensive alternative to custom orthotics. The organic odor-control coating is a nice bonus that everyone will appreciate.
---
$54.95
$41.21

(

25% Off

)

The Superfeet ORANGE insoles were engineered for high-impact activities like climbing, running, basketball—anything that causes your feet to take a beating. These insoles feature shock-absorbing foam forefoot pads that pull double-duty when you're playing hard and moving around on unforgiving surfaces.

Elsewise, these insoles provide the support and comfort found in other Superfeet insoles. These make a great gift choice for highly active individuals or those who work on their feet all day and often complain of foot or knee pain.
---
$54.95
$41.21

(

25% Off

)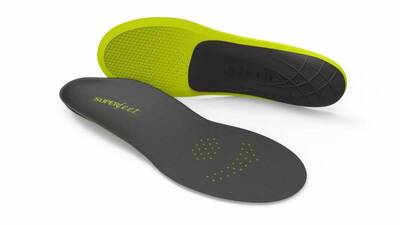 The Superfeet CARBON is the lightest, slimmest insole in the brand's lineup. By combining ultralight foam with carbon fiber, Superfeet has created a high-performance insole that's perfect for athletes. These slim CARBON insoles are made for moderate to narrow athletic footwear like running shoes and cleats.
A carbon fiber stabilizer cap adds strength and stability, reinforcing the lightweight closed-cell foam layer. Low arch support further stabilizes the foot and works well with low to zero drop shoes. This is the insole to gift the athlete or fitness enthusiast in your family!
---
This post is Sponsored by Superfeet.
All images courtesy Superfeet, All Rights Reserved.
Backpackers.com Affiliate Policy: This guide contains affiliate links, which help fund our website. When you click on the links to purchase the gear, we get a commission, and this goes a long way to creating guides, gear reviews, and other excellent content.