As the days grow shorter and the nights colder, many think it's time to pack away the tents and retire the hiking boots. But for those of us who find joy in the great outdoors, cooler weather simply means it's time to break out the cozy gear and continue our adventures.
In fact, colder months bring the opportunity to experience nature in a whole new light. The crisp air, frost-covered landscapes, and the quiet that comes with the off-season offer a different kind of beauty that's well worth exploring.
Our Warm and Cozy Gear Guide
This gear guide is designed to help you extend your outdoor adventures into the colder months. Here we'll introduce you to 11 must-have items that promise to keep you snug and cozy, no matter how low the temperature drops.
---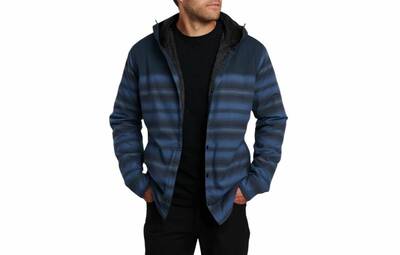 Blurring the lines between shirt and jacket, the KÜHL Joyrydr Hoody offers the best of both worlds. Its exterior might mimic the casual appearance of a shirt, but delve a little deeper and you'll uncover the robust capabilities of a jacket.
This style is new for this season. With a soft fleece lining, this hoody provides optimum warmth, ensuring you stay snug during those cooler outdoor adventures. The sleeves, lined with quilted nylon, make for a seamless wear and removal experience.
Designed for the discerning day hiker, its generous cut ensures you can easily layer up beneath, adapting to ever-changing weather conditions. Practicalities haven't been overlooked, with handwarmer pockets, a snap front, and two chest pockets for added utility.
---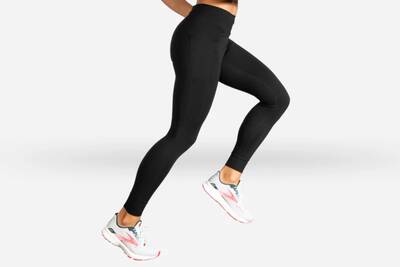 These Momentum Thermal Tights are the warmest tights made by Brooks. The DriLayer Threshold Fabric ensures your legs will stay cozy even on the coldest days when your moving and grooving in the outdoors.
With a fitted high-rise design and flat waistband, these tights will look good and stay in place no matter whether you're on an autumn hike, winter trail run, or walking the streets of your favorite mountain town. Plus, these tights have 3 pockets, which makes them super practical.
See the women's Brooks Momentum Thermal Tights at Marathon Sports
See the men's Brooks Momentum Thermal Tights at Marathon Sports
---

Discover the union of comfort and sustainability with the Patagonia Retro Pile Fleece Jacket. Crafted from 100% recycled polyester, this jacket ensures warmth with its full-length zipper and stand-up collar.
The raglan sleeve design promises unrestricted movement, making it perfect for hikes or relaxed evenings by the campfire. With a handy chest pocket and two front pockets, your essentials are always within reach.
See the Patagonia Women's Retro Pile Fleece Jacket
See the Patagonia Men's Retro Pile Fleece Jacket
---

Stay prepared for any outdoor venture with the Smartwool Men's Classic All-Season Merino Bottom Base Layer. Crafted from a blend of 100% merino wool on the outside and reinforced with nylon at the core, this base layer guarantees both comfort and durability.
Whether you're facing the chilly breeze of a mountain trek or getting snug in your sleeping bag, the merino wool naturally adjusts to your body temperature, ensuring optimum warmth. Lightweight and breathable, it's a perfect pack-along for all your adventures, ensuring you stay cozy and comfy.
See the Smartwool Men's Classic All-Season Merino Bottom Base Layer
See the Smartwool Women's Classic All-Season Merino Bottom Base Layer
---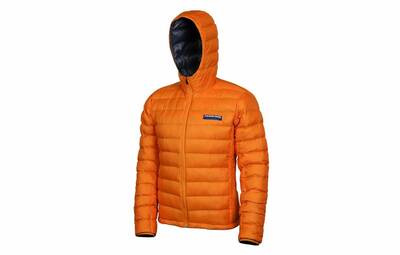 Elevate your adventures with the Feathered Friends Eos Down Jacket. Available in seven vibrant colour variations, this jacket seamlessly combines style with functionality. The added convenience of a zippered chest pocket and an adjustable drawstring hood ensures practicality on the go.
Nestled within, the premium 900+ fill down promises unparalleled warmth, while its lightweight build ensures it snugly fits into any pack. Truly, the Eos stands out as an essential piece of cozy gear for those chilly winter outings.
See the Feathered Friends Eos Men's Down Jacket
See the Feathered Friends Eos Women's Down Jacket
---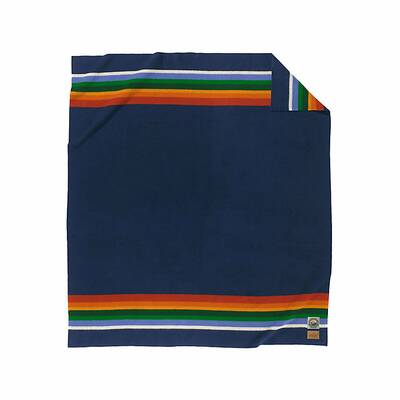 Wrap yourself in unmatched comfort with the Pendleton National Park Blanket. This virgin wool blanket comes in a variety of patterns reflecting the color schemes of various national parks, including Glacier, Crater Lake, and the Grand Canyon.
Measuring a generous 90″ x 90″, this blanket offers ample coverage, ensuring you stay cozy on those chilly evenings. It's the perfect cozy gear choice for a cabin stay!
See the Pendleton National Park Blanket
---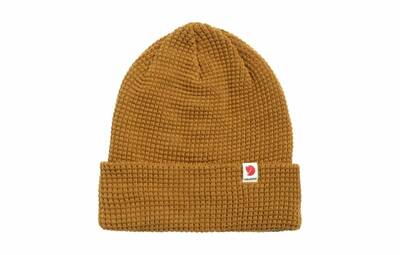 Brave the chill with the Fjallraven Tab Hat, a modern waffle knit twist on the classic knit hat. Crafted from recycled polyester, this snug-fitting hat guarantees warmth, keeping your ears warm whilst enjoying a winter stroll. Available in five color variations, its fold-up edge offers flexibility in both fit and style.
Beyond its design and comfort, Fjallraven's commitment to sustainability shines through, as the hat is crafted without any animal-derived materials.
---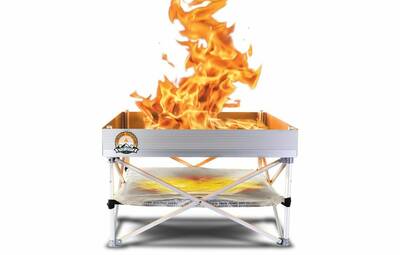 Unwind under the stars with the FIRESIDE OUTDOOR Pop-Up Fire Pit. This portable, wood or charcoal-burning pit sets up quickly and packs away with ease.
Thanks to its Fire Mesh technology, it delivers excellent flames with 80% less smoke, so no more musical chairs around the fire. Perfect for backyards or wild adventures, it's the ultimate outdoor companion for keeping warm outdoors.
See the FIRESIDE OUTDOOR Pop-Up Fire Pit
---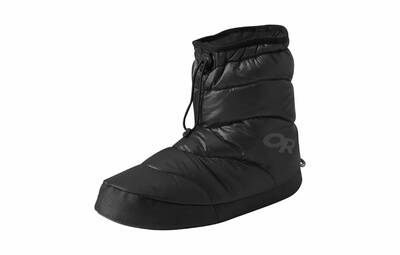 There's nothing better than shedding those hiking boots and slipping into a pair of down booties. The Tundra Aerogel Booties by Outdoor Research have been crafted for ultimate warmth without the bulk, they combine a weather-resistant shell with a PrimaLoft Aerogel insert, ensuring chilly elements stay at bay.
Transition effortlessly from a cozy ski hut to icy terrains, thanks to the anti-slip sole. These booties are the epitome of lightweight luxury, where comfort meets rugged outdoor reliability. It's the ultimate cozy gear purchase for your feet.
See the Outdoor Research Tundra Aerogel Booties
---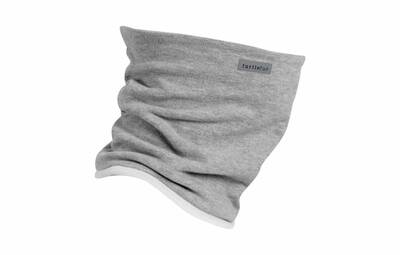 Embrace the chill of adventure fully prepared with the Turtle Fur Comfort Shell Luxe Neckula Neck Warmer. This midweight gaiter, crafted from the special Comfort Shell Luxe fabric, ensures warmth is sealed in without adding bulk. As your pace heats up, its breathable and quick-drying properties come into play, efficiently moving moisture away.
Designed with a four-way stretch, it grants unrestrained comfort for long-day adventures. And for those particularly frosty moments, you have the flexibility to wear it snug around your neck or pulled up to shield both the mouth and nose.
Turtle Fur Comfort Shell Luxe Neckula Neck Warmer
---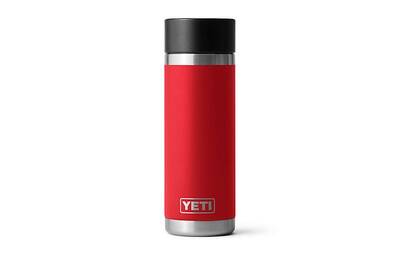 Set off on your adventures with the assurance of a hot drink at hand, thanks to the YETI Rambler 18oz HotShot Bottle. Crafted meticulously for those long hours outdoors, this bottle ensures your drinks maintain their optimal temperature.
Beyond just insulation, its design boasts an innovative 100% leakproof lid, and the cherry on top? Both the bottle and the cap are dishwasher-friendly, simplifying your post-adventure cleanup.
YETI Rambler 18oz HotShot Bottle
---
Looking for more warm and cozy gear? Check out our guide to the best down jackets.
---
Backpackers.com Affiliate Policy: This guide contains affiliate links, which help fund our website. When you click on the links to purchase the gear, we get a commission, and this goes a long way to creating guides, gear reviews, and other excellent content.