John Muir Trail Overview
The John Muir Trail (JMT) is one of the most popular thru hikes in North America, with more than 10,000 people attempting the hike each year. The trail runs through incredibly beautiful and remote terrain in California's Sierra Nevada range, covering 211 miles from its southern terminus atop Mt Whitney — the tallest peak in the lower 48 — to Yosemite Valley, and winds its way through three National Parks: Sequoia, Kings Canyon, and Yosemite.
The trail can be hiked either north to south, or vise versa, but it's commonly considered that a southbound hike (SoBo) is the official direction. The average hiker will take three to four weeks to complete the trail, with most hikers starting between late June and early September. The popularity of the JMT, combined with its short hiking season, means that some people wait years to get a permit via the Yosemite lottery system.
I hiked the JMT in 2017, a year of record snowfall — this is my Trail Report.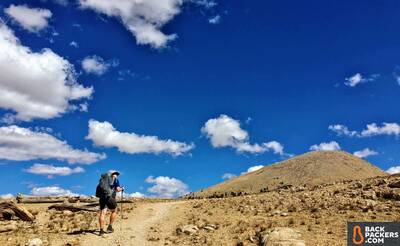 Exploring the John Muir Trail
Trip Details
John Muir Trail Report
My Plan
Before We Even Started:
A better title for this section might be — "How every plan we made for the JMT fell apart and we still had the perfect hike anyway." Undeterred by the Yosemite lottery — a system which is generally considered to be a tad arcane, poorly explained, and generally a pain in the butt — my boyfriend and I dutifully applied for our John Muir Trail permits in January 2017, a full six months before we hoped to start our hike. And, against all the mathematical odds, we were rewarded with a permit. Our John Muir Trail hike would begin at Lyell Canyon in Yosemite National park at the end of June! We were to hike the classic SoBo route.
And then it snowed. Epically. All season long.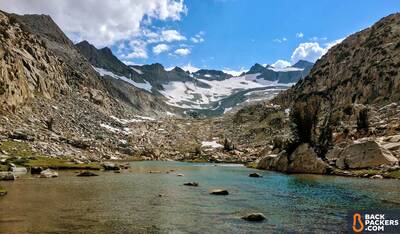 Even as April rolled around, the snow kept falling in the Sierras. This meant a June start-time was just not possible, so we applied for another permit, going the opposite way. And again, we got approved, though this permit is not nearly as difficult to get. This time we would start our thru hike in late August, going northbound from Cottonwood Pass, which added 17 miles to the 211-mile trail. We were both so happy to have another shot at the JMT that the extra distance, and direction change, didn't matter. Our plans finally seemed to be set.
Then, due to some combination of insanity and hubris, we decided to roll the dice, just one more time. Why? Two practical reasons: getting a different permit would shave off 17 miles off the PCT that we'd both already hiked multiple times, and it gave us a little wiggle room in our schedule since we'd now have lower total mileage. It was more of a "nice to have" than a deal breaker, and we were feeling lucky.
At 8 a.m., three days before we were scheduled to start our hike, we rolled up to the Eastern Sierra Interagency Visitors Center — home of California's most requested permit, the Mount Whitney Overnight – which is yet another way one can hike the JMT NoBo. Our only chance of getting this permit was to hope that somebody had canceled theirs last minute.
When the ranger handed us our permit he said, "You folks should go buy a Powerball ticket, today is your lucky day." After nearly nine months of planning we'd gotten the exact permit we wanted to hike the John Muir Trail northbound, without any additional miles, 24 hours before we would start our thru hike.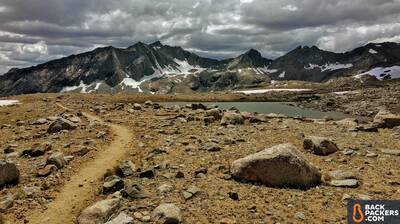 More Than Just Showing Up:
In the months before we started the John Muir Trail both my boyfriend and I backpacked, a lot. Between February and August, we went on an average of three backpacking trips each month. That's roughly 21 backpacking trips for those of you counting.
I personally tackled several long-time goals, including a solo weekend thru hike of Joshua Tree National Park's 38-mile long California Hiking and Riding Trail, as well as an unofficial FKT (Fastest Known Time) of the 53-mile Silver Moccasin Trail in just over 33 hours.
The goal of these trips was twofold. The first was to build our fitness and get our bodies adapted to spending days on the trail. The other reason for all of this backpacking, aside from the fact that backpacking is awesome, was the chance to test out all our gear. I knew the John Muir Trail would be more physically taxing than I could truly prepare for, so it was important to dial in all the elements I could control before leaving. The last thing I wanted was to get on the trail and realize that my shoes caused blisters or my pack rubbed my shoulders raw.
My base weight for this trip was 15.5 pounds, with 2.5 of those pounds coming from my bear canister alone. At this weight, I fall somewhere between an Ultralight Backpacker and a Wilderness Backpacker. I went ultralight with several gear purchases, including the Mountain Hardwear Ghost Whisperer and my ULA Circuit backpack. But with other items, such as my DIY 10-degree quilt that mirrors an Enlightened Equipment Revelation, the toasty and durable Therm-a-Rest NeoAir XTherm, and a Sea to Summit Aeors pillow, I was more focused on comfort, knowing that getting a good night's sleep was worth carrying a little extra weight. (Those are all still pretty light choices, mind you.)
Furthermore, both my boyfriend and I were able to keep our pack weight down by cutting out duplicate gear, such as stoves, fuel, and a solar panel. Having a hike buddy — better known as a pack mule! — does wonders for lightening the load on an arduous journey like the John Muir Trail.
This shared load also meant we could opt for a freestanding tent — the Big Agnes Copper Spur HV UL2 — which proved to be worth its weight in gold for the several nights we camped on hard Sierra granite, which would have made staking out a tarp tent nearly impossible.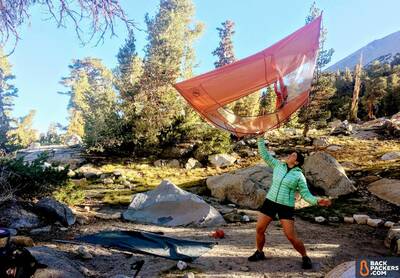 The Trip!
Mount Whitney and the Beginning
Just 36 hours after our incredible permit luck, my boyfriend and I were standing in our first camp of our John Muir Trail thru hike, even though it wasn't technically on the trail yet. We stood at 13,600 feet watching a sunset so stunning you could imagine people writing songs about it. As we finished putting up our tent a light snow began to fall. We couldn't help but laugh at the impossibility of it all. How could two people ever be so lucky as this? (Feelings of euphoria are common when thru hiking, as you'll see.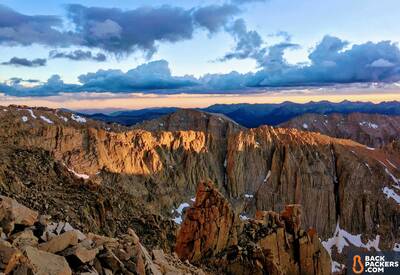 Retreating into our tent as the last of the light seeped out of the sky, we set an early alarm for the next morning: the plan was to to summit Mount Whitney in time for sunrise. The official start of the John Muir Trail — the top of Whitney — was waiting for us. Said summit proved to be to be anticlimactic in the cold morning, as there were no views due to a persistent cloud bank. Sometimes you wake up at the butt crack of dawn and your plans for beauty are foiled. Oh well.
We ate snacks, shivering into our layers in the summit hut, and then headed down. At lower elevation the sun was out and the trail began to wind north, the light at our backs. We were headed towards Yosemite — we were hiking the John Muir Trail.
Pass After Pass
The first several days of our trip fell into a similar pattern. We'd start the day descending into verdant green valleys, the pine trees growing up around us as tumbledown streams burbled past, filled with darting trout. Around lunch we'd start to ascend, the trees shrinking back into the earth, the sky massive above us. Our view was ringed by granite spires. We'd climb between these spires up and over a pass, navigating the occasional sketchy snow crossing, then drop back down through scree fields, clinging to the tremendous sloping shoulders of the Sierra Nevada like lizards.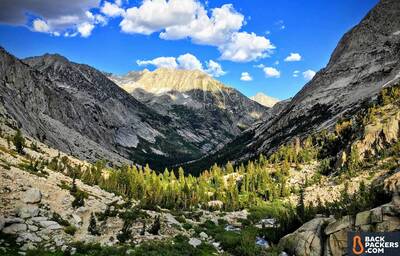 Forester. Glen. Pinchot. Mather. Pass after pass after pass. Always heading north.
At night we'd bundle down into our tent beneath an impossible number of stars. The Big Agnes Copper Spur HV UL2 — with nearly as many pockets and nice design details as extra letters in its name — had become our second home and proved to be wonderfully warm with two people inside.
On our eighth day on the trail (out of 18, total) we climbed from our high camp under Muir Pass to the John Muir Hut, a few miles away. The John Muir Hut is a small building built in 1930 with a real door and chimney that invites you to take a break on a high pass; to contemplate the trail you're on, and how it was created. Sitting there, eating snacks and listening to a group of older hikers tell us how things were back in their day, we discovered that hiking stories are like fish stories: they only become more grandiose with time.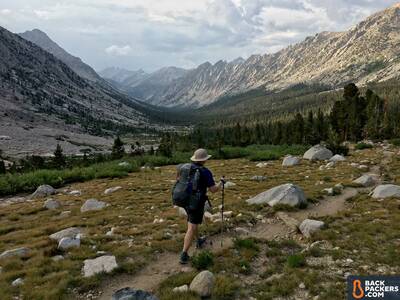 Big Mileage
Upon leaving the hut we decide to hike some big mileage. A 19 mile day would get us down to the San Joaquin River, condensing two days of hiking into one and alleviating some concern about running out of food. We spent the afternoon racing down loamy trails through dense forests. The light grew long and we realized we'd missed our last water source — then ended up doing a 22 mile day, ending our longest day camped in a big group of people next to the river.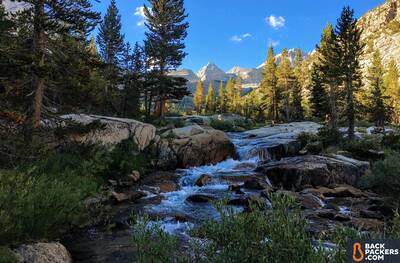 Each day we moved the earth under our feet, climbing through terrain too awesome to be fully captured in words, always moving forward. On day 10 we arrived at Vermillion Valley Resort where we washed the dirt from our bodies and then wandered about, eating, drinking, laughing, and sharing inane stories with a dozen fellow thru hikers, most of whom we'll never see again.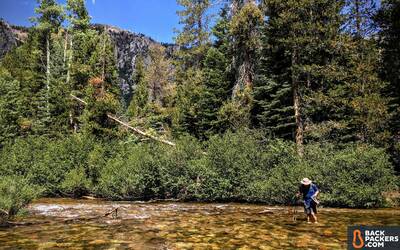 Beyond Vermillion Valley the trail dips lower and lower all the time, heading to Yosemite. And then suddenly we're there, in Yosemite, our last National Park! The air there was warm and filled with smoke, evidence of the fires blazing across California. The trail finally leveled here, taking us along the Merced River, which flows flat and aquamarine towards Tuolumne Meadows. The trail is soft with fallen pine needles.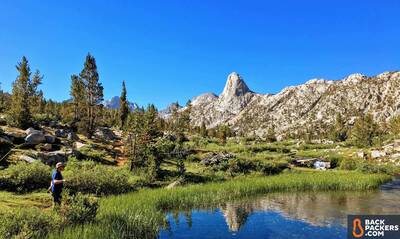 Choosing an End
Then we walked right into a wall of smoke. It was time to make a choice.
Over dinner that night we opted to condense the remaining three days of hiking into two. It was an easy call — we'd rather be hiking than sitting in a smokey campground. But on the other hand all I wanted to do is walk until forever and it felt somehow like cheating to move faster, to end earlier than planned.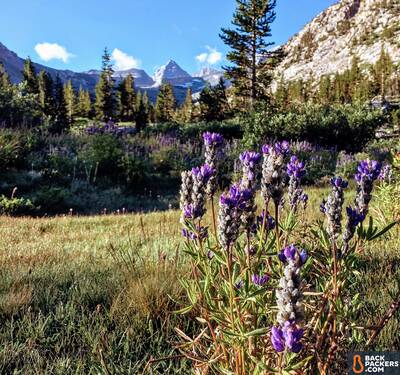 But our trail did have an end. On Friday, September 8th, we woke early and, walking into the sunrise, began our descent to the finish. We went down all day, past Half Dome, past Vernal Falls, past hundreds of clean day hikers with their flowery smell. Down more than 6,000 vertical feet right into the heart of Yosemite Valley.
In the valley we showered, change out of the same clothes we'd worn for the past 18 days straight, and like magic we were transformed back into regular tourists. There was no fanfare or celebration, just a smattering of texts coming in from friends and family via spotty service. We ate ice cream for dinner, sitting in a nearly empty dining hall, thinking about how big and simultaneously small our accomplishment was, and is.
Thru hiking, it must be said, is one of the most romantic things you can ever do.
Reflections
It feels laughably hubristic to say that there is hardly anything I would change about this trip. But it's also the truth. I prepped hard, knew I could only be so prepared, and did the damn thing rather quickly. So there's that.
One thing I wished I had done differently would be to pack more food for the first section. Honestly, I knew I was skimping a little, but I just didn't want to carry the weight. Because of the JMT's remote nature, the options for hikers looking to resupply are limited. We started the trail with 10 days of food, which had to last us 10.5 days until we resupplied at Vermillion Valley Resort, where we had mailed ourselves a package. Yes, I saved some weight, but my mind (and stomach) would have preferred some extra cushion.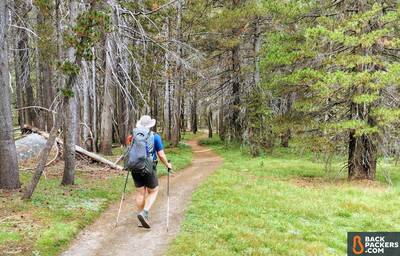 While I had a wonderful experience on the John Muir Trail, I would discourage anyone from trying to duplicate our trip exactly. Hike your own hike, as they say. However, I think there are a few key takeaways that can be applied more broadly for a better experience on the trail.
One: Know Thy Self
Maybe you like to hike all day until dark, maybe you don't want to do more than five hours of hiking each day. Whatever style hiker you are, plan your thru hike with your desires and limitations in mind, and pick hiking partners that hike in the same style as you do.
AKA: Hike your own hike! (You really can't say this one enough.)
Two: Make the Weight Matter
For me, having a warm sleep system was of utmost importance, but having extra hiking shirts to change between wasn't. Prioritize your must-have gear and comforts and then work to leave the rest at home.
Three: Practice Makes Perfect
Plan several trial runs of all your gear, clothing, and food before getting on the trail. This will build your confidence as well as help you weed out extra gear. Our system was so dialed in and familiar that it allowed us to focus on the important stuff, like walking and chatting.
Four: Accept That it's Going to Suck, At Least Sometimes
One of the biggest things I credit with our success was mental preparation. I knew going in that the John Muir Trail would be frustrating, exhausting, and sometimes it would just downright suck. It might sound negative, but because I didn't expect the trail to be perfect, I wasn't surprised when it wasn't.
The people we met who quit the trail without finishing all said the same thing: they didn't know it would be so hard. Well, it is hard. But that doesn't mean you can't do hard things. Thru hiking is a master class in daily, low grade suffering, but it's also rewarding to the point of opulence.
Thru hiking the John Muir Trail is worth it, but you've got to be prepared.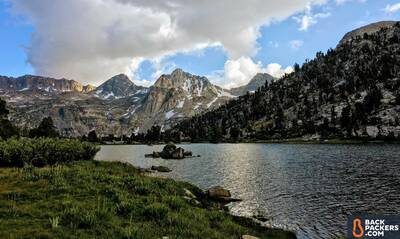 John Muir Trail Permits
Securing a John Muir Trail permit is not nearly as difficult as hiking the John Muir Trail, but it's not exactly "easy" either. You can hike the John Muir Trail in a Southbound (SoBo) or Northbound (NoBo) direction. Planning, timing, and a little luck will get you on the path you want to be.
Southbound Permit – Leaving From Yosemite
Typically people hike the JMT SoBo, leaving from Yosemite Valley, which means this permit is much harder to secure. Securing this permit is often described as "luck", as it's a lottery, and Yosemite National Park limits the amount of people that can be on the trail every day, so you have to be one of those lucky people.
The best advice is to follow the National Park Service, which states:
"The deadline for the lottery is at 7:30 am Pacific time, 168 days in advance. Since reservations are awarded by lottery, it doesn't matter what time we receive your application, as long as it's not more than 169 days in advance and not later than 7:30 am Pacific time, 168 days in advance."
Mark the date on your calendar, be diligent, and apply as early as possible. Then be flexible up to a week or so around that date, because as of 2016 you can apply for a date range, rather than a separate application per day. Hopefully one day will work out.
You can apply for the Southbound John Muir Trail permit here. You'll need to fax, mail, or call for your permit. No online reservations. Fax is the best option.
The official northern terminus of the JMT is at the Happy Isles trailhead in Yosemite Valley.
Northbound Permit – Leaving From Mt Whitney Area
If you can't hike the John Muir Trail SoBo, or don't want to, you can choose to hike it NoBo. This means starting from the top of Mt Whitney and ending in Yosemite Valley. You'll be going against the grain, but there are still plenty of hikers that choose this route.
The most popular permit here — the Mt Whitney Overnight — is still quite hard to get, but the application process is much less time consuming and strict than the Yosemite permit. Simply apply for the Mt Whitney Overnight permit via Recreation.gov between February 1 and March 15. You will either get chosen, or not.
You can list up to 15 trip choices on one application for a fee, so make sure to do that, as it increases your odds. There are also some tickets that go on sale on April 1, as people decline their lottery-given tickets, so you can check every day in April to score a permit that way.
Another option is to apply for a permit at either Cottonwood Pass or Cottonwood Lakes, campsites that are roughly 20 miles from Mt. Whitney, through Recreation.gov. This option adds miles to your trek, and is a bit more complicated, but is much easier to secure. Check out HiketheJMT for specific instructions.
John Muir Trail Maps
There are a number of options for choosing a John Muir Trail Map. Going on a thru hike of this size requires decent navigation skills, as you'll want to know where you're going to get water, how far you are from specific camps, and general directions if you get lost for any reason.
Many people today use CalTopo, an online free mapping resource. CalTopo allows you to utilize a huge variety of maps, all compiled for your specific route. And it's collaborative, so there are maps created by other users that you can use — like this John Muir Trail CalTopo map. You'll want to download the right file type to work with whatever device you're taking on the trail with you, or print it out.
If you want a more traditional map, a lot of people use Tom Harrison's JMT Map Pack. There are many other resources out there, including more narrative-based trail guides, but the two resources above are inexpensive and will get you where you need to go.
The John Muir Trail takes planning, mental fortitude, and flexibility. That said, it's an adventure worth every ounce of effort.
---
Backpackers.com Affiliate Policy: This Trail Report contains affiliate links, which help fund our website. When you click on the links to purchase the gear we get a commission, and this goes a long way to creating guides, gear reviews, and other excellent content.