Backpackers.com — There are a huge number of outdoor online retailers around, and Steep and Cheap is one of the most popular. Why? The site has serious deals on the best brands in the backpacking industry.
Gear deals are what the online backpacker is seeking. For better or worse we're a culture obsessed with excellent products and try our hardest to pay the least amount of money for those products. This article isn't about psychology, so we won't get into the particularities of this strange obsession.
What I will get into is how to properly navigate Steep and Cheap so that buying gear is straightforward. This will make it so you aren't just shopping smartly, but have the full scope of what and when to buy on Steep and Cheap.

Backcountry.com Affiliation
If there's an online retailer in the outdoor industry that is bigger than Steep and Cheap (there are a few), Backcountry.com would be one of the top dogs. You've probably heard of it, or at least seen advertisements for it in Google when searching for products.
Backcountry.com owns Steep and Cheap.
Surprised? You shouldn't be.
The first concept to understand about the gear industry is how interconnected things are. There are a number of competing online retailers in the space, but a handful are related. Backcountry.com actually owns five other online retail sites, ranging from cycling to motorbikes to snowboard and surf gear. Steep and Cheap is the one most centered in the wilderness backpacking industry.
Overproduction of Gear
The second concept to understand about the backpacking world is how many physical products are made of a specific model. These items, even the very expensive ones like tents and backpacks, are mass produced. This is only true for big brands, not cottage gear companies, but the big brands in backpacking are the most well-known and still the highest rated among most consumers.
Every single year each of these models, produced in the hundreds of thousands, has to end up somewhere. That's how online retailers can sell models at such cheap prices — either after the season has passed or after a new model comes out, the gear gets shipped to be sold at a discount.
In general, the most serious discounts — those that are 50% off and up — are for products that will be discontinued, updated, or were not selling well.
This doesn't mean those products aren't worth it — it more often means the company simply overproduced, and needs to clear up inventory space.
In the case of Backcountry.com and Steep and Cheap, you'll notice many of the same items with the same discounts on both sites. However, Backcountry.com is a massive, pick-anything in any size store, while Steep and Cheap has select brands and models with select sizes, and every piece of gear is discounted.
Buying Gear on Steep and Cheap
A few months ago Steep and Cheap went through a much-needed site redesign. Those of you who frequent it may have noticed, but for the most part it was seamless. The update has made it much easier to navigate on a whole, which is good news for you.
Still, there are a number of elements to consider.
Steep and Cheap App versus Browser
The first of those elements is which device you plan to navigate on. Steep and Cheap has a free app that's available for iOS and Android. Like all apps these days it wants to send you notifications — don't let it, unless you need an hourly injection of gear deals.
For the most part, the App and browser versions of Steep and Cheap are pretty similar, which is a feat in and of itself. Most companies that utilize both platforms are wildly different, which leads to customer confusion. Each of these platforms has the same exact products, and roughly the same information, images, and general categories, all of which are searchable.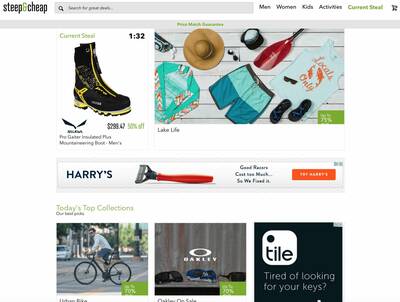 With the browser version everything is bigger, and you can see more information at once. On the app you'll have to scroll quite a bit to see every product on offer.
On the app, click the "menu" button — three lines in the upper left — to open the broader search terms on Steep and Cheap.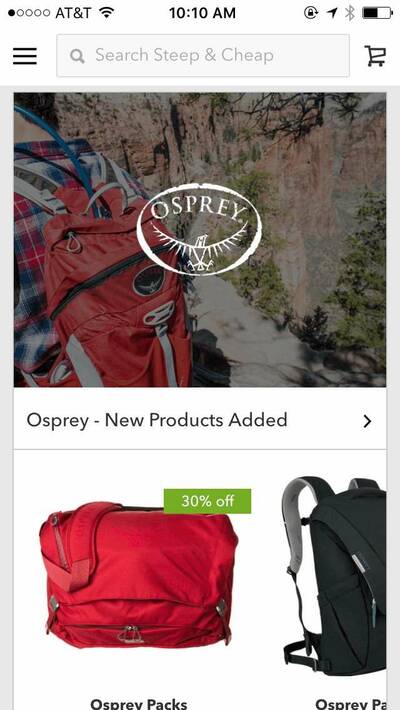 As we lay out the differences of each section of the site and app below, we'll note when there's a difference between the two.
Steep and Cheap's Current Steal
Current Steal is exactly what it sounds like — a single item that is heavily discounted, almost always above 50%.
It's "current" because it has a timer running from the moment it gets put up. Steep and Cheap is so popular that items don't stay in the Current Steal category for long, sometimes not as long as the timer indicates.
It's not entirely clear how Steep and Cheap sets the timer for each Current Steal. We think it's a combination of the number of products they have in stock, the projected popularity of the item, and how much the item is discounted. The higher the discount and lower the product count, the shorter the timer will be.
One difference between the app version of the Current Steal and the browser version is that the app shows you the number of products remaining. This appears as a bar, and will decrease every time the product is purchased. You can watch this to decide if you should pull the gear trigger.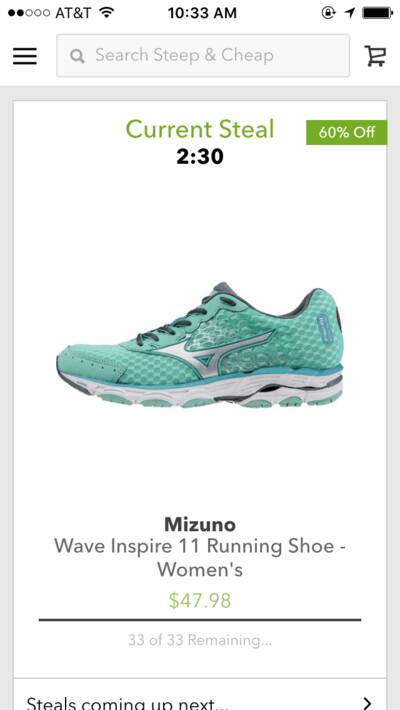 Another major difference is that the app version has a button for "Steals coming up next." When pressed this takes you to a scrolling list of up to 10 items that will eventually be put in the Current Steal category. This is a huge advantage over the web browser version, and makes having the app entirely worth it.
Psychology of the Current Steal
Before the site redesign, every single item on Steep and Cheap had a time-limit attached to it. Some of the Collections and category-based items would be up for a week or two, but it was always specified when they would end. The Current Steal was a much more concentrated version of this, with a shorter time and higher discount.
While Steep and Cheap has stopped using the time-based sale for the rest of its products, the Current Steal remains because there are few better selling tactics than one driven by urgency.
How do you feel when someone says, "This amazing product will be really, really cheap, but only if you buy it in the next minute!"
Some of us feel affronted and walk away. But most of us (even those affronted, after a certain amount of time), feel the pressure to buy. We have an impulse in us, bred by a capitalistic and materialistic culture, to want that item.
Why? Because it's cheap! Because there are a limited number! Because the gear gods have offered it up as a sacrifice, and we've always kind of wanted one.
The psychology behind the Current Steal is incredibly effective at producing sales, and it's why Steep and Cheap has become so popular.
How to Shop the Current Steal
With the above in mind, there are prudent and terrible ways to shop the Current Steal section of Steep and Cheap. Here's how:
Make a list of gear you actually need. To ward off unnecessary impulse buys always have a list, preferably a spreadsheet, of the gear you own, the gear you want, and the gear it would be fun to have. Sync this to Google Drive or Dropbox so you can open it on any device. Then, when you see a sale (on any device) you can make a quick comparison. A gear list is a great idea to have in general, too, so it's really a multi-purpose tool.
Get the app and scroll through future Current Steals. If you're serious about using Steep and Cheap and getting great gear, use the app to see what's coming. This can take a lot of time, but if you're on the hunt for a piece of gear it won't hurt to scroll every so often. The app shows you about 10 future Current Steals at a time.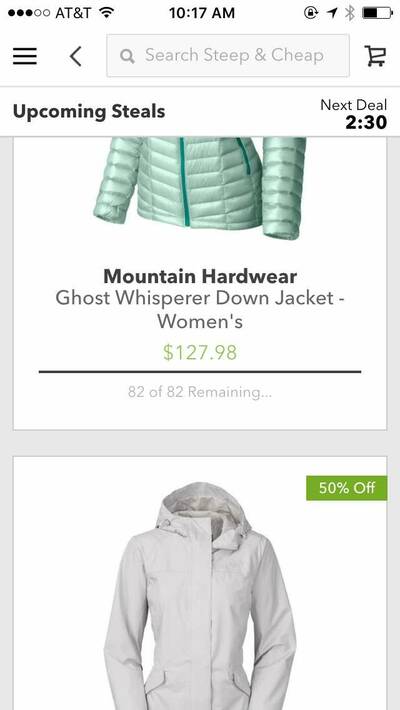 Put the item in your cart. If a Current Steal looks promising, throw it in your cart. This won't guarantee your right to purchase it (unlike a Ticketmaster concert ticket), but it'll make the process easier after you've decided to pull the trigger.
Not every Current Steal is gone forever. Steep and Cheap doesn't decide to incinerate all the products that haven't been sold during a Current Steal. It simply recycles them back into the other parts of the website. If you see a product you like but can't pull the trigger in under 4 minutes (which is already asking a lot), open it up in a new tab if you're on a browser, or as we state above, put the item in your cart. You can refresh the item after the Current Steal is over to see if it's still available. Often times it will be, and at the same discounted price. This only works for items that don't sell out during the Current Steal, so if you see something really popular selling quick, you might not find it again.
Doing these four things will at least ensure you have a chance of buying a piece of gear you actually need during a Current Steal. These are great deals, but they change frequently, so be aware of the time limit if you're interested. Also, keep in mind how important sizes are to buying correctly on Steep and Cheap. Often Current Steals have limited sizes options.
Steep and Cheap Collections
Beyond the Current Steal, there are two other major ways Steep and Cheap presents its available gear to you. The first is Collections.
Collections are what you'll find when you go to the browser home page, or the first screen of the app. They are split into two areas of focus:
Brand Collections: This will be obvious. Any Collection that's titled with a brand, like Big Agnes or Patagonia or Marmot, is a Brand Collection. If you click into that Collection it will feature gear from that manufacturer only.
Activity Collections: These Collections group types of gear together. Common examples are Hiking Footwear, Sleeping Bags and Sleeping Pads, or Performance Sandals. This type of Collection assembles gear that fits the specific activity, and doesn't pertain to a brand.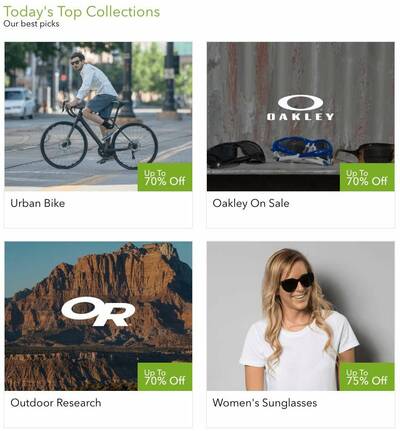 Obviously, pick a Collection based on your shopping preferences. Most people aren't such die-hards about a single brand that they won't even look at others, but if that's you, Steep and Cheap has your back. If you only buy Big Agnes for tents, sleeping bags, and sleeping pads, only look at the Big Agnes Collection.
The Collections are a great, quick way to find gear you care about.
Note that many items are in more than one Collection. Just like the Current Steal being available after it's no longer the Steal, Steep and Cheap doesn't force certain items into one Collection and leave it out of another.
It's common sense if you're Steep and Cheap, but can get a little annoying as a buyer. You'll quickly discover that there are less items than there seem to be — though there are still a ton of items on Steep and Cheap.
When it comes to how to shop Collections, our instructions are the same as the Current Steal section. This time, the items won't be specifically featured by the site, which means they will last longer, and there are typically more sizes and colors. This is great, if you have the time to search through an entire Collection.
Navigating Collections
The best part of Steep and Cheap's semi-recent UI update was how easy they made it to narrow in on the products you want within a given Collection.
When you click into a Collection, you'll see a long list of items (with multiple pages), each of which has the name of the item, the brand, the percentage off, the cost, and the MSRP. That's a lot of information already, but you'll still have to scroll through all the items until you see one you like.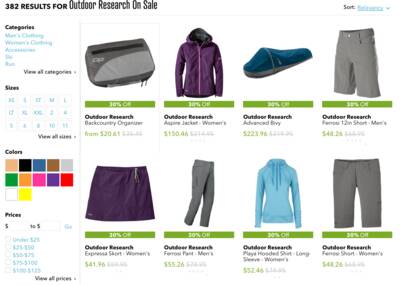 Some people love to do this — virtual shopping. Others want to get to the root of the matter.
Steep and Cheap offers seven tools within Collections to narrow your field of available gear. You can see some of them above; we'll break each down below.
Categories: This is Steep and Cheap's self-defined Category section, which we'll get into in more detail below. Basically every item has been categorized to fit the type of activity it is best for. Some items fit in multiple categories. Clicking this will show results within a specific category, rather than all the results in a Collection.
Brands: Very obvious. You will find a list of brands, each with a check box. You can check any number of boxes and the results will filter to include only those brands.
Sizes: Filter all results based on what size you are, or what's available. These are stackable, so you can search for Smalls and Mediums at the same time if you're in between sizes.
Colors: This is an incredible feature, one that pushes Steep and Cheap above the competition. For the color-obsessed, just click on a color you want and you'll see all items in that color. The downside to this is that some items don't have any color, and they get left out of the search if you click this. Best for clothes.
Prices: Steep and Cheap offers a price bracket — $5 to $50, for example — or individual boxes you can check. This will limit the Collection items to what they cost, which is useful if you just can't bear to look at the high-end stuff.
Sale: This is our favorite feature. You can sort items by how discounted they are, increasing in increments of 10% off. If you're only a bargain shopper, click >40% off to see items that are really cheap.
Recommended Use: This is similar to Categories but slightly different, we're not entirely sure how. These stack, so you can find items that, for instance, work both for backpacking and camping.
As you can see, Steep and Cheap really lets you dial down to the exact type of gear you may want. As gear aficionados ourselves, this is greatly appreciated.
Better yet, all of these options are accessible on the browser and app. On the browser it's obvious — find it on the left-hand side of every page. On the app you'll have to find the small "Filter" button in the top right of any Collection to access them.
Steep and Cheap Categories
We've touched on Categories already, so this will be a brief, specific descrption of the final way to view products. If you don't want to check out the Current Steal or Collections, consider shopping by Categories.
On the browser you'll find this at the top right (next to the search bar), and on the app you'll find it by pressing the Menu button (three lines) in the top left. In the image below, we've clicked on the Menu button, which slides over to open the Categories menu.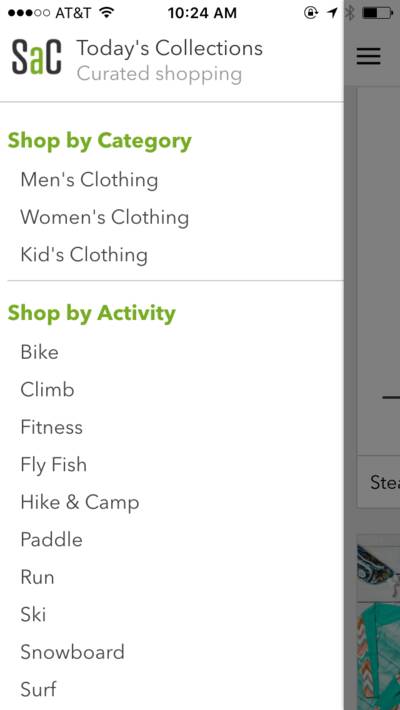 On either platform you can search 14 Categories, but on the browser three of those Categories — Men's, Women's, and Kid's — are broken down even further into specific types of clothing.
Every piece of gear on Steep and Cheap has been tagged with at least one Category, but often more than one. This means that if you want to only search for Hike & Camp, click that Category and Steep and Cheap will show you every item available.
You can then dial down your search even further with all the tools we described above.
You'll probably end up using each of these search features when browsing Steep and Cheap.
Final Steep and Cheap Tips and Tricks
This guide was created to help you get the best deals on some of the best gear around. There are a few more aspects to consider when shopping Steep and Cheap.
Reviews
Steep and Cheap, as of the most recent update, has reviews. You can view these if you scroll down on a particular item. You'll find a starred review system with comments by users — if there are none, then there aren't any reviews on that item yet.
There are two important things to note here:
These reviews are ported from Backcountry.com. There's no option to leave a review on Steep and Cheap, and if you find the same product on Backcountry.com you'll see the same reviews. This makes sense, but it's also a little deceiving because it makes you think many people bought this item on Steep and Cheap.
You don't have to purchase the product to leave a review. In general we trust user reviews in the backpacking community, especially those with pictures and videos. People tend to give their honest impressions of gear, but there is no verified purchase requirement to review these items. So, if you see a review that is wildly different than the others, it could be fake.
We recommend that, if you buy an item, you should review it. This is a community-based process, and just like reviews help you to make a decision, your review could help someone else.
Price Match Guarantee
Steep and Cheap has a Price Match Guarantee policy that allows any buyer to possibly reduce the cost of their purchase. The site writes:
"We'll match any published price (the price currently listed on an authorized, US-based retailer's website) for an identical item (same size, color, year) in new condition. If you found the better price on one of our competitor's sites, contact us within 48 hours of placing your order, and we'll credit your card the difference (auction sites do not apply)."
We've heard nothing but great things from Steep and Cheap customer service (and Backcountry.com service), so if you have questions make sure to get in touch with them. If you really did find your product cheaper a day or two later (that's not very long, we know), you will knock a few bucks off your purchase.
Manufactuer Warranty versus Steep and Cheap Warranty
This is a common question for all online retailer sites, not just Steep and Cheap. Customers always want to know who is responsible for a defective product.
Most of the time, it's the gear manufacturer. If you buy a Patagonia jacket from Steep and Cheap and the zipper breaks, contact Patagonia. Every item on Steep and Cheap lists what kind of warranty it comes with, and it's always from the manufacturer.
If you receive something that is different than what you ordered, or if the product is damaged upon arrival, you can contact Steep and Cheap. Beyond that, get in touch with your manufacturer.
Time to Purchase
That about does it for our guide. We'll do our best to keep this up-to-date, as Steep and Cheap is sure to adjust its model as time goes on. If you have questions or concerns, please voice them in the comments. This is meant to be a helpful resource for those interesting in buying gear.
All screenshots courtesy Steep and Cheap, All Rights Reserved
Featured image: Remixed Hiking by Kitty Terwolbeck via Flickr