Backpackers.com — Bald Eagles are the symbolic icon of the U.S. They are a majestic and sensitive, seemingly rare and unflinching in their stares and hunting methods. We feel that there's a low obsession level when it comes to the bird. They are beautiful to watch, and adorn countless pieces of American life — from currency to banks to bumper stickers.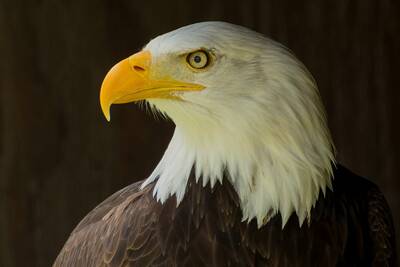 The good news is that you can watch bald eagles — live. Not just in nature documentary format; a number of specific birds, their nests, and their young are watchable via live cameras, day and night — of course it will be harder to see at night.
Watch Bald Eagles Live on the Channel Islands
Yes, we know, you want that live cam. Here is the feed for the Sauces Canyon Bald Eagle:
This is a new live cam, and shows a pair of bald eagle adults nesting and raising two young on Santa Cruz Island in the Channel Islands National Park.
Bald eagles used to be common on the mainland of Santa Barbara and Ventura coast, and especially on the Channel Islands. But due to heavy DDT usage in this agricultural area, bald eagle reproductive systems were compromised, and populations declined. The NPS states on the issue:
"In 2002, with funding from the Montrose Trustees Restoration Program, the park (in conjunction with partner, Institute for Wildlife Studies) began to introduce juvenile bald eagles to the northern Channel Islands. This was done using a technique called 'hacking.' Birds of approximately 8 weeks of age were kept in one of two hack towers on Santa Cruz Island until they were ready to fly (at approximately 3 months of age). Sixty-one young bald eagles were introduced to the northern Channel Island between 2002 and 2006."
In 2006 the first eagle hatched without the aid of humans, and they are now populous enough to affect the ecosystem of the islands. So populous that Explore.org — the entity responsible for many of these live cams — helped to put a new camera on the island. But Explore is just one of many partners that made this live camera possible. The National Park Service, Ventura County Office of Education, the Institute for Wildlife Studies, and Explore created the partnership, while funding was provided by the Montrose Settlements Restoration Program. And The Nature Conservancy owns the land on Santa Cruz Island where the nests are, and are hosting the webcams.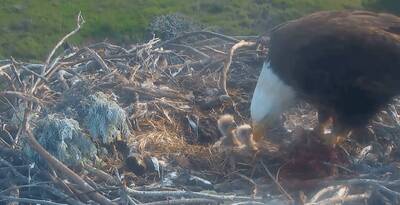 A joint effort, in every way.
We'll warn you now — the live cam is addicting. You'll stare in wonder as one of the parents flies in with a fish, then stands around for twenty minutes doing very little. The bright chirps of the chicks, and dedicated live comments of everyone else watching will, perhaps, make you feel closer to humanity and nature. We can't be sure, but maybe.
Bald Eagles Live — Everywhere
For some this may seem like the most recent and sweetest gift from the combination of outdoors and technology. But, in truth, live cams of bald eagles (and many other animals) have been around for a number of years.
Currently, the most popular live cam of bald eagles is in Washington D.C., where two eagles took up residence in the U.S. National Arboretum in 2014. The pair, mates for life, have been dubbed Mr. President and The First Lady due to their proximity to the capitol. The eagles laid two eggs on February 10 and 14 of 2016 — it only takes about 35 days for bald eagle eggs to hatch — and one successfully hatched on March 18, 2016. The second hatched March 20, 2016.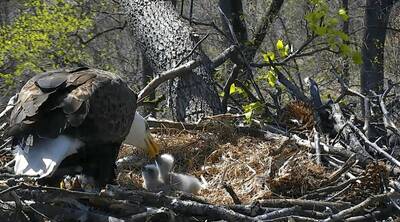 This particular stream is possible due to American Eagle Foundation, a non-profit whose aim is to help the restoration, rehabilitation, and documentation of eagles in the U.S.
Many other streams are possible through Explore.org. The organization is dedicated to bringing live streams of an eclectic range of animals — bald eagles, owls, and tigers, just to name a few. The website proves to be a hub for photos, videos, and an engaged community. The organization also helps to secure funds for a huge number of non-profit organizations through the Annenberg Foundation.
The entertainment and educational value in these live cams is pretty endless. Especially the cameras that are centered on animals in the wild, like the Channel Island bald eagles. Enjoy the sites, and consider becoming part of the community, either through donations or advocacy. After all, many of the featured animals are or were endangered in some way, and need help to survive.
Images in order: Bald Eagle by Anup Shah via Flickr; Sauces Canyon Eagle Nest courtesy NPS and Explore; D.C. Eagles © 2016 American Eagle Foundation, EAGLES.ORG