White Duck Outdoors, maker of innovative outdoor gear, is proud to introduce two new tents that can enhance your camping experience.
With designs that are guaranteed to improve your outdoor activities, the Altimus Bell Tent and the Rover Scout Tent are made from a polycotton blend fabric that is cutting-edge, performance-driven, and sustainably produced.
The Altimus Bell Tent
The Altimus Bell Tent can accommodate seven people comfortably thanks to its large 14-foot circumference, 9-foot center height, and generous 4-foot wall height.
For enhanced comfort and panoramic views, the entrance and seven of the walls can be rolled out, and a high-quality bug mesh that is sewn into them keeps insects out.
It also functions as a full four-season tent all year round thanks to an integrated AC duct and stove jack.
Altimus Bell Tent
Rover Scout Tent
The Rover Scout Tent
Adventurers that want flexibility without sacrificing comfort might choose the Rover Scout Tent, which is a flexible and small option.
It has a lightweight two-pole frame construction, a large 7-foot entrance, a central height, and full-wall windows for uninterrupted views of the outside and 360-degree ventilation.
Each window and door has a premium mosquito mesh woven into it to shield users from insects and provide optimal comfort.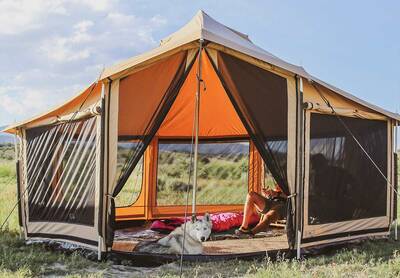 Both Tents Made From Sustainable Materials
White Duck's innovative canvas fabric, a polyester-cotton blend made from BCI-certified cotton and recovered plastics from the ocean, is used to make both tents.
Even though it is tougher and more permeable than polyester, this material is lighter than canvas.
These tents are treated with PFC-free, water-repellent, mold- and UV-resistant coatings to increase their lifespan while offering consistent weather protection.
Check these amazing tents only at whiteduckoutdoors.com.
---
Images courtesy of White Duck Outdoors
Backpackers.com Affiliate Policy: This article may contain affiliate links, which help fund our website. When you click on the links to purchase the gear we get a commission, and this goes a long way to creating guides, gear reviews, and other excellent content.