The Wild Wanderer Spotlight Series highlights the stories of queer adventurers in their own words, and we hope that by sharing these underrepresented voices, true diversity and inclusion will begin to make their way into the mainstream.
Wild Wanderer Spotlight: Amy and Megan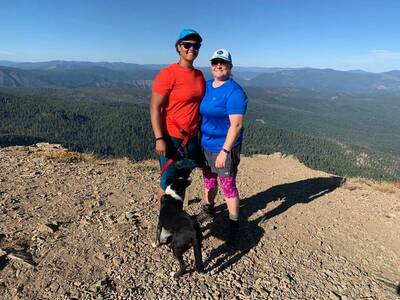 "To brands or people reading this: think about intersectionality. Don't just include conventionally attractive same-sex couples to check a box…really aim for true representation." – Amy and Megan
What are your pronouns?
Amy (she/her)
Megan (they/she)
How do you identify?
We both identify as queer. Amy identifies as a cis female and Megan as non-binary.
What outdoor activities are you involved in?
We both love all sorts of activities, we are avid hikers and campers year-round, but also love backpacking in the mountains in the summer. During the pandemic, we have gotten into snowshoeing (successfully) and bought an inflatable boat (that we are less successful with) in hopes of expanding our outdoor recreation repertoire. We also especially love activities that our dog Ziva can join us on.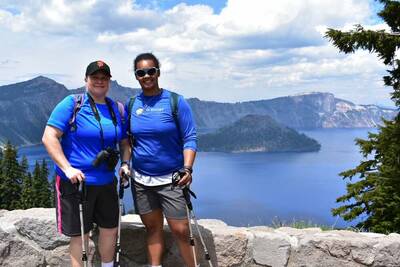 Tell us about a favorite/memorable outdoor adventure you've had:
Amy – My favorite memory is our first backpacking trip together. Megan had been backpacking before, but I hadn't and I was super nervous. We borrowed a friends old school canvas backpack and honestly, it was a comedy of errors…we bought WAY too much food and had to stuff ourselves to get everything to fit into our bear can, our dog pulled me into a creek and I had to hike the last mile or so in a sports bra because my shirt was soaked, but Megan packed wine and really tried to make it a special trip for me and it worked. The solitude and time together totally hooked me on backpacking and just more outdoor exploration.
Megan – Visiting Redwoods State & National Parks, and more specifically Miners Ridge and James Irvine loop. I've hiked that trail twice, both times with Amy and each time with different friend groups. My favorite thing about it is the variation of landscapes. From stepping back into the land before time while you hike through the Redwoods, to being surrounded by ferns and water dripping all around you in Fern Canyon, you feel spoiled when, to top it all off, you arrive at the beach and take in the roaring waves of the ocean.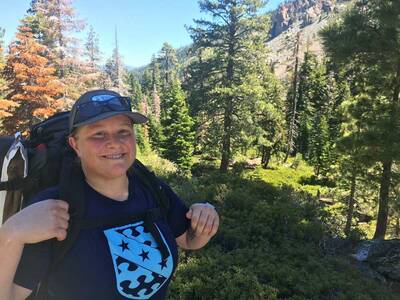 In your opinion, what are the most important challenges/issues facing queer people outside?
The most obvious issue to me is safety. We spend a lot of time in very rural and conservative parts of California. We've listened in our tent as people nearby praise Trump and spot conspiracy theories, we've both been misgendered, and have skipped stops because of signs/a vibe we get driving by. On top of that as an interracial couple it makes travel that much more complicated due to the challenges of traveling while Black, so we are ALWAYS hyper vigilant about where we are. We mostly try to keep a low profile and avoid putting progressive/gay/black stickers on the car, rarely engage in PDA, and even think about the shirts/clothes we're wearing from time to time. The other issue I think is community, finding a group of hikers and backpackers that is both queer and feels not centered on white-men has been a challenge so we often go places with friends which is great, but the LGBTQ+ outdoors community still feels like it largely centers gay men (though that is changing!!)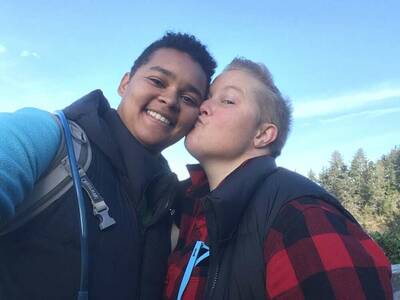 As an LGBTQ+ person, if you could change one thing about the outdoor industry, what would it be?
Facilitating access. Outdoors recreation can be intimidating and can seem expensive (though it doesn't have to be). It'd be awesome to see programs from companies specifically (like REI) targeting the LGBTQ community (and again not focusing on the cis-white male experience). I do think that is changing, but for example, having some REI classes that are queer specific would be great.
Anything else to add?
To brands or people reading this: Think about intersectionality. Don't just include conventionally attractive same-sex couples to check a box…really aim for true representation.
Connect with Amy and Megan
Follow Amy and Megan on Instagram and Outdoor Queeries.
See more Wild Wanderer Spotlights. You can follow Wild Wanderer on the organization's website, Instagram, Facebook, and Twitter.
---
This article is part of our Trailblazer program.
Backpackers.com Affiliate Policy: This article may contain affiliate links, which help fund our website. When you click on the links to purchase the gear we get a commission, and this goes a long way to creating guides, gear reviews, and other excellent content.