The Wild Wanderer Spotlight Series highlights the stories of queer adventurers in their own words. We hope that by sharing these underrepresented voices, outdoor diversity and inclusivity will flourish. You are not alone.
Wild Wanderer Spotlight: Aubri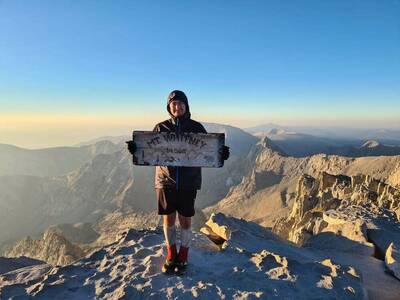 "I went out looking to re-experience a connection to nature that I used to experience before puberty – to find that young kid and unfettered joy at where I could go, what I could do, and what it was to be one small piece of this planet." – Aubri
Name an outdoor endurance sport and Aubri Drake probably does it. Drake spends their free time backpacking, day hiking, peak bagging, trail running, and ultra running. But you can't put them in a box, because there's an outlier coming. Drake also does flying trapeze, which, coupled with the aforementioned outdoor pursuits, seems like the perfect combination of activities for someone who has always wanted to live in the woods but also run away and join the circus.
Based in Western Massachusetts, Drake likes to hike hard and fast wherever they go. Close calls with hypothermia or even closer calls with a surprised and angry moose won't slow them down. Drake's adventures (and sufferfests) have taken them on the Appalachian Trail, the Pacific Crest Trail, the Tour Du Mont Blanc, and the John Muir Trail – just to name a few.
These are a lot of big trail names and epic outings. Often, folks set off on such big adventures at times of transition. For some people that means changing jobs, ending a relationship, or moving across the country. For Drake, the transition was a physical one.
Exploring Identity & the Outdoors
In 2010, Drake realized they are non-binary/trans. "I had never heard that there were genders other than man or woman," they said. "I'd always uncomfortably occupied a space as a masculine woman who was into men, and that didn't ever feel right."
In the summer of 2011, Drake began making changes in their life and taking the steps to come out and medically transition. Soon after, they also began an exploration of the outdoors through long-distance hiking. About a year after coming out, Drake decided to don a Jansport backpack and some running shoes and hike 92 miles on the Massachusetts Appalachian Trail over four days.
"I nearly got hypothermia the first night and I cried every day," Drake said. "There was a seismic shift that happened for me standing on top of a mountain. I looked back and realized that with no one else's help, I'd walked so far that I could barely see where I started. That was the point where something magical happened – something changed inside me."
Drake tried going back to their day-to-day life, but couldn't stop thinking about the trail. They were obsessed. Over the next four years, Drake would section-hike the entire AT, finishing on Katahdin in 2017. "A lot changed from start to finish for me and how I felt moving through the world," Drake said, "and with my connection and attachment to wild places and people in those spaces."
It's not that Drake had never known the outdoors before and was on a grand journey of discovering the wonders of nature for the first time. As a seven-year-old kid, Drake was active and loved to run through the woods and swim in the creek. Drake's hiking ventures today are more about recapturing that childhood magic.
"I went out looking to re-experience a connection to nature that I used to experience before puberty," they said. "I went out to find that young kid and this unfettered joy at where I could go, what I could do, and what it was to be one small piece of this planet."
Drake said there's something special for them as a transperson about using their body in such powerful ways, crossing great distances and connecting to themself in non-gendered spaces. "In the moments when I felt like I wanted to peel my own skin off because I was so uncomfortable, I would go run or hike outside," they said. "Having my body have function and purpose and knowing that it's not just there to make me uncomfortable, it's there to take me places – and it can do a really good job at that – is really special."
Perception vs. Reality
While on the trail, Drake had to deal with all the normal things that hikers deal with – things like managing food supply, caring for blisters, and consulting maps. But Drake also had to deal with other people's assumptions about their gender and sexuality.
They were very aware of the perpetual interaction of their gender and presumed sexuality that comes with whether people read them as feminine or masculine. Drake recalls meeting men in shelters along the trail who would say "you're not gay, right?" while women often assumed Drake must be their new gay best friend.
"Rather than being relegated to specific gender roles and assumptions and having to navigate all these unspoken things, I just want to talk about how delicious my food is, or how terrible it is, or how really big that last mountain was," Drake said. "I want to trade Snickers bars."
Experiences like this are one of the things that compel Drake to share their stories. "I hope that by giving people a narrative and a face, they might better understand their own impact and pause and consider before they ask somebody on the trail a question that they would not want asked of themselves," Drake said.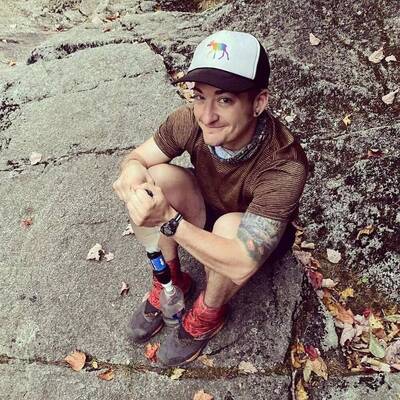 Real Talk
So what's the best way to handle those hard conversations and difficult situations when they arise? Everyone probably has a different answer. For Drake, it's all about choosing when to invest their time and energy – and often asking for something in return.
Drake isn't afraid to give homework and set boundaries, either. "Depending on someone's role in my role, I've said, 'I'm very interested in bartering. I am going to be your 'ask me anything' – but I don't do it for free,'" Drake said. "I bring experience and expertise to the table. What are you bringing to the table? Are you good at photography? Let's also do a photography session."
One of the requirements to have this type of conversation with Drake is often to watch a video or read an article, etc. "I often ask people to do one of these six things, and then have that conversation in an empathetic and kind way," they said.
Perhaps more important to Drake is remembering that they can share as much or as little of themself as they want. "That's not a requirement for advocacy," Drake said. I don't owe anybody my stories. I don't have to set myself on fire to keep other people warm."
Looking Ahead
For now, Drake is looking forward to enjoying a few adventures close to home. These days, they're more willing to tell people when something is none of their business and are more comfortable with the possibility of confrontation. "That was a lot of what I was looking for in hiking," Drake said, "to find myself and find a way to live authentically and out loud without being apologetic for it – to find confidence in being who I am."
Drake recounts a story from their first long-distance hitchhiking experience where an old Vermont man picked them up and eventually asked if they had a girlfriend. The man remained smooth as silk when Drake said no, they had a boyfriend, and proceeded to drive them for 45 minutes and refuse gas money because he believes passing on good things will make the world a nicer place.
When hard-earned confidence and comfort are met with kindness, it's a beautiful thing. So pass it on.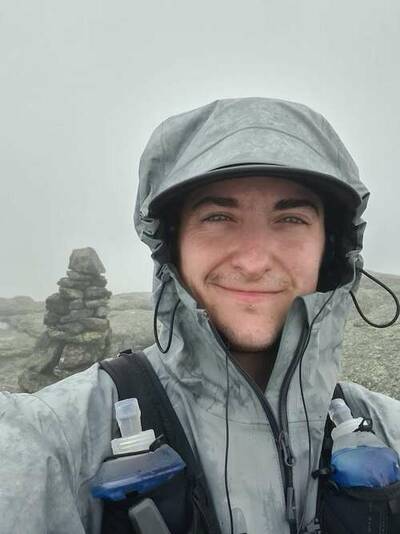 Discover More Outdoor Diversity and Inclusivity
Follow Aubri on Instagram.
See more Wild Wanderer Spotlights. You can follow Wild Wanderer on the organization's website, Instagram, and Twitter.
---
This article is part of our Trailblazer program.
Backpackers.com Affiliate Policy: This article may contain affiliate links, which help fund our website. When you click on the links to purchase the gear, we get a commission, and this goes a long way to creating guides, gear reviews, and other excellent content.