The Wild Wanderer Spotlight Series highlights the stories of queer adventurers in their own words. We hope that by sharing these underrepresented voices, true diversity and inclusion will begin to make their way into the mainstream.
Wild Wanderer Spotlight: Carlin Reynolds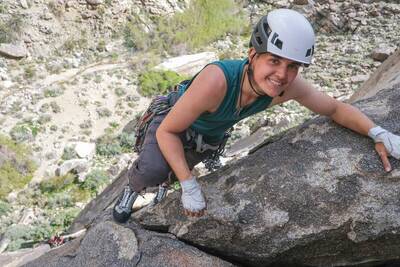 "The single biggest issue facing queer people outside is the mainstream community's downplaying of all the smaller issues we face outside…To anyone aiming to be supportive, be sure that your positivity isn't actually dismissal." – Carlin
What are your pronouns?
They/them/theirs
How do you Identify?
Agender (nonbinary), demisexual/bisexual. Shoutout to my asexual community in particular, we're out here!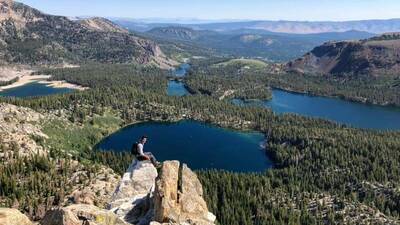 What outdoor activities are you involved in?
I am foremost a rock climber. I started climbing indoors at 19, competing on a collegiate team for four years and placing 23rd nationally in bouldering in 2018 (four months after top surgery!) Last January I began trad climbing — now my love for slab has to compete with my love for finger cracks. I've also dipped my toes into alpine climbing and big walls.
My other favorite activities are bicycle touring (bikepacking) and skiing. And of course, I've been "camping" for a year now by living full-time in my Toyota Prius, dubbed The Spaceship.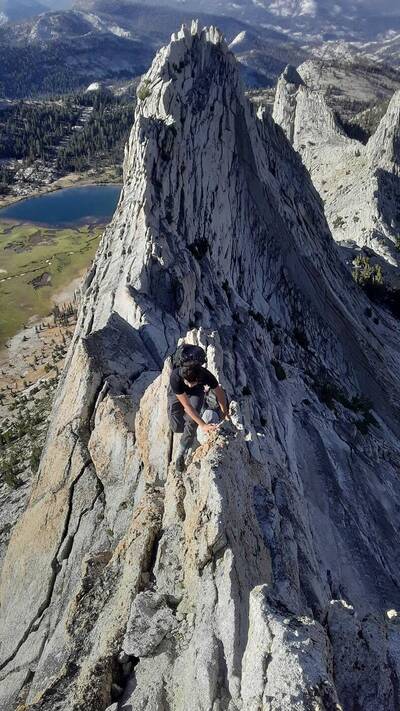 Tell us about a favorite/memorable outdoor adventure you've had:
The Tuolumne Triple Crown is a link-up of three formations in the high eastern region of Yosemite National Park: Tenaya Peak, Matthes Crest, and Cathedral Peak. It's the kind of thing you hear wilderness guides planning as an epic, all-day outing, the climbing never exceeding 5.8, but the mileage relentless… and you run the other way.
Yet I was curious when Zack invited me to join him and Tara on my day off. They were so excited for the Triple Crown. The offer came in spite of my physical limitations. I never hiked growing up, and my knees have damaged cartilage that becomes painful if I walk long distances. But I reasoned that, since every peak was commonly done alone, I could bail and walk out to Highway 120 from almost anywhere. I'd try it, and see how far I got.
Well before dawn, we set off, fueled by scalding yerba mate. Lakeside forest gave way to sleek slabs soloed by headlamp. At sunrise we reached Tenaya's summit, and the world glowed gold for miles in every direction — I'd never seen anything like it. We couldn't bask, though; there was a chance of thunderstorms later.
The next leg was grueling with repeated elevation loss and gain through valleys and saddles, weaving within the ocean of peaks. I'd brought as little as possible to stay light, even omitting my climbing shoes. It wasn't enough. I lagged behind as I pushed my hardest, quads screaming, holding back when my knees began feeling like knives. Zack and Tara ambled in pleasant conversation in the distance. I felt farther than ever from my friends, and from what they were able to experience on missions like this.
My spirits lifted once we were traversing Matthes Crest, a knife-ridge over a mile long. Here, my body moved intuitively, the route was engaging, and the formation itself was incredible. The downclimb "shortcut," though, or one version of it, was an insidious maze of exfoliating micro-flakes and those square granite knobs ubiquitous in Tuolumne that looked ready to pop off the wall. The climbing sections gave my knees rest, though. I could go on.
Over Budd Lake, we scanned the clouds. Tara calculated. A water refill and flat terrain allowed us to reach the base of Cathedral in good time. We simulclimbed, our short rope zigzagging up the face, as light raindrops slowly appeared. Thunder greeted me on the summit block. The final peak! But time to get off this lightning rod. Luckily the storm passed quickly. Back down to the dirt, the well-traveled trail, the cold creek to soak our feet.
That day brought the second, third, and fourth mountains I've ever summited. We covered 15 miles, the farthest I've ever walked or run. It was unquestionably Type 2 fun. I cried, laughed, expected my legs to stop working, and wished there weren't a gaping chasm between my experienced friends' abilities and mine. But something strange happened after the Triple Crown was over.
As three days came and went, I kept preparing to wake up sore, but never did. Instead, I was brimming with energy, hardly feeling hungry, and itching to be active. Slowly, I realized my decade-old, "I'm just not built for endurance" assumption was… wrong all along? Or different now? I'm still not sure. What I do know is there are whole sides of climbing and exploration that aren't quite inaccessible to me anymore. I'm excited to see where these new distances take me.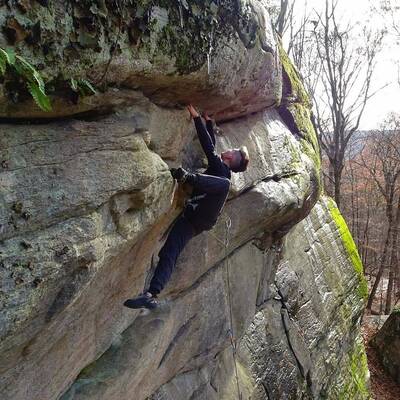 In your opinion, what are the most important challenges/issues facing queer people outside?
The single biggest issue facing queer people outside is the mainstream community's downplaying of all the smaller issues we face outside.
There's this myth, a popular one, saying people who enjoy the outdoors are accepting by default, are "chill." Anyone who'd been on a certain outdoor forum and database for more than a year should know this isn't true. But even if the vast majority were supportive, there are other barriers in place.
For example: Accessing remote, rugged places often means traveling through civilized places that are hostile to us. In the USA, this could be a small town with conservative propaganda on every lawn, or an entire state where using the "wrong" bathroom as a transgender person is illegal and you're considered a sex offender. In some countries, homosexuality is punishable by death.
Another cultural challenge for queer people is the lack of representation in outdoor media. I've had well-meaning people say I "shouldn't care if there's nobody like you" in the pro teams and magazines, "just do it anyway." There are two parts to this. Yes, we shouldn't let that dissuade us from pursuing adventure. But we should not be shamed for being upset about erasure.
To anyone aiming to be supportive, be sure that your positivity isn't actually dismissal. Offer advice, but know where your expertise ends; the same outward situation can feel different based on gender, race, sexuality, disability, etc. Your experience is yours alone, which is a beautiful thing — but you cannot presume to know better when someone opens up about issues that affect them.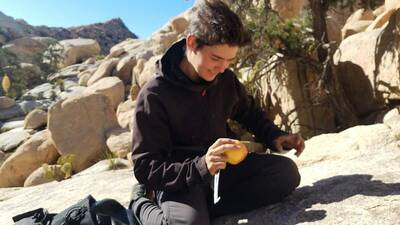 As an LGBTQ+ person, if you could change one thing about the outdoor industry, what would it be?
To designers and retailers of clothing: Size inclusivity is a transgender issue.
Trans people often have body shapes that fall outside average ranges, To generalize, we need smaller men's sizes and larger women's sizes. Custom fit might be warranted for some, but at least give us a starting point.
In technical clothing, fit directly impacts performance. This is especially true for shells and insulated layers; baggy clothes leak warm air and take more energy to heat, and overly snug clothes compress insulation, making it less effective. Poor fit compromises warmth, and in certain activities, that can transform uncomfortable into unsafe.
Hire trans people as product testers and models. Make warm ice boots large enough for trans women. Offer hemming services for pants and sleeves. Publish more garment dimensions, such as shoulder width. Make available a supplier's full size range on your website, even if you don't keep it on hand. Offer a darn men's extra small.
Anything else to add?
I don't know of any nonbinary person who's sponsored by an outdoor brand. I aim to be the first. If somebody beats me to it, great! The more the better! So let's all support gender diverse climbers, hikers, cyclists, and other athletes and make it happen.
Connect with Carlin
Follow Carlin on Instagram.
See more Wild Wanderer Spotlights. You can follow Wild Wanderer on the organization's website, Instagram, Facebook, and Twitter.
---
This article is part of our Trailblazer program.
Backpackers.com Affiliate Policy: This article may contain affiliate links, which help fund our website. When you click on the links to purchase the gear, we get a commission, and this goes a long way to creating guides, gear reviews, and other excellent content.