The Wild Wanderer Spotlight Series highlights the stories of queer adventurers in their own words. We hope that by sharing these underrepresented voices, outdoor diversity and inclusivity will flourish. You are not alone.
Wild Wanderer Spotlight: Coby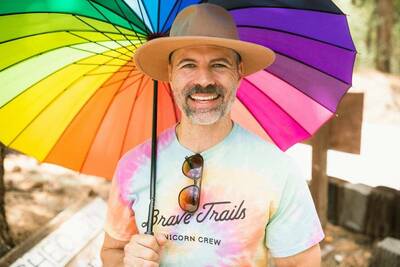 "I have seen the magic that happens when you give kids a totally accepting space where they can just be themselves." – Coby Pfaff
Coby Pfaff got his first crush on another boy at summer camp when he was a kid. Today he's come full circle and plays a key role at a summer camp created specifically for LGBTQ+ kids like the one he used to be.
As Operations Director at Brave Trails, which is a non-profit dedicated to building LGBTQ+ youth leadership, Pfaff (he/him) handles everything from scholarships and registration to archery teaching and other outdoor camp activities. Pfaff identifies as cisgender and gay and holds very fond memories of summer camp as a kid. "I've seen the power of camp to transform kids and build leadership," Pfaff says, "and I experienced it myself."
When Pfaff's friend (and an original Brave Trails founder) approached him about getting involved, he couldn't say no. "I just thought, 'This sounds amazing to give not just a camp space, but a safe space and a leadership space, to LGBTQ+ kids," he says. "It just really struck a chord with me. When I was growing up as a gay kid, it was not a very open world, and now I have seen the magic that happens when you give kids a totally accepting space where they can just be themselves and try different pronouns or different clothing."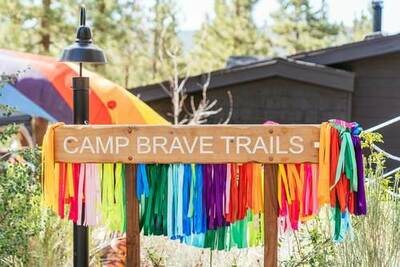 Camp Brave Trails isn't just any summer camp, or even any queer summer camp. It's more than arts and crafts and get-to-know-you games – it's all about teaching kids to be leaders.
"That leadership focus was something that was a key component of what we were doing," Pfaff says. "We were really intentional about the fact that we wanted to give these kids the opportunity, skills, and training to go back to their community or their school and start a GSA (Gay Straight Alliance) and advocate for genderless restrooms – all those kinds of things."
According to Pfaff, personal development is a huge part of that leadership training. Public speaking, self-defense, meditation, and mindfulness are all parts of Camp Brave Trails as well. "It's a very whole-person focused type of experience," Pfaff says.
Another unique element of Brave Trails is the inclusion of programming like the history of drag and other LGBTQ+-specific discussions. "We offer this in addition to all the super fun camp stuff like roasting marshmallows, archery, hiking, dance, and theater," Pfaff says. "The combination of the two makes it a really varied and interesting experience."
The Outdoor Element
Like any summer camp, Brave Trails puts focus on the outdoors in a big way, but not just for recreation. The restorative and healing nature of being surrounded by trees and fresh air is a big reason why the camp utilizes the outdoors for many of their workshops and programs.
Spending time outdoors can help queer youth foster positive relationships with their bodies, help them feel empowered, and help them develop lifetime hobbies. "We focus on helping LGBTQ+ youth connect with the outdoors because they're not traditionally welcomed in those outdoor spaces," Pfaff says.
Whether campers are hiking, swimming, learning archery, or stopping along the trail to identify trees and plants, there are always conversations happening about what it means to connect with nature and be LGBTQ+ in the outdoors.
Additionally, Brave Trails staff stay vigilant to ensure that all campers feel comfortable in outdoor spaces and contexts that they otherwise may not, such as swimming. "We have a policy that requires all campers to wear something on top and something on the bottom because that alleviated a lot of dysphorias that some of our trans campers have," Pfaff says. "That's something that is pretty unique to Brave Trails, and it's something that the campers have expressed that they really love and appreciate."
Pfaff is also the resident archery teacher at Brave Trails and says he loves it because of the subtle leadership skills it requires. "Almost every kid that tires archery for the first time is better at it by the time they finish," he says. "They see for themselves and they start learning that the more you do something, the better you get and that there are all kinds of little life nuggets that you can pull from just simple, outdoor things.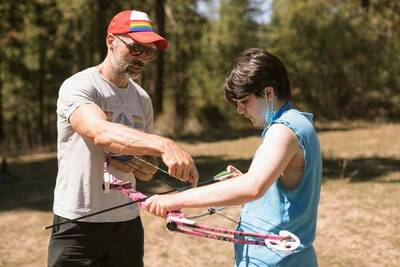 The Importance of Queer Spaces
Even though on a societal level we're much more accepting of LGBTQ+ people in the US today, individual and personal journeys do not always reflect that same acceptance. "It can still be very hard to accept that you're LGBTQ+ and then come out, come to terms with it, and process what all that means and how that affects your family, friends, school, and work," Pfaff says.
Those who doubt the aforementioned statement or question the need for queer spaces need to look no further than these numbers to change their minds: Pfaff says Brave Trails sells out every year and usually caps the waiting list at 20-25 kids. This year, however, they decided to leave the waiting list open and see how many kids signed up. There were nearly 1000 names on the list.
"It really confirmed for us that there's a big demand for safe spaces for queer kids," Pfaff says. "A lot of these kids are from Southern California, but a lot of them are from places like Oklahoma and Texas. Some of them have come to camp and said, 'I've only ever met other queer friends online.' There aren't that many LGBTQ+ camps, so we're really a small group."
Accepting spaces like the ones Brave Trails offers are extremely important for LGBTQ+ youth. These spaces can be life-changing and in some cases, even life-saving. Pfaff tells the story of a trans camper who came to Brave Trails as a quiet 13-14-year-old who was very unsure of themself. This camper came back every year and completed the counselor-in-training program last summer.
"They wrote me a letter and literally said, 'I just want you to know that camp saved my life,'" Pfaff recalls. "We get that type of letter from campers on a somewhat regular basis. It's powerful in a way that's hard to describe unless you experience it."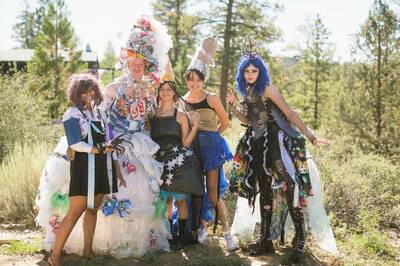 The Future of Brave Trails
Next summer will be the eighth year of Brave Trails, and the future looks bright. Pfaff mentions a newly launched mental health program with LGBTQ+ therapists who have specialty training in LGBTQ+ issues, as well as an ultimate dream for Brave Trails to own their own camp. "We want to make it a really community-centered space where we design it from the ground up to be gender inclusive and welcoming for all," he says.
Feeling welcomed – in a specific and direct way – can feel really incredible and unfortunately rare for LGBTQ+ people. Pfaff says that the issues and challenges most important to campers are fairly similar today to what they were eight years ago when Brave Trails began.
"The world is always changing, but a lot of the issues that teens face don't really change," Pfaff says. "They all have this kind of coming-of-age journey that they have to go through. Depending on where you are geographical as an LGBTQ+ kid, that journey can be harder, so that is still probably the primary struggle. At the core of it, youth are always trying to find themselves and figure out who they are and what they stand for."
Pfaff has noticed one area of change over the years, or perhaps just prominence within the LGBTQ+ community he interacts with, and that centers around gender. "From my perspective, there has definitely been an enlightening in terms of gender identity and gender expression that we didn't have quite such a high awareness of 10 years ago," he says. "The kids in some ways, are more enlightened than us. They're like, 'You can't put me in a box!' They drive this freedom of expression and freedom to define themselves, or not define themselves, or reserve the right to change how they identify."
It's clear that at Brave Trails, learning isn't a one-way street. Campers learn from counselors and counselors learn from campers. The exchange sounds seamless and, frankly, like a whole lot of fun. There's palpable joy on Pfaff's face when talking about the experience of being a part of camp and what it means for kids who have never had deep friendship, acceptance, and community before setting foot on the Brave Trails campus.
"It is really like magic," Pfaff says, and I know he's right.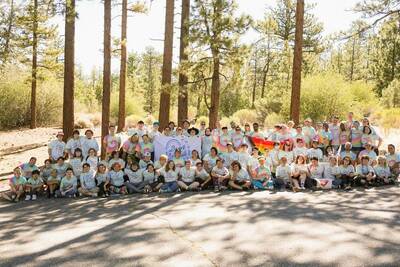 Discover More Outdoor Diversity and Inclusivity
See more Wild Wanderer Spotlights. You can follow Wild Wanderer on the organization's website, Instagram, and Twitter.
---
This article is part of our Trailblazer program.
Backpackers.com Affiliate Policy: This article may contain affiliate links, which help fund our website. When you click on the links to purchase the gear, we get a commission, and this goes a long way to creating guides, gear reviews, and other excellent content.