The Wild Wanderer Spotlight Series highlights the stories of queer adventurers in their own words. We hope that by sharing these underrepresented voices, outdoor diversity and inclusivity will flourish. You are not alone.
Wild Wanderer Spotlight: Em Donkers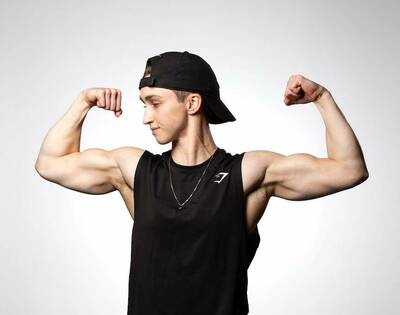 "Everyone has their own goals and I just want to see people happy and loving the body that they're in." – Em Donkers
When Em Donkers (they/he) received word that they were officially a sponsored Gymshark athlete, they thought it was an April Fools' joke. It was, in fact, actually April 2nd – and very much not a joke.
Donkers is a personal trainer, nutritionist, and weight training specialist helping queer folks build their ideal bodies through NRG Fitness. They identify as non-binary transmac and say they are loving the journey of figuring themself out more and more every day, in large part thanks to their fitness journey.
Today, Donkers' childhood dream of getting paid to work out is now a reality (and a true full circle moment) as Gymshark's first non-binary athlete.
The origin story
Donkers' interest in fitness stemmed from a love of sports and a desire to excel, perform better, and be stronger. He recalls doing Jillian Michaels workout videos with his mom during his younger years and thinking it was okay, but not quite what he was looking for.
"I had the body that I was born with and I wanted to change it to be how I had always envisioned myself – strong and tough and not a toothpick with a big butt," he says. "I just didn't identify with that at all, so I took it upon myself and did my own research, and started implementing those practices on myself and loved seeing the progress."
When Donkers was sent home with workouts from his travel hockey team, he also started getting the attention from girls that he had always wanted. "That really fueled me and I liked getting those compliments and just being strong," he says. "I remember my brother telling me, 'If you get too big, guys aren't gonna like you.' And I'm like, 'There we go! Bring it on.'"
Fast forward and Donkers became a personal trainer at university and studied nutrition for four years. He took on another job with the goal of one day running his own business full time, all the while posting his workouts and fitness resources on Instagram. Enter Gymshark.
Big gains for visibility
That Gymshark sponsorship means that Donkers has access to a wider audience and that they can do the work that they're passionate about full time.
"Every day, I get to do what I love," Donkers says. "It seems so far out, like becoming an astronaut or something, and then it just happens. To this day, I still am so honored and flattered by the opportunity."
The sponsorship also means a lot in terms of visibility for the queer community in the fitness world. In a space that has historically been dominated by straight cis people and the "men should have big arms and women should have big butts" mentality, Donkers' presence is a gift for LGBTQ+ individuals who haven't seen themselves represented or welcomed. NRG Fitness is a true safe space for the queer community in the fitness industry.
"Having that voice for people is so important," Donkers says. "Sharing my story and bonding with other people over their similar stories, or talking about our top surgery journeys or hormone replacement therapy, has been amazing. It's so cool to have people around who are like you to give you that sense of community and belonging."

The philosophy of NRG Fitness
Donkers says that his identity absolutely influences the work he puts into the world through NRG Fitness. As the only AFAB (assigned female at birth) person in his grade 11 weightlifting class, he wondered "why am I the only one here?" Ever since, he's been showing people that they're not alone.
It's clear that Donkers is providing much-needed visibility, especially other queer people who haven't previously been able to find what they're looking for in regards to fitness. A lot of messages Donkers receives are from people who are pre- or post- top surgery.
"I have people say 'I want to be muscular and I want a flatter chest, can you help me reach my goal of this ideal body that I have?'" Donkers says. "Other people may not want to look like me, but they may like certain things that I do. If one person takes a piece here piece there to make themselves happier and to get closer to their goals, I'm happy. Everyone has their own goals and I just want to see people happy and loving the body that they're in."
Finding confidence taking up space
For those who feel intimidated by the idea of going to the gym and learning to lift weights, or who feel like they don't belong, Donkers has some tips: start at home, ask questions, and don't be afraid to take up space.

"Start collecting a few workout items and begin with the basics," Donkers says. "Watch videos on YouTube to get a sense of how to do the exercise. That way, when you go, you feel that much more confident. Also, taking a workout buddy with you can make you feel better and more secure."
So what else can you do when you're at the gym and those feelings of anxiety or insecurity creep up and you feel like all the buff guys are staring you down?
"You pay the same amount as that guy pays," Donkers says. "You have the same right to the piece of equipment that they do. Don't count yourself out just because you don't have bulging muscles."
Donkers says it's equally important to ask questions when you need help. "Talk to people like me, because a lot of us are happy to help you," they say. "I am happy to affirm you and remind you that you deserve to be there."
Tuning out your inner critic
There's a whole mental side of things that can often keep us from doing something we may really want to do, even though nine times out of ten, we are just projecting our own insecurities.
"Getting in your head can be so discouraging," Donkers says. "We sabotage ourselves and are very quick to assume that people are judging us negatively. If somebody looks at me, I might think, 'They don't think I'm strong enough! I look like an idiot! Why am I doing this stupid exercise?' but maybe they just like my shirt."
Donkers says the key is to tune out your inner critic and keep those thoughts out of your brain as much as possible. "Try to just be like, 'I'm here for myself, to make myself feel better, healthier, and stronger,'" he says.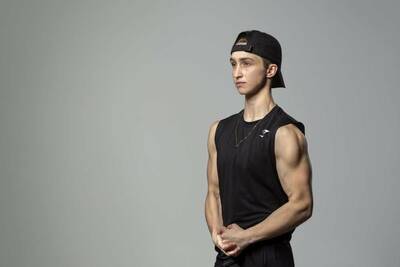 Thriving in the gray space
There's a tidal wave coming and it's not black or white, but gray. The gray space of gender is becoming more visibly embraced in many industries, including fitness. Whether it's getting gender-neutral bathrooms at the gym, using more gender-neutral terminology, or the availability of gender-neutral workout gear (Donkers mentions talks with Gymshark about creating more unisex products), change is happening.
"It's important to be aware when we're in those types of places that we all belong and we don't have to be so this or that," Donkers says.
The binary is a thing of the past, and Donkers shows us that you can thrive in the gray space in a big way. "You have the control and you can start working on your ideal body now," they say. "Don't be afraid to take charge of your journey."
You can follow Donkers on Instagram and YouTube for information on home workouts, virtual personal training, custom workout plans, and more.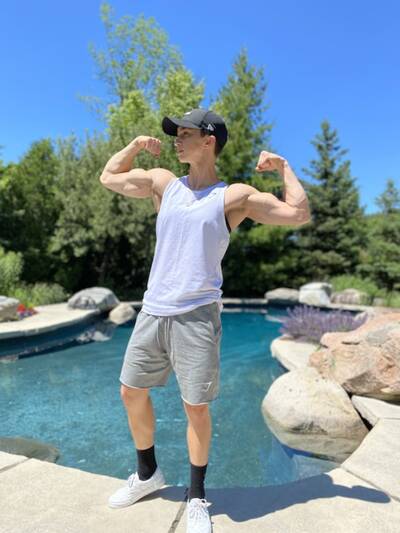 Discover More Outdoor Diversity and Inclusivity
Follow Em Donkers on Instagram and Youtube.
See more Wild Wanderer Spotlights. You can follow Wild Wanderer on the organization's website, Instagram, Facebook, and Twitter.
---
This article is part of our Trailblazer program.
Backpackers.com Affiliate Policy: This article may contain affiliate links, which help fund our website. When you click on the links to purchase the gear, we get a commission, and this goes a long way to creating guides, gear reviews, and other excellent content.