The Wild Wanderer Spotlight Series highlights the stories of queer adventurers in their own words. We hope that by sharing these underrepresented voices, outdoor diversity and inclusivity will flourish. You are not alone.
Wild Wanderer Spotlight: Marley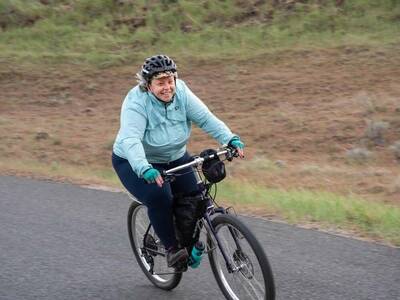 "People in power are hopefully examining their privilege in ways that they haven't before and they're asking, 'who else can I elevate?" – Marley
When I spoke to Marley Blonsky, she was several days away from her final day of work in the corporate world. I could sense her excitement seeping through the screen over our Zoom call. Come Friday, she would be a full-time adventurer and advocate for a more inclusive outdoors, more specifically working toward size inclusion in the cycling industry.
Fed up with the stifling corporate sphere she'd inhabited for the past 12 years, Blonsky was ready for a change – and it couldn't have come at a better time.
"The momentum around inclusion in cycling has really taken off over the past six months," she said. "I did some soul searching and thought, if I don't take this moment and see what I can do with it, I'm going to look back and regret not leaping."
Blonsky, who identifies as a queer woman and a fat adventure cyclist, might have just a little something to do with that aforementioned current of momentum in the cycling industry. You may have seen the Shimano Originals film called All Bodies on Bikes that follows Blonsky and fellow cyclist Kailey Kornhauser on a bikepacking trip across Oregon. The film challenges the idea that people in larger bodies don't – or can't – ride bikes.
The film was a big success and has accelerated Blonsky's work toward size inclusion in the cycling industry in a big way. However, Blonsky wasn't always a cyclist – and wasn't always a self-identified fat cyclist, either.
Grappling with Identity
Blonsky grew up in Texas riding bikes, an activity beloved by lots of 90s kids. During middle and high school, though, she put down the bike and picked up volleyball and softball instead, like any self-respecting queer (just kidding, mostly).
After a traumatic divorce years later prompted a move from West Seattle to the dense and urban Capitol Hill, Blonsky ditched her car and discovered a love for bikes once again. Around the same time, she started blogging about her adventures as a single 20-something in Seattle. Questions began pouring in about her outdoor gear, where she got it, and what size she was wearing.
"I had never really thought of myself as a fat woman until people started asking me about it," Blonsky said. "People would write to me and say, 'hey, I'm also a larger woman – can you give me any tips because I would love to get into bike riding.' I thought, whoa – I don't identify that way. It was a kind of a disconnect."
By this time, it was the age of Instagram, and Blonsky says there were a lot of fat liberation conversations happening online. "There was a lot of soul searching on my side," she said. "I see myself as a cyclist, but I don't see myself as a fat person. So I had to reconcile the two together and say yeah, it can be both, and I do have valuable input to give."
Blonsky was busy doing advocacy work in Seattle to get bike infrastructure built when an idea dawned. "I realized that this work is cool, but I could be doing this for fat people on bikes, which is way more meaningful to me," she said. "I started writing about that on my blog and Instagram and reaching out to bike companies on Twitter."
She may not have known it at the time, but this started a snowball effect that would have a big impact in the years to come.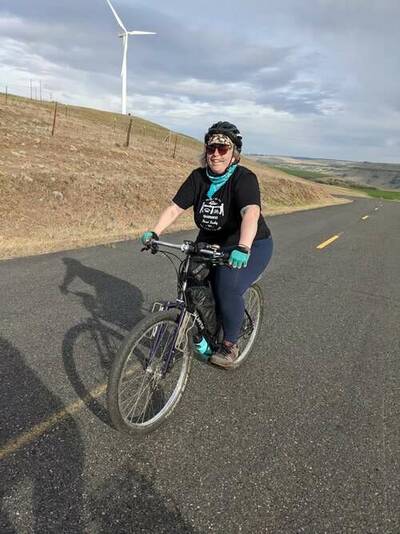 Filling a Void
The need for Blonsky's work became even more clear when she attended the first ever WTF Bike Explorers (now Radical Adventure Riders) summit in Montana. "There were all these conversations about expanding who is included in cycling, but I was still the only larger-bodied person there out of probably 75 people," Blonsky said.
She recalls discussions about what kind of underwear, kits, and chamois people were wearing. "There were lots of body privilege conversations happening," she said. "I was trying to tactfully say, 'hey, all these brands you're talking about, they don't come in my size. All these rain jackets you're talking about, they don't come in my size.' Everybody was kind of like, whoa, we've never even thought about this. I realized that there was this void and that people didn't even think about people in larger bodies riding bikes at all."
Later on in the summit, Blonsky hosted a mini session about body size inclusion for an audience of about 10 people. "That really laid the foundation for this work," she said. The group talked about what an inclusive cycling community for larger-bodied people looks like. They discussed community building, group rides, and clothing.
A big moment came the following year when Blonsky met Kailey Kornhauser through Instagram. The two bonded over their shared love of bikepacking and the struggles they both faced as larger-bodied cyclists. They made a plan to return to the next bike summit and do a formal, researched presentation.
The rest is history.
All Bodies on Bikes
Blonsky's original audience of 10 turned into 70 the second time around. She and Kornhauser made pamphlets about being an ally to people in larger bodies. They established group norms and explained why they were okay with using the word "fat." They presented facts.
"In the room that day, there were folks from Specialized, Kona, and other bike companies," Blonsky said. "That was the first time we got feedback from folks in the industry saying, 'we need to hear this.'"
After the summit, the two began hosting workshops, creating resources, and building community for cyclists in larger bodies. Soon enough, a filmmaker friend secured funding from Shimano, and the All Bodies on Bikes Film was born.
"They followed us bikepacking for two days, and it was a huge game changer," Blonsky said. She explained that when she first started reaching out to bike companies, she felt like she had to prove herself as a real cyclist.
"I'd have to say, 'I have skill. I go bikepacking, I have endurance,'" she said. "I felt like [the film] helped legitimize us in a way, which shouldn't need to happen, of course. A person who is biking their kids to school three miles should be just as legitimate as me and Kailey, and deserves just as high-quality equipment."
Today, things are a bit different. "Now, instead of us reaching out to companies, we've got companies reaching out to us and asking, 'how do we do better?'" she said. "People are realizing there's this huge market segment that they've ignored."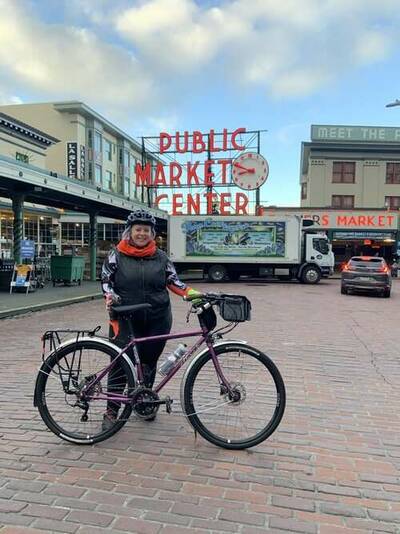 Progress, Patience, & Privilege
For all the positive changes happening in the cycling industry and toward inclusion in the outdoors in general, it's important to note that there's still much work to be done.
Tokenizing is one problem, with the same five people being elevated over and over again. But Blonsky said one of the biggest needs in the larger-bodied space is for sizing to go beyond a 3x.
"So many brands think that 3x is big enough," she said. "That's what size I wear. That's not big enough at all for so many people. People feel excluded when they go to shop and they can't find bike shorts or other gear."
"I would love it if somebody could walk into an REI and buy a full kit as a plus-size woman," she continued. "Right now you can walk in as a plus-size woman and buy a really cute hiking outfit or a winter coat, but you can't buy pretty much any technical gear, and it's so frustrating."
Blonsky also said that as much as it can suck to wait for needed change, patience really is a virtue. She's been working with Pearl Izumi (one of her sponsors) on prototypes for larger sizes. As exciting as that is, those designs won't come out until 2023 or 2024.
"One thing I've learned in working with the industry is that change is slow, just because of the cycle of design and how it works," she said. "I had no idea how long it takes before getting into this. I'm trying to tell brands that transparency is great. Tell your customers that you're working on this and that you have a timeline so we don't think you're ignoring us."
Amidst all the exciting developments in her work, Blonsky is well aware of her position of privilege.
"Just like anything else, being fat exists on a spectrum," she said. "If I show up to a bike event, people stare at me, but they don't necessarily question if I can do it. I get a lot of, 'Oh, is this your first event? Are you new to cycling?', but if I weighed 100 pounds more, there would be a lot more of that. I try to be really aware that I don't speak for all fat people. My experience is very different from that of other people who live in larger bodies."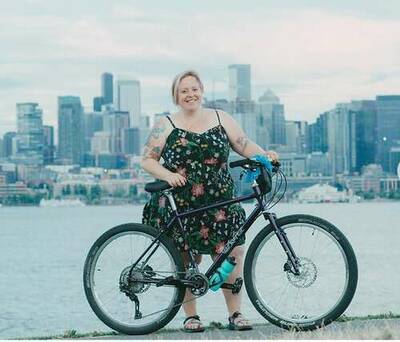 Shifting the Industry
When we spoke, Blonsky was gearing up to head to Colorado for the Steamboat Gravel event, where she'd be riding her Breezer Inversion and leading a 20-mile no drop (meaning no one gets left behind) inclusive pre-ride.
She did something similar at UNBOUND Gravel with surprising results. "I had professional cyclists come up to me afterwards and say, 'Thanks so much, that was the first true no drop ride I've ever been on,'" she said. "To get that feedback was like, whoa, you guys just leave people behind normally? They were like, oh yeah."
Clearly there's a need for Blonsky's work and guidance. She's ready to dive into some exciting ventures that lie ahead, including making All Bodies on Bikes a sustainable project. Blonsky leads a Monday night ride in Seattle called Moxie Monday for trans, femme, non binary, and women-identified cyclists, and hopes to empower people to start their own local groups.
Blonsky is excited about continuing to consult and getting more brands on board with size-inclusive projects – something her experience in the corporate world has prepared her well for.
"I love talking to brands," she said. "Because of my corporate background, I can do that 'business speak' and get into their brains. Appealing to them on an emotional level is cool, but it doesn't necessarily get the products made."
So why are brands suddenly listening to fat cyclists, queer cyclists, cyclists of color, and other marginalized groups? Blonsky said it's clear that the way that marketing happens has changed.
"Instead of brands pushing content to us, I think with the creator economy, creators have the power," she said. "Brands are seeing that the younger generation relates to queer folks, people of color, and fat people. I also think that the Black Lives Matter movement was huge in bringing awareness to other marginalized groups."
Today, if a brand doesn't represent you, you can usually find one that does. "People aren't afraid to put their money where their values are," Blonsky said. "People in power are hopefully examining their privilege in ways that they haven't before and they're asking, 'who else can I elevate?' Whether that's queer folks, fat folks, people of color, women, or trans folks, I think it's really, really cool."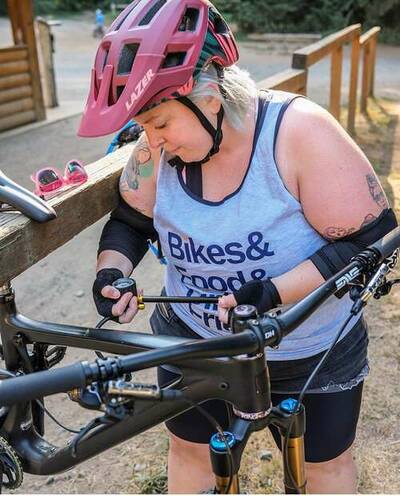 Discover More Outdoor Diversity and Inclusivity
Follow Marley on Instagram.
See more Wild Wanderer Spotlights. You can follow Wild Wanderer on the organization's website, Instagram, Facebook, and Twitter.
---
This article is part of our Trailblazer program.
Backpackers.com Affiliate Policy: This article may contain affiliate links, which help fund our website. When you click on the links to purchase the gear, we get a commission, and this goes a long way to creating guides, gear reviews, and other excellent content.