The Wild Wanderer Spotlight Series highlights the stories of queer adventurers in their own words. We hope that by sharing these underrepresented voices, true diversity and inclusion will begin to make their way into the mainstream.
Wild Wanderer Spotlight: Stephanie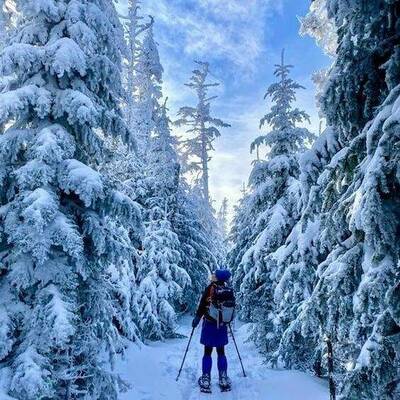 "What is most satisfying is spending time in the mountains just as myself and finding support from other hikers, especially my women friends that treat me as one of them because being myself has been a life long challenge and all I ever wanted." – Stephanie
How do you identify?
My name is Stephanie and I am a Trans woman. I am also a nurse, recently semi-retired, a parent, Mom, daughter and sister, friend, and hiker.
I grew up in a time when Transgender wasn't even a word, let alone a valid identity. But at the age of 4, I exhibited what we would now call, gender non-conforming behavior. I was assigned male at birth but loved to play with my sister and wear her dresses. And I was able to "get away" with that when very young but eventually I was forced into the male path while my sister went down the female path. I never understood why I couldn't follow her but it was obvious to me that this was the way it was and it was a non-negotiable point.
I tried to make the best of it and adopted all the trappings of male behavior, hanging with the other boys, playing tough games like football. But despite my outward appearance and behavior, I couldn't shake my identity and desire to express it. So I would sneak around at every opportunity to dress as myself always in private as I knew what I was doing was considered "sick and wrong".
Then male puberty hit and I grew physically bigger and stronger. I followed my brother's path into weight lifting and football in High School and even played a year in college. And I played the most macho position there was as an Offensive Lineman and Defensive Middle Linebacker. But I could never tackle my inner self!
Finally, in 1973, I read an article about Trans women and I suddenly realized that I wasn't alone and I understood in a moment that I was a Transgender woman. Years of counseling which was often rooted in ignorance in those days misguided me and I decided I wasn't "Trans enough". And so I wrongly decided to stuff my identity back into the Genie Bottle and carry on as the man that the world told me I was.
I married a woman and adopted 3 children but I was haunted by my identity that never left me alone. I loved being a parent, one of the only things I felt comfortable doing in my assigned gender role although even here I couldn't help but feel my maternal instincts.
As the decades unrolled I began to read stories of Trans women who didn't fit the outdated notions of what it meant to be Trans and I wondered if maybe I was "Trans enough" after all. Finally, at the age of 50, my fake world began to collapse around me. I went back into counseling hoping to fix me once and for all so I could feel more comfortable with being the man I was supposed to be and so I could save my marriage and family since my kids meant everything to me.
But that wasn't to be. After a couple of years of counseling, it was suggested that I should start some low-dose Hormone Replacement Therapy (HRT). I was secretly thrilled and so began my journey back to myself. Low dose HRT changed into higher dose HRT and ultimately I transitioned socially at the age of 61 and had Gender Confirmation Surgery (GCS) at age of 63.
Yes my marriage failed, my family of origin has largely disowned me but I've never been happier and at peace with myself. My children have stood by my side and my work supported me. I became involved in the process to get a Trans rights law passed in my state of New Hampshire to prevent discrimination against Trans people in employment, housing, and public accommodations, publicly testifying in the NH Senate and House of Representatives.
What outdoor activities are you involved in?
I always loved the outdoors and now I get out hiking as much as possible and I do it as myself rather than using it as a disguise hiding out as a tough outdoors man. I stay active in outdoor women's groups online and IRL and love the support of my fellow trail sisters.
Tell us about a favorite/memorable outdoor adventure you've had:
I've had so many amazing adventures in the mountains that it's hard to pick out just one. I finished the NH 48 four thousand footers, hiked in many national parks, hiked several 12 thousand foot peaks and one 14 thousand footer in Colorado. I've taken on the challenge of completing the NH Grid which is 576 peaks and I'm a quarter of the way through that list. But what is most satisfying is spending time in the mountains just as myself and finding support from other hikers, especially my women friends that treat me as one of them because being myself has been a life long challenge and all I ever wanted.
In your opinion, what are the most important challenges/issues facing queer people outside?
One of the biggest challenges I feel is the transphobic ideas that I absorbed over the years. Always somewhere in the back of my head is the feeling that at some point I will be "clocked" as Trans by a hater and I'll be harassed or worse in the backcountry. So I'm always on guard to some extent. Fortunately, I have been warmly embraced by most everyone on trail and for that, I'm eternally grateful.
But my voice is deep and as soon as I talk I worry about outing myself. I probably have but it hasn't been a frequent problem. Although once I met a man on trail and he started talking to me but after I started speaking, his eyes bugged out of his head and he moved away from me quickly! Fortunately, that is more the exception than the norm. Thanks to all the allies who have treated me kindly!
As an LGBTQ+ person, if you could change one thing about the outdoor industry, what would it be?
I wish the outdoor retailers would size some of their gear to Trans people. For instance, I wear women's clothing, obviously, but I have a hard time finding certain items like boots that fit my larger frame. I'm sure that some Trans men have a similar problem with finding men's clothing that fits their smaller frames.
So despite the challenges of being Trans in a still transphobic society, I can see how things have changed dramatically for the better and I am optimistic about the future for myself and other Trans and nonbinary people. But I also recognize that this progress is uneven and Trans women of color and those raised in more conservative sections of this country as well as in other parts of the world, are still persecuted, harassed, and even murdered just for being themselves. No one is free until we all are free.
Anything else to add?
Thank you for this feature as being visible as a Trans woman is important to me. I didn't have that until much later in life and so want to be that person for someone who is struggling to be themselves, whether they are Gay, Lesbian, Trans, Queer, or struggling with issues of racism, ableism, sexism, or xenophobia.
Connect with Stephanie
Follow Stephanie on Instagram.
See more Wild Wanderer Spotlights. You can follow Wild Wanderer on the organization's website, Instagram, Facebook, and Twitter.
---
This article is part of our Trailblazer program.
Backpackers.com Affiliate Policy: This article may contain affiliate links, which help fund our website. When you click on the links to purchase the gear, we get a commission, and this goes a long way to creating guides, gear reviews, and other excellent content.