Backpackers.com — Pinnacles National Park is a strange land, and many of us are strangers there. Due to its remote location in Central California, few people that live outside the area and/or California have been to the National Park, which was established as a legitimate "National Park" in 2013 by President Barack Obama. Before that it was Pinnacles National Monument, declared as such by President Theodore Roosevelt in 1908.
Pinnacles is known for its unique geology and palisade-like rock formations, which are due to the San Andreas fault line cutting through a million-year-old volcano. Full of water caves, gorgeous rolling vistas, and unique wildlife, Pinnacles National Park is one of the more unique spots to hike in California.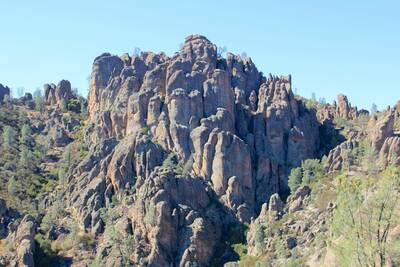 Actually, this is a hiker's paradise. With dozens of trails and many possible loops of various difficulty levels, there are ample challenges for all ages in Pinnacles. There are also no roads through the park, which means if you want to reach some of the more remote areas, you will have to hike there. This is a nice challenge, and lends to the sparseness of the land.
Condor Gulch to High Peaks Loop
This 5-6 mile hike has a decent elevation gain of 1325 feet and will take you through a good portion of Pinnacles National Park. The reason for "5-6" miles is the optional short hikes to see the Bear Gulch Reservoir and Bear Gulch Cave Trail, which are minor detours but major attractions that are (in our opinion) worth it.
The trailhead for this hike starts at the Bear Gulch Day Use Area, which is a good ways into the Park, easy to find, and has ample parking. Being that this hike is a full loop you can technically start in either direction — heading southwest from the Day Use Area towards the Reservoir and Cave Trail is one way to go.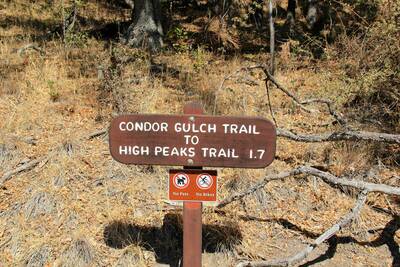 However, we're going to recommend instead heading north from the Day Use Area right away, starting your hike with a 1.7 mile, 1,065 foot climb along the Condor Gulch Trail. This will get your heart pumping and the majority of uphill trekking done away with immediately while offering increasingly breathtaking views as you rise above the landscape. About halfway through the Condor Gulch Trail you'll hit an overlook, be sure to rest and snap a few photos. And, so you know, the trail's name is apt — Pinnacles is the place where most Condors were released into the wild upon re-population, and the birds can be seen in the park.
After those 1.7 miles you'll hit the High Peaks Trail and head West (to the left), and this will be your main trail for the rest of the hike. The High Peaks Trail to the right continues well into a more remote section of Pinnacles National Park, which ModernHiker explores at length for those wanting a longer and more difficult hike.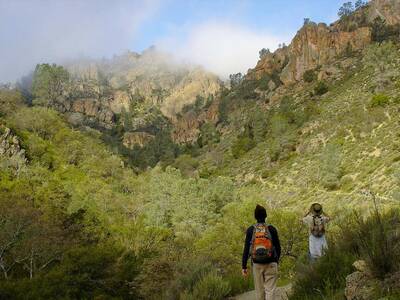 The High Peaks Trail will generally wrap around the rim across from Condor Gulch, and you'll feel yourself circling back. You'll pass Tunnel Trail — stay on High Peaks — and hit some switchbacks around Juniper Canyon Trail — still, stay on High Peaks. Parts of High Peaks are very narrow, with hand-railings and stairs set into the trail. It's well maintained, but pretty intense.
Eventually you will hit the Rim Trail, and this is where you have a choice. If you want to see the Bear Gulch Reservoir and possibly enter the caves, take the Rim Trail. This will lead directly to the Reservoir and then the Caves, which will folllow into Moses Springs Trail and lead you right back to the trailhead.
If you opt out of the Bear Gulch area forego the Rim Trail and continue on High Peaks until you hit your original trailhead. There's about an extra mile of hiking if you go the Rim Trail to Bear Gulch route, one that we feel is worth it, especially if you get to walk through a cave.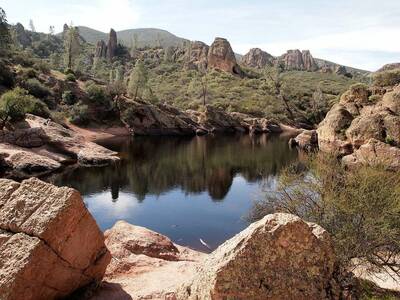 The Whole Getting There Thing
This is a great time of year to see Pinnacles. It's not exactly "winter" in California — at least not like the rest of the U.S. And Pinnacles has a typically Mediterranean climate, so late winter and early spring make for crisp days and favorable weather. That said, the National Park Service notes that Pinnacles gets very crowded on the weekends in March and April, so a mid-week excursion may be your best bet.
There's also a campground at Pinnacles, which is highly recommended, as it's a great way to hike multiple trails in the area and enjoy your time in this remote location.
To get to the eastern section of the park, you'll need to reach Highway 25, which runs North-South through Central California. From the North, Hollister is the central hub to hit this highway, and from the South taking the 101 Freeway or Interstate 5 to Highway 198 will get you there. But Google Maps will allow you to do this yourself.
From Highway 25, turn onto Highway 146 and you'll pass through the Eastern Entrance, then the campgrounds, and continue on that until signs point to the Bear Gulch Day Use area and Reservoir. Park at the Day Use Area, and hit the trail.
There is a $15 vehicle fee to get into the park.
Resources
There are a number of incredibly helpful resources for exploring Pinnacles National Park. Please see them below:
Images in order: A Beautiful Place by daveynin via FlickrCondor Gulch Trailhead by daveynin via Flickr; Condor Gulch Trail in Pinnacles National Park by Miguel Vieira via Flickr; Bear Gulch Reservoir via Wikimedia Commons