Wolf and Grizzly creates functional outdoor tools for adventure seekers. Those who look to unplug from the din of daily life can turn to Wolf and Grizzly for practical, reliable, and stylish products that'll make the next adventure more pleasurable and memorable.
Founded upon three core design principles, Wolf and Grizzly is dedicated to perfecting both the form and function of its products. Those design principles are:
Simple is best
Age beautifully
Honest materials
With these three concepts guiding the brand's product creation, you can trust that the items you purchase will be efficient in their operation and durable for the long haul.
Get 20% off your purchase with the promo code SALE20 now through September 7th, 2021. Plus, you'll get free shipping on all orders over $30.
---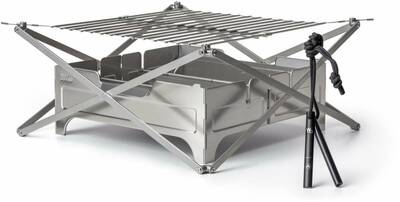 This is the best of everything—the complete Wolf and Grizzly cooking collection in one convenient package. Make a campfire anywhere and grill up some grub in a flash with the awesome Campfire Trio.
Sleek and minimalist in design, this kit not only looks good but will prove to be easy to clean and will quickly become a staple in your adventure kit. This collection includes the portable grill, fire safe, and fire set that we'll go into more detail below. All of it comes backed by a one-year warranty.
---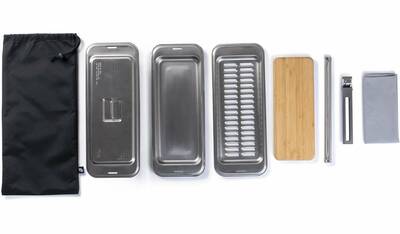 The 9-Piece Cook Set turns the Wolf and Grizzly grill into a multi-surface cooking platform that can handle everything from pancakes to pasta and everything in between. The included rail system enables you to mount your selected cooking surfaces right over the flames or coals—your choice.
The entire set nestles perfectly into the provided two-liter cooking pot, which then slides into the handy storage bag. Aside from the pot, you'll also get a cutting board, griddle, hibachi, and a pot gripper. Boil, saute, or grill anything you'd like no matter where you roam. This cook set is the only item on this list not included with the Campfire Trio, so make sure to add it to your cart if you want to cook over your grill.
---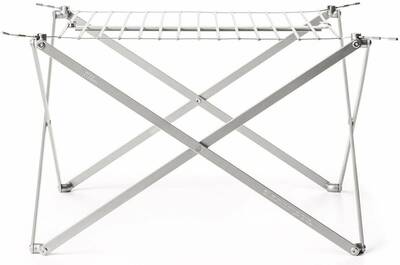 Perhaps the star of the show, the Portable Grill allows you to cook over the Wolf and Grizzly Fire Safe or any other campfire you may create—even one that's directly on the ground! It's comprised of two parts: a rollable grill surface and a foldable frame. Simple and versatile—just the way we like it.
This grill can hold up to 30 pounds without a hitch, meaning you can set your cast iron pan or dutch oven on it. Yet, it only weighs 2.2 pounds, which means it's a practical backpacking tool for those who like to cook over a campfire in the backcountry. It can be set to stand at multiple height levels (eight-inch, six-inch, and flat) so that you can get the perfect amount of heat for your food.
---


Comprised of strong 304 stainless steel, the Fire Safe has a high heat tolerance that can handle wood and charcoal fires without breaking a sweat. Using the Fire Safe is superior to building ground fires for two important reasons.
For one, it is much less harmful to the environment as the elevated steel platform protects the ground underneath from fire damage and debris pollution. Secondly, it makes cleanup a breeze—simply dispose of the ashes after everything has cooled. This is how you leave no trace while still having the backwoods campfire you've been longing for.
---


One of the first rules of backcountry survival is to carry multiple ways to start a fire. This Wolf and Grizzly fire set contains a 100% ferrocerium rod that'll produce enough sparks for over 20,000 campfires with the help of the attached striker blade.
Also of note, the included paracord contains dried jute which can be used as a tinder to start a fire in an emergency situation. This Fire Set will spark at any altitude, and even in wet conditions, so it's a solid choice as a primary or backup fire starter for your bugout bag.
---
This post is Sponsored by Wolf and Grizzly.
All images courtesy Wolf and Grizzly, All Rights Reserved.
Backpackers.com Affiliate Policy: This guide contains affiliate links, which help fund our website. When you click on the links to purchase the gear, we get a commission, and this goes a long way to creating guides, gear reviews, and other excellent content.