YETI Coolers does a lot well, but its claim to fame is coolers that keep your beverages, meat, and cheese colder than an arctic tundra. Or, at least as cold as an arctic tundra. Its coolers make this possible through industry-leading insulation and unbreakable design — but there's one key factor in the equation of ice-cold coolers that most people don't think about: the ice. So the abominable snowman brand created YETI ICE packs, the end solution for all cooler-based issues.
Sure, dumping a few bags of normal ice in a YETI Cooler will keep your goods cold. But they also have a high probability of getting wet. The ice will, despite best efforts and after many days, eventually turn to a soupy, chilly batch of questionable water.
YETI looked hard at these issues (we're guessing here, because we weren't invited to the product strategy meeting), and decided to up the cooler game by innovating on ice itself.
YETI Sale: Free 2 Pound YETI Ice with Any YETI Cooler Purchase
The meat and potatoes of this Black Friday holiday sale is straightforward (much like a YETI Cooler): buy any YETI Cooler and you will receive a free 2 pound YETI ICE. It lasts until December 2, 2019.
So, if one of the coveted coolers was already on your list as the "best cooler gift one could possibly buy," it just got more enticing. The two pound YETI ICE is the middle size, and works with every cooler YETI makes.
It will automatically be added to your cart when you go to buy a cooler at YETI.com. No discount code or nothing!
What is a YETI ICE Pack?
Deals aside, we think it's worth knowing a bit more about these YETI ICE packs.
First, know that in larger coolers they work best as an addition to normal ice. Buy regular ice, pour it in the cooler, then place the YETI ICE pack directly on top (pre-frozen). This lends cold to the regular ice, and keeps it in ice-form way longer.
If you have a smaller cooler — or decide you want to forgo normal ice completely — you can use YETI ICE packs exclusively. Just make sure you freeze them overnight first!
YETI ICE packs are known for four key attributes:
Stays Colder Long
The YETI ICE stays colder much longer than regular ice. This allows it to not only keep your food and drinks colder longer, but it maintains the length of time that normal ice will stay normal ice — keeping it from turning into a soupy mess.
Impact-Resistant
Like all YETI products, the ICE packs were designed with impact in mind. While we wouldn't drive a car into YETI ICE (like you can with a cooler), these ICE packs won't break, can be shoved into a cooler or freezer, and will withstand a lot of abuse.
Freezes Faster
YETI built these ICE packs to stay cold as long as possible, and to get cold as quick as possible. The unique shape is great for stacking and storing, but it helps it feeze quickly too. We like to keep our ICE packs in the freezer when not in use, so that when it comes time to throw them in the cooler it's simple.
No Messy Cleanup
This perhaps the most beneficial thing. YETI ICE doesn't get overly wet, doesn't leak, and won't require cleanup. Take it out of the cooler, throw it in the freezer, and continue with your day.
What YETI Cooler To Get?
This deal only works when you buy a YETI Cooler — so what cooler are you going to get?
YETI makes a huge range, from massive hard rotomolded coolers that fill up the back of a pickup to portable soft-sided coolers that can be carried over the shoulder to the beach.
Here's our favorites.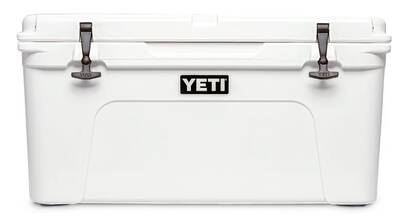 The Tundra 65 hard cooler is the core of the YETI brand. It's endlessly durable, can fit enough for large groups, and is the cooler that outdoorsy folks salivate over.
The Tundra 65 has ample space: beer, steaks, sparkling water, vegetables, freshly caught fish — you name it, it will fit. For those who focus on beer, it can fit 42 cans of beer with ice. It's roughly 15 liters larger than your "typical" camp cooler, giving it that extra umph.
The Tundra 65 uses YETI's patented designs, including rotomolded construction and pressure-injected PU foam insulation for unparalleled cooling.
It comes with one dry goods basket, and will run you $349.99. Get the free two pound YETI ICE when you buy this cooler!
See the YETI Tundra 65
---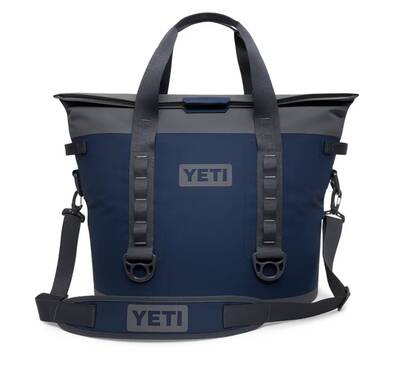 The Hopper M30 is probably the most unique cooler YETI offers. It's in-between a cooler, a bag, and the ultimate carrying case. We like to think of it as an oversized do-it-all grocery bag that has Coldcell insulation, incredible exterior toughness, and premium zippers for rough handling.
The Hopper M30 received an update this year, and the new lid now opens extremely wide, so you can put in and pull out whatever items you need, and it closes with magnets. Yes — the HydroShield Closure consists of powerful magnets that line both sides of the opening, so the Hopper closes easily and fully when you're not reaching in for a cold one.
Add the large padded carrying strap, the MOLLE-style attachment points, the tie off points, the durable bottom, and you've got yourself a versatile, large capacity soft cooler. It'll hold 20 cans of beer with ice.
The Hopper M30 comes in three colorways, and costs $299.95. Get the free two pound YETI ICE when you buy this cooler!
See the YETI Hopper M30
---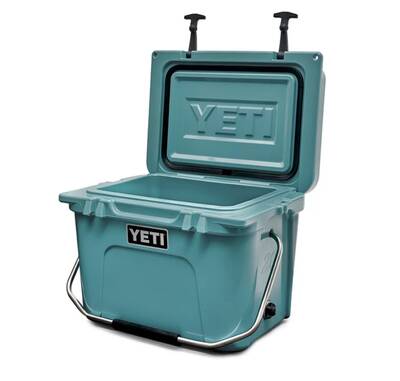 Meet the YETI Roadie 20: a travel-friendly, easily carried cooler that still comes in a ridiculously hard case. The Roadie has 20 liters of highly usable space and an oversized rugged handle for shoulder carry. It's perfect for picnics, a simple day at the beach, or a quick morning fish, and it maintains the durability of much larger YETI coolers.
The Roadie 20 hold 16 cans of beer with ice, and 20 straight pounds of ice, which is impressive for the size. While you won't have room for everything, the Roadie 20, no matter how packed, can be hauled by one person easily.
We're a fan of using YETI ICE packs in the Roadie, because they stack well, cut down on how much room normal ice uses, and fit nicely in the cooler.
The YETI Roadie 20 Hard Cooler will cost you $199.99. Get the free two pound YETI ICE when you buy this cooler!
See the YETI Roadie 20
---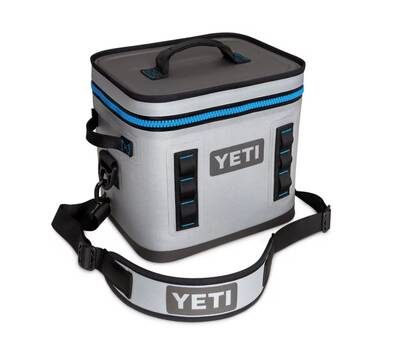 The Hopper Flip may be the ultimate portable soft cooler. It was created to fit as much as it can in a very small package, and holds 13 cans of beer plus ice.
This is a departure from YETI's hard coolers. Instead, the Hopper Flip uses YETI's Hydrolok Zipper, a satisfying big-toothed zipper pull that covers the entire top panel. It also has a food-grade fabric for the exterior shell and closed-cell rubber foam for its insulation, which are rugged and incredibly effective at keeping things cold, in true YETI fashion.
We love the MOLLE-style latch points for attaching a bottle opener or carabiner, the wide-mouth opening, and the large padded shoulder strap.
The Hopper Flip 12 comes in a few colors, and costs $249.99. Get the free two pound YETI ICE when you buy this cooler!
See the YETI Hopper Flip 12
---
This article is sponsored by YETI Coolers. Images courtesy YETI Coolers, All Rights Reserved.
Backpackers.com Affiliate Policy: This guide contains affiliate links, which help fund our website. When you click on the links to purchase the gear we get a commission, and this goes a long way to creating guides, gear reviews, and other excellent content.