YETI is known for its top-of-the-line coolers and drinkware, and now the reputable outdoor brand has set the stage to revolutionize the world of adventure bags with its new Crossroads Collection. Featuring an assortment of durable and functional backpacks, duffel bags, luggage, and other expedition-ready travel bags, there's something for everyone in the YETI Crossroads lineup.
The YETI Crossroads bags have been built to withstand the abuse that travel bags are regularly subjected to—such as when they're dropped on the tarmac and tossed around at baggage claim, but they're also well-suited to survive the dirt, rocks, and rough terrain of the wilderness. Similarly, the fully waterproof Panga bags take that toughness one step further, making them the ideal choice for those who prefer to travel where life is at its wettest and wildest.
Though robust, each item in the YETI Crossroads collection is also practical in its design. They go beyond what you'd expect from basic travel bags—the Crossroads Collection was made to be better. With quality-of-life enhancements such as reinforced bag walls, compression-molded foundations, and puncture-resistant fabrics, there's nothing to stop you from hauling your gear wherever life takes you.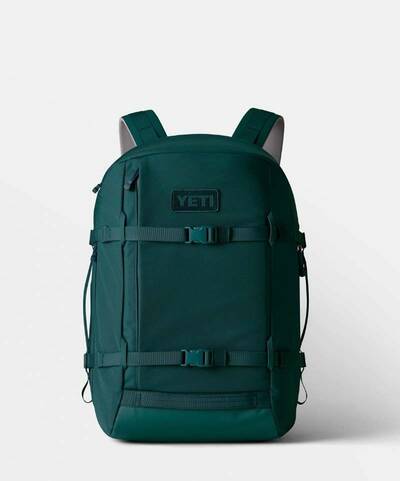 From the workday to the wilderness, the YETI Crossroads Backpack is a go-anywhere backpack that was designed to handle anything you, or Mother Nature, can throw at it. This ultra-durable and sensible backpack is available in 22L, 27L, and 35L sizes so that you can choose the one that best matches your storage needs.
The YETI Crossroads Backpack features a 180-degree clamshell opening for unhindered access to all that you carry. It is also equipped with SideHustle pockets to keep water bottles and snacks at hand, a centered exterior pocket for more accessible storage, and has a convenient luggage pass-through sleeve for when you're making your way across the airport terminal.
Are you ready for your next adventure? So is the YETI Crossroads Backpack. It's a versatile and water-resistant backpack that will hold strong when bumped against rocks and trees, and it is sure to keep your belongings held securely with its adjustable compression straps. It's time to prepare for your next adventure.
See the YETI Crossroads 22L Backpack
See the YETI Crossroads 27L Backpack
See the YETI Crossroads 35L Backpack
---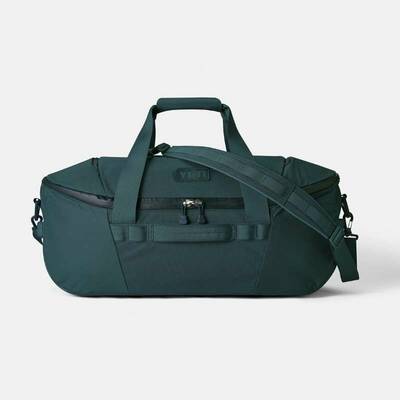 To put it not-so-delicately, the YETI Crossroads Duffel Bag was built to take a beating. This is among the most versatile storage bags in the YETI Crossroads lineup, and it's loaded with features that you'll never find in another duffel. Plus, there are two sizes to choose from, a 40L and a 60L. What more could you ask for?
Well, here's what you can ask for, and what you're going to get. To start, these duffels are made from long-lasting and abrasion-resistant Tuffskin Nylon. The exterior is water-resistant, as are the high-quality lockable zips. There are also multiple comfortable carry straps and lashing points so that you can load it up in whatever way works best for your trip.
Inside, you'll find multiple divider panels and pockets. The rigid dividers separate the main compartment into three sections and can be folded away when you want more room to play with. The walls, too, have been reinforced so that the bag doesn't collapse in on itself, making loading and unloading easy as can be.
See the YETI Crossroads 40L Duffel Bag
See the YETI Crossroads 60L Duffel Bag
---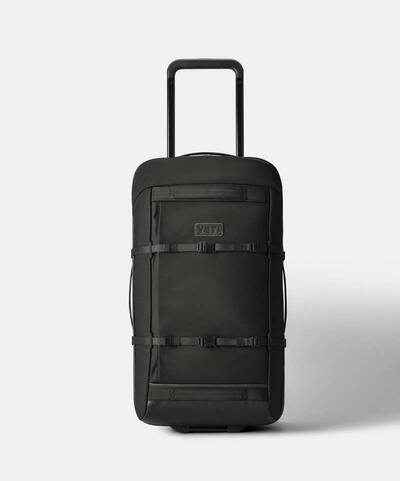 Spacious and hardwearing, the YETI Crossroads Luggage is the ultimate storage solution for globetrotting adventurers. There are 22″ and 29″ sizes available to choose from to match your travel needs, and the larger size even comes with a pair of YETI Packing Cubes to help you keep everything organized.
Speaking of organization—this water-resistant luggage has compartments for days. The 70/30 clamshell opening makes it easy to access everything on the fly. An interior mesh divider panel and mesh pockets keep your belongings separated, but visible. On the exterior, there's a zippered pocket for quick-grab essentials, plus adjustable compressions straps to keep everything neat and tidy and multiple carry handles so that you can haul it any way you'd like.
---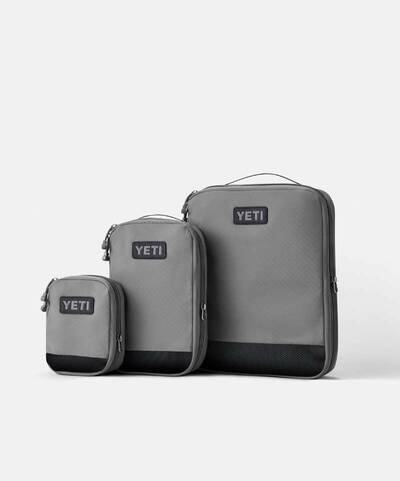 Convenient, practical, and downright adorable, the YETI Crossroads Packing Cubes are the ideal accessory for those who like to keep their backpacks and duffels as organized as possible. They're all quite durable and easy to carry on their own if you only require a small amount of gear for your expedition, and they each feature an expansion zipper which enables them to increase their storage capacity on the go.
The Small Cube is the right size for keeping little items like socks and power cables from getting lost in your packs. The Medium Cube is capable of containing an entire change of clothing. And the Large Cube can keep a used beach towel or a wet and hefty jacket separate from the rest of your supplies.
See the YETI Crossroads Packing Cubes
---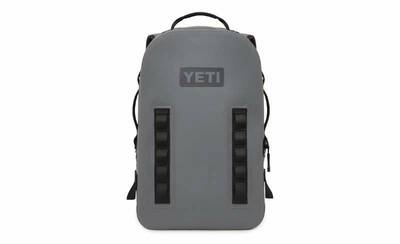 For fishing, surfing, rafting, and ridiculously wet rainforest treks, the YETI Panga Backpack is as reliable and practical as they come. This fully waterproof backpack can stay strapped to your back while you wade across rivers and doesn't require a rain cover when a sudden storm strikes during your hike.
When you need to keep your socks, snacks, and electronics dry, no pack will perform better than the YETI Panga Backpack. Additionally, this pack has a zippered interior mesh pocket and stowaway sleeve to help you keep things orderly, a removable chest strap and hip belt for customized stability and comfort, and plenty of lash points so that you can tie up as much exterior gear as you need.
See the YETI Panga Backpack 28
---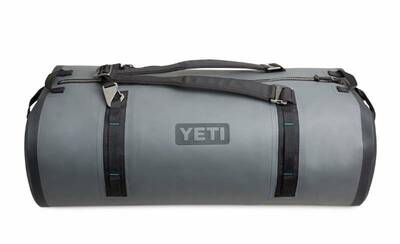 For the ultimate in gear storage and protection while you're on the move, there's no better container than a YETI Panga Duffel Bag. There are three sizes to choose from (50L, 75L, and 100L). The entire line is made from a tough-as-nails, waterproof Thickskin Shell that is nearly impossible for nature to puncture or otherwise penetrate.
And it's more than your typical duffel. First off, the Hydrolock Zipper seals the deal as far as waterproofing is concerned—nothing is going to get in this bag without your permission. Secondly, the robust Metalock Hardware is incredibly strong. And third, the Dryhaul Straps are both comfortable and exceptionally sturdy.
You can sling this over your shoulder, wear it like a backpack, or even strap it to your horse. There are multiple Quickgrab Lash Points so that you can secure it tightly to whatever your mode of transportation may be. It's a go-anywhere carry-anything duffel.
---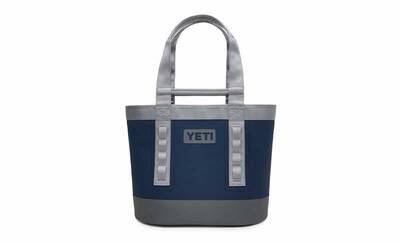 More than a simple grocery-getter, the YETI Camino Carryall is a durable and waterproof tote bag designed for hauling gear through the rugged backcountry. It's an ideal catch-all for campsites. With its wide top opening and easy carry handles, you can throw in anything you may need to grab at a moment's notice from hamburger buns to firewood.
Likewise, this tote can be used to keep wet and muddy boots, waders, and fishing gear separate from the rest of your other belongings. The Camino Carryall is easy to clean, too, because it's comprised of the same material as the Panga duffel bags. An EVA molded bottom makes sure that the bag always stands upright and the Hitchpoint Grid system enables you to attach it to essentially anything.
See the YETI Camino Carryall 35 Tote Bag
---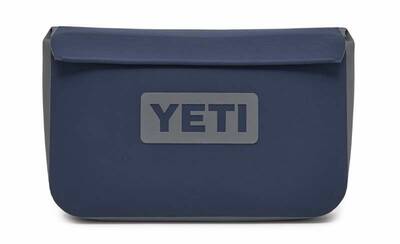 The YETI SideKick Dry Waterproof Gear Bag is a hot commodity in the world of outdoor recreation. It's a universally applicable piece of kit for any type of outdoor adventurer. A Hydroshield magnetic closure and RF welded seams ensure that water, dust, and everything else that wants to get in stays out.
That's because it's designed to keep your most valuable belongings safe, secure, and dry. This dry bag is about 3.25 inches thick, and when laid flat it measures a tad smaller in length and width than a sheet of A4 printer paper. That means it's big enough to keep larger electronics like an iPad Mini safe from the elements, and that it has plenty of interior space for important personal items such as your phone, wallet, and keys.
---
This post is Sponsored by YETI.
All images courtesy YETI, All Rights Reserved.
Backpackers.com Affiliate Policy: This guide contains affiliate links, which help fund our website. When you click on the links to purchase the gear we get a commission, and this goes a long way to creating guides, gear reviews, and other excellent content.