YETI, the renowned outdoor lifestyle brand, has just raised the bar with the launch of two innovative products designed to elevate your adventures.
Meet the Sidekick Dry Gear Case and the Sideclick Strap, the perfect companions for outdoor enthusiasts.
YETI Sidekick Collection
The Sidekick Dry Gear Case is a game-changer for those who demand durability and waterproof protection.
Designed to attach to any YETI gear featuring a Hitchpoint system, such as Hopper Soft Coolers, the Camino 35 tote, and the Panga 28L Waterproof backpack, the Sidekick Dry is ready for any adventure.
Sidekick Dry Gear Case
Sideclick Strap
With its Hydroshield Magnetic Closure and waterproof Dryhide Shell, it keeps your goods dry and close at hand, allowing you to enjoy your activities worry-free.
Priced at $50, the Sidekick Dry is a must-have addition to your outdoor gear collection.
For added convenience, YETI has also introduced the Sideclick Strap, a robust and reinforced strap that transforms the Sidekick Dry Gear Case into a waterproof crossbody or belt bag, keeping your essentials protected and leaving you hands-free when you need it the most.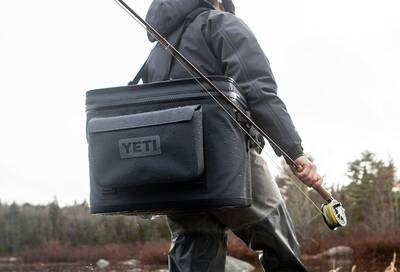 The Sideclick Strap is available for $10 and can be purchased separately from the Sidekick Dry.
Don't miss the opportunity to gear up with the Sidekick Dry Gear Case and Sideclick Strap and enjoy your adventures to the fullest.
---
Images courtesy of YETI
Backpackers.com Affiliate Policy: This article may contain affiliate links, which help fund our website. When you click on the links to purchase the gear we get a commission, and this goes a long way to creating guides, gear reviews, and other excellent content.