This is part of the ongoing series COVID Relief Alliance, which highlights outdoor brands that have put significant resources into fighting against the pandemic. To see all the brands in one place, see the full article.
NOMAD Goods, a producer of rugged and stylish outdoor consumer electronics, has reprioritized its overseas factories to create medical supplies for professionals on the front lines of the COVID-19 pandemic.
The company has a dedicated page for learning about and ordering these medical supplies. They are producing these masks on order, and charging for them, but any and all profit is being donated to help fight the crisis.
This is part of a letter from NOMAD's founders, Noah and Brian, that details their role in this pandemic:
"The last time we faced an immediate, collective threat that required this level of mobilization to fight was during World War II. American factories that previously made household appliances began manufacturing ammunition, and B-52 bombers rolled off of the Ford assembly lines. Our entire country reprioritized production so that essential goods and services could be rapidly made and distributed.
Fast forward to the present day: at Nomad, we have a robust global supply chain and an agile, committed team that can rapidly switch gears. We design our products here in California, manufacture them in China, and ship from our warehouse in Hong Kong to over a hundred countries worldwide. We do this 365 days a year, by truck, plane, and boat.
Right now we believe the single best thing we can do is to assist in the distribution of much-needed supplies around the world to aid those on the frontlines of flattening the curve: nurses, doctors, and first responders."
What medical supplies is NOMAD creating?
NOMAD is currently taking orders for disposable 3-layer facemasks (also known as isolation masks), which is a particulate filter and not to be mistaken for N-95 masks. They are made of polypropylene non-woven fabric, a melt-blown filter, and a nose strip. The particulate filter is tested at greater than 98 percent bacterial filtration efficiency.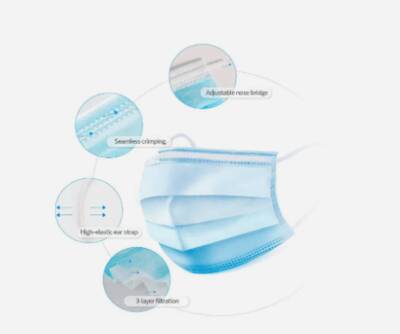 There is now an extreme demand for the filtration materials used to make these masks, and the cost of the masks currently reflects that demand. NOMAD is also committed to finding cheaper prices for these fabrics, and will lower its production costs once it does.
How is NOMAD distributing aid?
NOMAD's factory is in Hong Kong, and regularly ships to countries all over the world. The company has retrofitted this factory, and has supply chains in place to ship masks directly where they are needed.
You can see the general supply chain destinations below, along with a (now outdated) map of COVID-19 confirmed cases.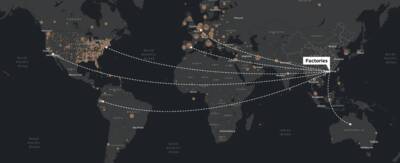 NOMAD is prioritizing delivery of orders by the following:
Priority 1: Medical professionals
Priority 2: First responders
Priority 3: Essential businesses
How you can help
NOMAD has a link to donate funds to create masks, which they will deliver to underserved communities.
You can also Order Supplies directly if you are a medical professional, first responder, or essential business that needs them.
If you want to help the global fight in another way, please donate to the World Health Organization's COVID-19 Solidarity Response Fund. If you want to help your local community, we suggest getting involved in community fundraisers.
---
All images courtesy NOMAD.
Backpackers.com Affiliate Policy: There may be affiliate links in this post, which help fund our website. When you click on the links to purchase the gear we get a commission, and this goes a long way to creating guides, gear reviews, and other excellent content. See more here.