This is part of the ongoing series COVID Relief Alliance, which highlights outdoor brands that have put significant resources into fighting against the pandemic. To see all the brands in one place, see the full article.
The Outdoor Gear Builders (OGB) of Western North Carolina (WNC) are a collective of outdoor brands local to the area that have come together to "collaborate, share talents, encourage new ideas, and inspire each other." Four brands from the collective — Kitsbow, Industry Nine, Watershed, and Oowee — have embodied that mission in response to the COVID-19 pandemic.
Kitsbow, a premium cycling apparel company, started the effort as its Face Shield product began to be purchased and requested for first responders and medical providers. The company was quickly inundated, and fully switched production to that product in 48 hours, with demand reaching nearly 100,000 units per week as of late March.
Kitsbow reached out to OGB partner Industry Nine, a bike wheel and component manufacturer, who improved the methods for producing the Face Shield to meet this demand. Industry Nine also helped with sourcing of raw materials and actual production. Two other OGB members — Watershed, a drybag duffel company, and Oowee, a custom leather goods company — joined the effort to assist with cutting.
The four companies can now produce 10,000 Face Shields a day if they can keep materials in stock. They currently project a goal of one million units in the first month, and will continue to produce as demand requires.
How are the brands creating and distributing?
Both Kitsbow and Industry Nine have warehouse space and the ability to create Face Shields and Face Masks. Through collaboration between all four brands, they have a reliable source for materials and are set to produce 10,000 Face Shields a day, and a large number of Face Masks.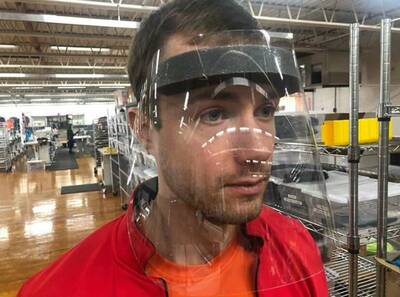 As the brands are local to Western North Carolina, they are first serving the hospitals and healthcare professionals of this area. If they can produce for beyond that region, they will do so.
Industry Nine also has over 100 CNC machines to produce parts to make ventilators, which are in dire shortage in the U.S. At the end of March the company asked for a "large, clean open space for production (about 20,000 square feet) via their Instagram.
How you can help
Kitsbow has Face Shields and Face Masks listed as products on their website, but both are currently sold out. If you need to submit an order for either product, and are local to the Western North Carolina area, they ask that you contact [email protected] with a request.
You can also support Kitsbow by purchasing their gear, though know that shipping will be delayed.
Industry Nine (as stated above) has asked for leads on a clean, industrial space to better utilize CNC machines. They can be reached at [email protected]. You can support them by purchasing their gear.
Both Watershed and Oowee are continuing to ship products, so you can support them with a purchase, or by sharing information about the effort.
If you want to help the global fight in another way, please donate to the World Health Organization's COVID-19 Solidarity Response Fund. If you want to help your local community, we suggest getting involved in community fundraisers.
---
All images courtesy Kitsbow and Industry Nine, all rights reserved.
Backpackers.com Affiliate Policy: There may be affiliate links in this post, which help fund our website. When you click on the links to purchase the gear we get a commission, and this goes a long way to creating guides, gear reviews, and other excellent content. See more here.