Arc'teryx Altra 65 Overview
The Arc'teryx Altra 65 stands on the peak of a mountain and roars with a combination of unique features, burly materials, a suspension system you've probably never seen or used before, and an outlandish cost that will make your head spin. If backpacks were a species in the animal kingdom, the Arc'teryx Altra 65 would embody the silverback gorilla, the grizzly bear, or the African lioness. A dominant pack in every way, and super photogenic if you can find it in the wild.
We've chosen the Arc'teryx Altra 65 as the Premium Pick for the Wilderness Backpacker for the above listed reasons. If you want the best in the backcountry — the backpack that will get you through thick and thin, ice and fire, the peaks and the desert, the long-haul or the loaded down weekend romp — this is the pack. That said, get ready to throw down some cash for such a fine trekking specimen.
You can find out more information on backpacks in a general sense with our comprehensive backpack guide, and read our full review of the Arc'teryx Altra 65 below.
Update: Arc'teryx has discontinued production of the Altra backpack line. Arc'teryx has brought back the Bora AR 50 and Bora AR 65, which iare intended to replace the Altra line. We stand by our recommendation of the Altra 65 — if you can still find it, get it. Look for it on sale as well. we also reviewed the Arc'teryx Bora AR 50, and found it's an incredible pack.
Altra 65 Specifications
Feature Type
Feature Specs
What This Means
Frame Type
Internal, Aluminum/EVA foam/HDPE framesheet
High quality, firm, rigid support.
Adjustable Torso
Yes
GridLock shoulder strap adjustment allows two inches up and down and side to side.
Number of Exterior Pockets
6
Kangaroo pocket rocks, as do zippered side pockets
Other Compartment
Yes
U-shaped zipper pocket opens up entire pack like a suitcase.
Hydration Sleeve
Yes
Accessible through zipper outside of main pack.
Main Pack Access
Top and U-Zip
Can stuff down like normal or use U-Zip.
Detachable Top Lid
Yes
Can detach, but doesn't function as well without it.
Trekking Pole/Ice Axe Loops
Yes
Specific loops for ice axe, plenty of daisy chains for trekking poles.
Sternum Strap
Yes
Sturdy, adjustable through clipping (not sliding).
Materials

Body: 210D nylon, 6,6 ripstop and 500D ATY nylon 6,6 silicon

Collar: 100D nylon 6,6 mini ripstop

Highest quality materials in a backpack. Highly reinforced, water and dirt resistant.
Load Range
30-50 LBS
Can carry massive loads, starts to feel heavy around 50 pounds.
Warranty
Lifetime
Materials and workmanship covered for "practical lifetime of product." Excellent warranty.
Pack Size Ranges
Short-Regular (SHR)
Regular-Tall (RT)
Capacity
65 L (73 L max), 2,965 in3
68 L (75 L max), 4,148 in3
Weight
4 LBS 15 oz, 79 oz
5 LBS 1 oz, 81 oz
Torso Fit
16.5-20 in.
19-22.5 in.
Waist/Hip Belt Fit
32-37 in.
36-31 in.
Retail Price
$475.00
A high cost for the best pack around.
Gear Review of the Arc'teryx Altra 65
Origins: Easing You In
We were nearly to the trailhead, the road winding and climbing, the mid-morning sun pelting down. It was forecasted to be a cool autumn day in the Sespe Wilderness, outside Ojai, but as the weather tends to go these days in California, it was not.
It was hot, and getting hotter.
Myself and my partner were heading into the backcountry for an overnight desert escape. The Altra 65 was loaded up with the heaviest pieces of gear so that we could effectively review both the Arc'teryx Altra 65 and the Gossamer Gear Mariposa, the Ultralight Backpacker Classic Pick (review coming soon!). The Altra 65 is known for its ability to handle serious weight — up to 50 pounds comfortably — so testing it alongside an ultralight pack allowed us to distribute weight automatically and effectively.
The Altra 65, as far as I can tell, was made to calm the packrat's mind, and I am a packrat. Not necessarily the kind that hoards unnecessary goods (though I do have the empty boxes for all my electronics), but the kind that loves a well-thought-out system of organization.
You can stuff items through the top drawstring chute if you want (like a normal wilderness backpack), or you can completely open the pack like a suitcase, and fit items in that way.
Not only does it make packing a sublime experience, but it means you can, in a single zip, access anything in your pack. I fully unzipped the Altra 65 on the trail a couple times to get a feel for it (I was bursting with excitement) and found my tent, sleeping, bag, clothes bag, First Aid kit, hammock — everything, basically — within view and easy reach.
Due to our late leave we stopped midway through the hike in a patch of rare shade for lunch.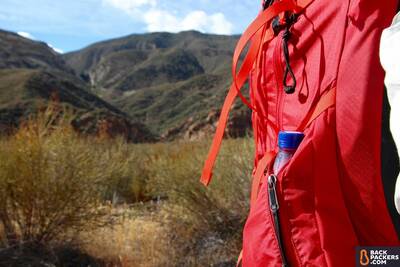 Our PB&Js were stored safely and snugly in the zippered side-pocket of the Altra 65, which is large enough to fit a 1 Liter Nalgene completely (or any generic large water bottle with the top sticking out). Due to the externally reachable hydration bladder that opens via an outside zipper on the pack, I didn't need both side pockets for water bottles. Food storage was reachable while walking, and lunch was separate from the rest of our food.
Our hike was not necessarily grueling in length or elevation, but it was brutally hot, and dry as a desert (because, you know, we were in a desert). The Altra 65 carried roughly 35 pounds on this outward journey and did so without a hitch.
Revelation: The Moment I Knew
As I mentioned, my partner and I went out with the Mariposa 60 (a unisex pack) and the Altra 65, which is technically a men's backpack. In order to get the full feel for them, we swapped on the hike out. Here we'll focus on that "Wow, is this pack really that–wow, yes it is" moment for the Altra 65.
Cause you got to have one of those, you know?
The moment came on the way out, when my (female) partner was getting the pack settled. The feature-filled wonders of the Altra 65 may have cool zippers and well-thought out attachments (more on that below), but the true claim to fame is the combination of a pivoting hip belt and vertically and laterally adjustable shoulder straps.
Yes, the Altra 65 has a hip belt that rocks from side to side as you walk. Yes, the Altra 65 also has shoulder straps that come off the pack and can be moved up, down, left, or right. All of this adds up to an extremely customizable fit and some sweet hip rotation.
I have tiny hips and found that while the pivoting belt was nice, I tend to walk fairly straight. As long as it hugs me, and the belt is well padded, it works (and it did work). However, my partner, after adjusting the tension of the hip belt felt as though she could finally, actually walk. Like a normal person. Not like something was trying to straight-jacket her hips into a tight, confined space.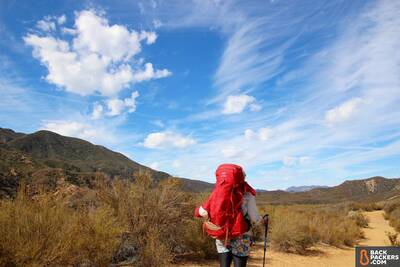 Likewise, the shoulder strap placement worked for each of us in different attachment points. I will say that the shoulder strap itself was not the most comfortable I have ever felt (I'm a fan of the Osprey Atmos 65 AG on that front), but the fact that it could fit my broader, longer frame and her shorter, tighter frame is pretty freakin' impressive. For a "male" pack, no less.
Digging Deeper
Those two features are the big claim to fame for the Arc'teryx Altra 65, as is the aforementioned U-zipper loading system. The hits just keep coming though, and I fear I could write a novel on the subject of features for this legendary pack.
I'll limit myself to the best.
First, there's the Kangaroo pocket. Normally reserved for comfortable hoodies, the Kangaroo pocket on the Altra 65 is one full-length zippered jacket on the outside of the pack. It can store a huge number of things, buttons up at the top for extreme suaveness, and has a drainage hole at the bottom for anything that gets wet.
Next are the thoughtfully placed pockets on the brain (floating lid) of the pack. The brain is a standard feature on backpacks, but the zippered pockets are typically placed so things fall out upon opening, or are hard to find. The Altra 65 has two fairly small zippered pockets placed at angles that don't do either of those things — I don't know how Arc'teryx managed, but all our items (map, headlamps, etc.) were easy to find and stayed put.
To round it out, there are ample daisy chain loops throughout the pack and compression straps that double as ice-axe or trekking pole holders. This means you can tie nearly anything to the outside, anywhere.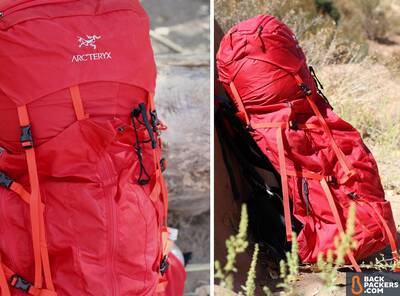 Comfort
Walk with style, ease, and a rotational pivot that never felt so good, especially when the load is super heavy.
Durability
This was just an overnight, so long run durability can't be fully commented upon. However, the materials used by Arc'teryx are the best in the business, and feel silky smooth.
Style
Like a bodyguard or sentinel, the Altra 65 buttons up completely and gives off a rock-solid vibe that can't be messed with.
Grievances
Silverback gorillas can be stinky, and I hear grizzly bears bite. Everything has flaws, including this prowling lion of a pack.
I love me some hip belt pockets; the Altra 65 only has thin mesh for really small objects. I'd also love a sternum strap that slides freely, rather than the clip and unclip method.
There's also a bottom flap on this pack. It's made of incredibly nice material, bears the name of the pack in cursive, and has solid straps for securing a large item. All of this is great, but the flap itself is really small. To get better coverage the flap should be bigger, thereby providing more protection and security for a tent, sleeping pad, or small lion cub.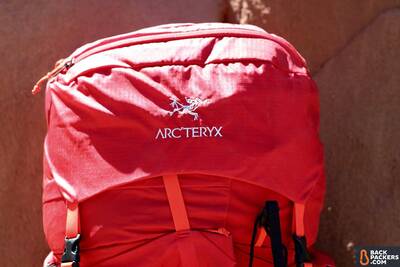 Finally, there's the squeak-factor. The pivoting hip belt moves around quite a bit, so Arc'teryx includes a small packet of lube to help with any squeaking that might occur. I'd like to make a few crude sex jokes, but I'm not kidding on this one. The pack did squeak a bit, but not terribly so. The lube works, but it's a bit of a hassle to take off the hip belt during your hike. If anything, lube up before your trip or after you make camp for the night.
Final Word
For the exorbitant price you'll get the smartest, stunning, supportive silverback gorilla in all the land. The Arc'teryx Altra 65 will even cradle you as you walk. Can't beat that kind of love.
Where to Buy Arc'teryx Altra 65
Arc'teryx offers this pack in larger volumes, but we feel this model is plenty for most wilderness backpackers. It's also offered in a women's version, the Altra 62, which is contoured to a woman's physique and slightly smaller. We recommend both packs — a woman tested the men's version for this review (and loved it), so we feel the women's version would be that much better.
Note: Arc'teryx has discontinued the Altra line. We are currently testing backpacks for 2017.
Review Policy: We do not accept payments or gifts from brands and vendors, and strive to provide unbiased, independent advice. Brands typically provide review samples which we return, and in some cases we purchase the item so we can keep using it long after the review. Affiliate Policy: We support the hours that go into our reviews and testing through affiliate commissions on purchases made through links in this article. These don't effect the outcome of our reviews or selection of gear, as per our Review Policy.