Arc'teryx Bora AR 50 Overview
The Arc'teryx Bora AR 50 is the lovechild between outdoor gear brand Arc'teryx and high-end car manufacture Lamborghini. Well, no, not really, but if Lamborghini were to collaborate on a functional, costly backpacking backpack this would have been it! Arc'teryx managed to create this one all by itself — and it went above and beyond.
Designed by gear guru innovators over at Arc'teryx, the Bora AR series is a rekindling of an old line, one that put the brand on the backpack map years ago. The Bora AR 50 is the smaller of two packs (the Bora AR 63 is the larger one) and the one I tested. It features state-of-the-art suspension — called the RotoGlide hipbelt — and it rotates side to side and up and down to keep the pack's weight off your hips. The pack has the customary adjustable shoulder straps, smart pocket design, and extremely durable materials.
Arc'teryx Bora AR 50 Star Rating
Comfort

Durability

Packability

Fit and Adjustability
Summary
The Arc'teryx Bora AR 50 is a reimagined classic built for wet weather and hard, heavy backpacking treks. It has a highly advanced Roto Glide hip belt, which allows the pack to move side to side and up and down, keeping the weight centered and even. The GridLock shoulder strap allows you to widen, narrow, or change the height of the shoulder straps, getting a custom fit every time.
With bomber materials, a handy kangaroo zippered exterior pocket, and quality water bottle pockets, the Bora AR 50 is built like a tank.
While we think the Arc'teryx Bora AR 50 is amazing, it also has an extremely high price tag. Like, high enough that you may never consider buying it. When it comes to functionality and comfort it rivals our Premium Pick Wilderness backpacking backpack, the Gregory Baltoro 65L. If you have the money to spend, or a massive discount, seriously consider the Arc'teryx Bora AR 50 — or Bora AR 63 if you want more capacity. It rivals the Baltoro 65L and outperforms in certain areas, but the cost makes it hard to recommend to everyone, even as the Premium Pick.
Check out our comprehensive guide to backpacking backpacks to figure out what is best for you, and read the full Arc'teryx Bora AR 50 review below.
Arc'teryx Bora AR 50 Specifications
| | | |
| --- | --- | --- |
| Feature Type | Feature Specs | What This Means |
| Weight | 5 lbs. (2.27 kg) | A heavy pack by today's standards. It's crazy durable and can haul a huge load, so it's expected, but it's still a pound or two heavier than lighter packs, especially for the size. |
| Capacity | 50L | This is 15 liters smaller than your average backpacking backpack. We find people are going leaner and lighter these days, and that products get smaller and smaller. This can still haul a surprising amount. Learn more about backpack capacity in our Guide. |
| Frame | Internal, GridLock shoulder straps, RotoGlide hipbelt | This internal-frame backpack has GridLock shoulder straps and a RotoGlide hipbelt, all of which help to frame the pack. GridLock is adjustable shoulder width and height, and RotoGlide allows the hipebelt to move side to side and up and down. |
| Frame Material | Thermo-molded Tegris frame sheet, aluminum stays | Fancy names for quality frame and stays. The back of the pack is quite rigid. |
| Hipbelt Fit | 32-38 in. (82-97 cm) for Medium | Arc'teryx has Small- and Large-sized hipbelts as well. Packs come with a Medium, you have to request the other sizes. Learn more about backpack hipbelts and how to measure in our Guide. |
| Torso Fit | Adjustable, 18-20 in. (46.5-51.5 cm) for Regular | The torso fit can be adjusted via the GridLock shoulder strap system. It allows about two inches of movement, which is good but not great. Arc'teryx also sells a Tall version of the pack. To learn more about backpack torso measurement and adjustable torsos see our Guide. |
| Number of Exterior Pockets | 7+ | Two oversized water bottle pockets, two small hipbelt pockets, two top lid pockets, and one very large kangaroo pocket. There's one extra pocket on the inside of the pack, too. |
| Side Zip Compartment | Yes | The Bora doesn't have your standard bottom zippered pocket for sleeping bags, but does have a side-zip to get into the meat of the backpack. |
| Hydration Sleeve | Yes | The pack has an easily accessible hydration pack in the main chute. |
| Main Pack Access | Drawstring | The pack uses a drawstring closure for the top with a floating lid to seal it off. |
| Detachable Top Lid | Yes | The rugged and durable top lid detaches, but we don't recommend doing that. |
| Trekking Pole/Ice Axe Loops | Yes | The Bora has simple loops and straps for attaching trekking poles or an ice axe. |
| Materials | 420D and 630D Nylon, Weatherproof AC2 Fabric | The exterior materials on this pack are extremely rugged. The black sections use Arc'teryx weatherproof AC2 fabric, and this thing can take a real beating. |
| Load Range | 60-70 lbs. (27-32 kg) | You can haul huge loads in this pack without issue. |
| Warranty | Lifetime Warranty | Arc'teryx has a great lifetime warranty on all its products. Specifically for manufacturer defects and workmanship issues, but they will likely repair anything that goes wrong with the pack. |
| Retail Price | $499 | A very, very high price for a backpacking backpack. |
Gear Review of Arc'teryx Bora AR 50
Origins: Easing You In
North Cascades National Park is a place of beauty unlike anywhere else in the Continental U.S. I traveled there to hike the Cascade Pass Trail all the way up to the Sahali Glacier Camp. The relentless uphill hike was only six miles long, but the elevation gain was 4,000 feet in those six miles, and it made for some of the toughest uphill I've ever hiked. The rocky terrain proved to be the perfect testing ground for the Arc'teryx Bora AR 50, and an epic place to take photographs.
Now, usually, I'm a pretty lightweight backpacker. I try to keep my pack under 20 pounds whenever possible. But this wasn't your average backpacking trip. I am an outdoor photographer (can't you tell?!) and I was heading into the craggy wild for a multi-brand shoot — yes, that's what I get to do for a living. This meant I had to carry a much heavier load than the typical trip, because even the best in lightweight camera gear adds up. I had my typical hiking setup, the extra gear I had to shoot for brands, and all that camera gear.
All in all my pack weighed between 35 and 40 pounds (water as the variable weight), which is way more than I would ever take on a regular trip. The upside? The Arc'teryx Bora AR 50 is built to be a workhorse, and excels at heavy loads over strenuous trails. I put this pack through the wringer because I had to, but also to see just how much weight it could comfortably carry and fit.
Revelation: The Moment I Knew
At 50 liters, this version of the Bora is the smaller of the two sizes offered, and about 15 liters smaller than your average wilderness backpacking backpack. I had my normal backpacking gear, extra gear, and camera gear, so I was worried about being able to fit it all, as I normally take a pack in the 65 liter range. I was very surprised at just how much gear I could cram into this thing.
The more gear I put in, the more room I seemed to have — which isn't possible, I know, but every time I stuffed something in there it disappeared. While I would say the size of this pack is best suited for a three-to-four day trip, it could probably handle a weeklong trek just fine as long as you're not a overpacker (or carrying 15 pounds of bulky camera gear!).
The Bora has a huge, chute-style main compartment that fills out nicely. It also has an excellent large kangaroo style pocket on the front that is perfect for wet gear, tent poles and the such as it's completely separate from the rest of the pack. This pocket is bigger than you'd think at first look. The lid also has a ton of room in the top pocket as well as a small pocket underneath for smaller items.
After getting all packed up and customizing the fit of the pack with the GridLock shoulder straps I was ready to hit the trail.
I wasn't even a mile up the trail when my legs started feeling the familiar burn of the many uphill hikes I have done through the years. This one would be tough. But I realized then, as I made my way up, that my unusually heavy pack was comfortable, well distributed, and did not drain my body like every other pack I've used. In that moment I was sold!
Digging Deeper
There are a lot of excellent features in this pack, as is true with most Arc'teryx gear. They built on the incredible (now retired) Altra line of packs to create the Bora line, and upgraded a few things.
The main features to note are the customizable GridLock shoulder straps and the RotoGlide hipbelt. The GridLock allows you to adjust the height and width of the shoulder straps — about two inches in either direction.
The big invention (really, they invented it) is the RotoGlide. This is a swiveling pivot point that the hipbelt is attached to, and it lets the hipbelt move up and down and side to side separately from the pack itself. With every move of my body this pack moved and compensated. It felt so good I even considered asking it out on a date after our trip, but alas I'm a married man so I resisted the urge. This state of the art suspension really is the main thing that separates this backpack from the competition.
The Bora also has a highly durable fabric with a weatherproof coating on it — stronger than DWR — that makes this thing perfect for rainy climates like the Pacific Northwest.
Comfort
As far as carrying comfort goes, I can't say I have ever felt a pack that's any better. The only thing that could make this pack slightly better is a more open mesh back panel that allows your back to breathe a little more. The foam Arc'teryx uses is dense and supportive, but has no real airflow.
Durability
I put this pack through a pretty brutal trip. It was poked through pine thickets, dropped and rubbed against rocks, and generally abused in a rough environment — and it shows little if no signs of wear. Obviously I can't speak to the long term durability of the pack, but if it's anything like most of what Arc'teryx puts out it's gonna last through the zombie apocalypse. It's made of 420D and 630D nylon fabric, and the extra weatherproof coating takes it to the next level.
Packability
The pack has plenty of space, and if you want more you can opt for the Bora AR 63. There are ample pockets to store gear and keep things organized, and the exterior kangaroo pocket is the main highlight. There are also extra wide water bottle pockets so you can fit tent or trekking poles alongside a water bottle.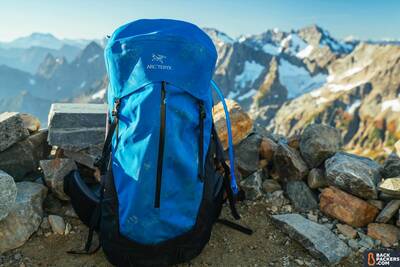 That said, it's a top loading pack and I wished it had an easier way to get into the bottom of the bag. Most backpacks in this category have a sleeping bag compartment at the bottom that unzips, but not the Bora. There is a side-zip that allows access to the middle, but it's not very useful. This is a minor nuisance, but means you have to pack really well.
Fit and Adjustability
As mentioned the pack has a GridLock shoulder strap system that is completely customizable. The RotoGlide hipbelt also slides up and down, not just side to side, which somewhat helps compensate for torso length. The customization of fit is bar-none in this pack, and you should be able to dial in the right size and fit for you.
Grievances
While there's not much to complain about with this pack in terms of features and function, there is one huge issue that most will not be able to get over: PRICE!
At $499 for the Bora AR 50, there's a very limited market that can justify spending that kind of money. For fans of Arc'teryx like myself, this price point is nothing new. And, like usual, you do get what you pay for. The quality is top notch, the comfort is unbelievable, and the design is superb. Still, most people can't or won't spend $499 on a backpack.
Final Word
The Arc'teryx Bora AR 50 backpack is for the hardcore backpacker that gets out a lot. It's built for the backpacker who needs a pack that will save their hips, back, and shoulders after miles and miles of tough hiking. It can take a beating, and will go for years, but be prepared to throw down some change.
Where to Buy Arc'teryx Bora AR 50
We tested the Arc'terx Bora AR 50, which is the men's version of this pack line. If you want the larger men's version, you're looking for the Bora AR 63. Arc'teryx also makes this line with a women's-specific fit, and there are two pack models: the Bora AR 49 and the Bora AR 61.
All of these packs are excellent, and built in almost the exact same way. If you want a durable, capable backpack that can handle pretty much anything, just make sure to get the size and gender that's right for you.
Compare Arc'teryx Bora AR 50, 49, 63, and 61 backpack prices below.
Review Policy: We do not accept payments or gifts from brands and vendors, and strive to provide unbiased, independent advice. Brands typically provide review samples which we return, and in some cases we purchase the item so we can keep using it long after the review. Affiliate Policy: We support the hours that go into our reviews and testing through affiliate commissions on purchases made through links in this article. These don't effect the outcome of our reviews or selection of gear, as per our Review Policy.