ASICS Gel Venture 6

 Overview
When it comes to purchasing new shoes for almost every adventure there is most likely a moment of overwhelming confusion — Do I need a rugged boot? Do I need a basic trail runner? AH! With multiple audiences in mind, ASICS has a shoe to ease the worries, a shoe that does many things well: the Gel Venture 6.
With a solid construction, the Gel Venture 6 is a leading budget option for adventurers that dance between activities, like hitting pavement in cities, trails nearby, and occasionally trekking into the wild. Offered in many sizes and colors, the Gel Venture 6 won't totally break your bank, but will keep you walking or running in comfort.
ASICS Gel Venture 6 Star Rating
Summary
The ASICA Gel Venture 6 is a solid budget trail running shoe that can double duty on pavement. It doesn't excel at anything, but provides ample traction (even in snow), has a breathable upper, and lasts as long as its more expensive competition.
Read the full ASICS Gel Venture 6 review below.
While we often give out awards and Picks for gear, we won't be for shoes. After testing many shoes and finding the right fit for each member of our team, we realized that a shoe is simply too subjective to unequivocally recommend to anyone.
Our advice is to know what brands of shoe fit you generally by trying them on in store, and then look for excellent models, which we review here. Look in our specifications table to see if the shoe generally fits wide, narrow, or standard-sized feet. There are a lot of differing elements among shoes, but this is the one that matters right off the bat.
Update:  We tested the Gel Venture 6 in 2017, and ASICS has released an updated model of the same name in 2019. The new Gel Venture 6 has a more trail-specific outsole, GEL cushioning in the rearfoot, and a removable sockliner. Overall it's quite similar, and we still recommend this is a solid budget choice.
Gel Venture 6

Specifications
| Feature Type | Feature Specs | What This Means |
| --- | --- | --- |
| Weight | 9 oz. (255g) per shoe | Fairly light. Not the lightest on the market, but decent. |
| General Fit | Narrow/Standard | These shoes aren't the most narrow out there, but they tend towards a narrower foot. |
| Cushion | Low/Medium | The cushion on these shoes hovers between low and medium, but when worn the GEL cushion feels very springy. |
| Stack Height | 20 mm heel, 10 mm forefoot | The listed cushion is on the low end of medium, but feels surprisingly cushy, especially in the heel. The forefoot is pretty flat. |
| Heel-Toe Drop | 10 mm | A large-ish heel-toe drop for trail runners, but standard for most other shoes. |
| Arch Type | Neutral (Normal Arch) | This shoe will work for most people. |
| Rock Plate? | No | The Gel Venture 6 does not have a rock plate, and won't seriously protect you from sharp, rocky encounters. |
| Lace System | Traditional (Flat) | Flat laces that you have to tie yourself. |
| Sizes Available | 7-15 for Men, 5-12 for Women, with half sizes | Lots of sizes for both genders. |
| Manufacturer Warranty | One Year Warranty | ASICS covers its shoes for one year, and has a warranty form you can fill out. This isn't the best in the business, but makes sense based on cost and general longevity of trail runners. |
| Retail Price | $70 | A fairly low price for decent trail runners. On sale often, too. |
Gear Review of the ASICS
 Gel Venture 6
Origins: Easing You In
Shoes are hard to find. Correction — good, multipurpose shoes are hard to find. As a person with many hobbies and a conscious declining rate of consumerism, I am a big fan of gear that is cross-functional. When asked to review the ASICS Gel Venture 6, I welcomed them with open arms (or bare feet?) because, well, my favorite running shoes were stolen while I was living at a hostel for a short period of time (yes, someone lifted my old, smelly Nikes — joke's on them).
I had my sturdy backpacking boots and a few pairs of office-life shoes, so I found I did not go on runs or jogs nearly as much as I wanted. So, the shoe fairies heard about my lack of running and, with a sick sense of humor, sent me a pair of trail running shoes: the ASICS Gel Venture 6.
The Gel Venture 6 was quickly thrown into a variety of adventures. We trekked the uneven, dirty streets of Seattle, hiked in the post-rain up glorious trails in the North Cascades, ran a marathon in the rain, and jogged many, many miles. These shoes were put to the test, and performed quite well for their price.
Revelation: The Moment I Knew
The cross-functionality of the Gel Venture 6 was very evident one weekend as I took them on a long jog on Friday night and then up to Mount Pilchuk on Sunday.
The Gel Venture 6 shoes were sturdy companions and kept my feet safe, warm, and stable as I pushed up the mountain in the post-rain mud, past the droves of tourists with hiking poles. At the top of the peak we scrambled away from the crowds and took a nap (it was a tiring hike), but not before taking in the 360-degree views of all the Pacific Northwestern mountains. If that sounds awesome, you're correct: it was.
Over time and after continual use, my fondness of the Gel Venture 6 grew because they work well for a multitude of terrains and are capable of keeping feet both stable under added backpack weight and providing ample grip for trail jogs.
Digging Deeper
The Gel Venture 6 is a notable budget shoe — most outdoor brand name shoes run about $120 these days. The Gel Venture 6's will set you back $70 retail, and less on sale, which is a real bargain.
These shoes are designed for people with neutral arches, and have a 10 mm drop from heel-to-toe, which is standard for a lot of hiking shoes and boots, but not minimal in the least. The cushion is listed as 20 mm thick, which is less than heavily padded trail runners, but I found the Venture 6 to be quite cushioned in feel.
The shoes are about 9 ounces each (women's!), which is a medium weight for trail runners. For anyone used to uber light shoes, the Gel Venture 6 will feel notably heavier. But the added weight provides more stability, especially for avid trail runners, as you traipse from rock to dirt to tree stump to puddle.
While the Gel Venture 6 does not boast a waterproof liner, they definitely provide basic water deflection. Plus, the added height of the shoe is beneficial when stepping atop rocks in shallow streams.
The Gel Venture 6 paired well with a variety of socks — standard, compression, and thick wools (though these were not ideal). They are designed for people with narrower feet and, for reference, my feet are narrow with a slight arch, and I have stupidly long toes (yay, genetics!).
The shoes are stiff and durable with minimal arching. While I do not recommend these for speedy runs on concrete (they have a mushiness to them), I do enjoy taking them out on the trail.
Fit
The Gel Venture 6 are designed for neutral arches and narrower feet. The arch support was minimal, but adequate enough for me, and most people in the neutral (or standard) arch category will enjoy the arch. There is some wiggle room with adjusting the shoelaces, so do not let the "narrowness" scare you.
Durability 
3.5 Stars
The Gel Venture 6 are constructed of sturdy materials and the stitching is solid. While the moderate stack height still looked intact and plump after my first few months, I have run in them a lot over six months, and they are definitely less springy than before, and flatter overall.
While they have lasted, I wouldn't say they are the most durable shoe when it comes to midsole and outer sole. The uppers have lasted.
Soles 
4 Stars
The sole of a shoe is the soul of the shoe. While my philosophy is surely riveting, the Gel Venture 6 is definitely very sole-ful. When running in the rain on slippery cobblestone and uneven sidewalks, the Gel Venture 6 kept my mind at ease with its sturdy and slightly grippy soles.
After our marathon around Mercer Island, it looked as if it did no more than walk through some wet grass (wish the same could be said for me!). Overall they have decent traction, but not unbelievable.
Uppers 
4 Stars
The tongue of the shoe stayed in place pretty well and even when snugging down the shoe with the laces (yes, the scary orange ones in the photographs), it never felt too tight in one spot.
My feet also never overheated in the Gel Venture 6, which was very much appreciated. The uppers on this shoe are solid.
Trail Running vs Backpacking and Hiking
The Gel Venture 6 works well in a variety of circumstances, providing comfort and confidence on the trail, at the gym, and on the streets.
While they do provide sturdiness and grip for trail runs, they are less agile than other trail runners I have used, and have a kind of mushy response, which made me go slower than I'm used to. I did hike with a weighted backpack on, and see these shoes being great lightweight backpacking companions for summertime treks.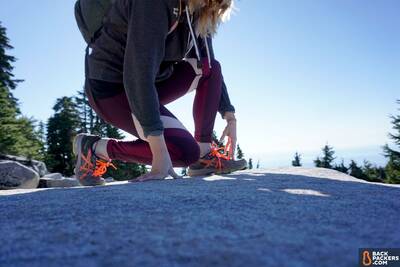 Grievances
Now, for any type of shoe, it is critical to mention that everyone has different feet! (And nerves, and bunions, and all those other ped-issues). The main problem I had with the Gel Venture 6 was the slight drops in the inner sole at the toes. My toes curved over it, still not hitting the top of the toe box (which is good), but this slight curvature led to some mild numbness on long treks.
During my marathon they held my feet fairly well, but by the end of my goal-realizing experience, I was acutely aware of their lack of arch support and flatness. They may be the perfect fit for you, and worked for my feet just fine, but were not amazing by any means.
Final Word
Fellow backpackers, trail blazers, gym-goers, and city-joggers — meet your new sole-mate. The ASICS Gel Venture 6 is durable and compatible for a wide range of activities, making it a solid budget buy when it comes time to choose new general purpose adventure shoes.
Where to Buy ASICS
 Gel-Venture 6
We tested the women's ASICS Gel Venture 6 trail running shoe. There is a men's version as well, and the construction is the same, with fit being the only difference.
Compare ASICS Gel Venture 6 prices below.
Review Policy: We do not accept payments or gifts from brands and vendors, and strive to provide unbiased, independent advice. Brands typically provide review samples which we return, and in some cases we purchase the item so we can keep using it long after the review. Affiliate Policy: We support the hours that go into our reviews and testing through affiliate commissions on purchases made through links in this article. These don't effect the outcome of our reviews or selection of gear, as per our Review Policy.