Deuter ACT Lite 65+10 Overview
Sleek, robust, and full of luxuries without a spike in price, the Deuter ACT Lite 65+10 is a great companion for those with the need to explore the outdoors without sacrificing style, comfort, or their piggy bank.
What's best about the Deuter ACT Lite 65+10 backpack is the heaps of amenities you get for the price: Attachments for a tent and/or sleeping bag, an adjustable frame, an enormous main compartment with 10 extra liters of expansion, trekking pole attachments, plus more straps than a mistress's rec room. All this and more for just a bit over $200.
Due to the comfort, number of usable features, and price the Deuter ACT Lite 65+10 is our Budget Pick for the Wilderness Backpacker. Read the full review of the backpack below, and make sure to check out our comprehensive backpack guide to learn more about how and why we chose this model.
Read the full Deuter ACT Lite 65+10 review below.
Backpackers.com Star Rating
Comfort

Durability

Packability

Fit and Adjustability
Summary
The Dueter ACT Lite 65+10 (now called the Deuter Aircontact Lite) is a solid, well-featured backpacking bag for beginners and experienced backpackers. It has tons of pockets and straps for easy-to-access storage, a comfortable and adjustability harness, and is made of thick materials to take a beating.
2019 Update: We reviewed the Deuter ACT Lite in 2016. It received an update in late 2017 and is now called the Deuter Aircontact Lite – we aren't sure why they changed the name but the pack is quite similar. There have been updates to a slightly stronger fabric, an updated 3D Air Mesh material on the back panel, shoulder straps and hip belt, and the straps are now removable, including the top lid. The hip belt has been updated as well for better load transfer. Overall we think these improvements are an adjustment, and justify the $10 increase in cost. The purchase links in this article are for the Deuter Aircontact Lite, the new version of this pack.
Deuter ACT Lite 65+10 Specifications
| | | |
| --- | --- | --- |
| Feature Type | Feature Specs | What This Means |
| Weight | 4 lbs 6 oz. (70 oz.) | On the heavier side, but very manageable. |
| Capacity | 65 L + 10 L | As the name states, it expands up to 10 extra liters through the top collar and lid. |
| Frame | Internal | Standard internal frame backpack. (Not external) |
| Hip Belt Fit | 24-50 in. | Huge range of adjustment. |
| Torso Fit | 15-21 in. | VariQuick adjustable torso makes this a breeze. |
| Adjustable Torso | Yes | VariQuick adjustment allows 6 inches of customization. |
| Number of Exterior Pockets | 7 | Two mesh water bottle pockets, two hip belt pockets, two top lid zippered pockets, one mesh stuff-it pocket. |
| Sleeping Bag Compartment | Yes | Large bottom zippered compartment, separated from main chute if you want. Can fit anything in there. |
| Hydration Sleeve | Yes | Velcro holder and sleeve does work for bladder and there's a port for the hose. The sleeve runs the length of the pack, also meant for storage. |
| Main Pack Access | Top and Bottom | Drawstring top with floating lid buckle, or zippered bottom compartment. |
| Detachable Top Lid | No | The top lid has two zippered pockets, but is sewn on. It does have handy survival tips though! |
| Trekking Pole/Ice Axe Loops | Yes | Easy to use, on back of the pack. |
| Sternum Strap | Yes, adjustable | Standard. |
| Materials | Deuter-Super-Polytex 600D, Deuter-Ripstop 210D, Macro Lite 210 D | Durable denier fabrics throughout. Custom for Deuter brand. |
| Load Range | 30-50 lbs | Not specified by Deuter, but should be comfortable in this range. |
| Warranty | Limited Lifetime | Will replace a pack that is defective, will repair a pack that needs repairing for a cost. Excellent customer service. |
| Retail Price | $220 | Low price for a high quality, feature-filled backpack. |
Gear Review of the Deuter ACT Lite 65+10
Origins: Easing You In
The Deuter ACT Lite 65+10 was my partner in crime for a weekend romp through the Angeles National Forest. The weather in the middle of November switched from mildly warm days to frigid nights the moment the sun dipped below the horizon, so I had to prepare accordingly. Plus, I knew I'd have no cell service and very little human communication. I had to make sure I was not only warm and cozy, but that all the necessities were on hand in case of an emergency.
I piled spare clothes, food, water, a book, first aid, toiletries, an oversized tent, an outdated sleeping bag, and even more extra-warm clothing into the Deuter ACT Lite. I had enough room for a two night trip and then some. I didn't think I would end up using the extra ten liters (and I actually didn't) but I was more comfortable knowing I had everything I needed with a bit of spare room just in case.
I trekked deep into woodland until the tall pines and wide oaks of the forest surrounded me. I placed the ACT Lite down and realized that although I had packed a good 40 pounds into the backpack, it never felt like it. That amount of weight seemed daunting at first, but the adjustable VariQuik frame did its job.
This allows a quick adjustment of the shoulder straps so you can dial in the right torso height. Some frames don't provide enough adjustment, but the VariQuik system can be moved up or down six inches, and there are two separate areas for your load lifters to help keep the pack fitted to you. The adjustment is easy, and kept the pack feeling light and comfortable.
Revelation: The Moment I Knew
It would be a sin not to mention the plethora of straps on the Deuter ACT Lite. I discovered a lovely plain cradled peacefully between a few mountains in the San Gabriel range — a decent place to settle for the evening.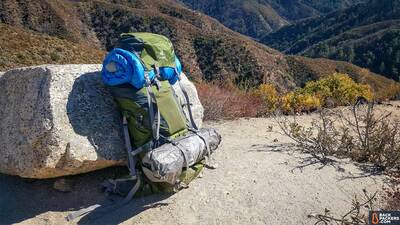 Now, my sleeping bag is a bit outdated; it's heavy, clunky, and the strings have been chewed off by my dog out of what I assume was anger for not inviting him to come on this trip. However, due to the surplus of buckles and straps on the ACT Lite, I was able to secure it tightly between the main and top compartment.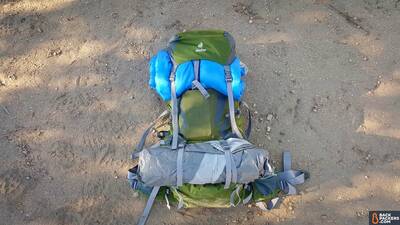 Likewise, my tent is heavier than one would bring on a solo trip. (Or my gear is just the old clunky kind.) It's a two person behemoth that weighs over four pounds. The straps along the bottom of the pack secured it tightly and safely without any issues the entire weekend.
There were even a few straps and buckles that, after a quick inspection, I couldn't assess the specific means for. But this pleased me; clearly this pack is meant for more than just a weekend trip. I did figure out what all of those extra straps and buckles were for: strapping and buckling! Who would have guessed?
The straps make the Deuter ACT Lite a jack of all trades: a backpack for a quick weekend in the wilderness, a backpacking trek around Europe, or even a lengthy sabbatical for those who want to thru-hike a long and winding trail. It's just the right size to triumph in flexibility for outdoor travel, which I knew the moment I finagled all those straps in place.
Digging Deeper
The Deuter ACT Lite is more than a comfortable carry, and certainly more than a big pile of straps. There's a separate section in the main compartment meant for a hydration bladder, but it's huge, way bigger than a bladder would ever be.
I typically forgo the bladder (water bottles are my thing) and put dirty laundry in there. Obviously the literal kind, like sweaty socks and soiled shirts, but there is room for your figurative dirty laundry as well…dirty laundry that can never be seen or dug up again…in the Angeles National Forest. Hey, we all have our skeletons. No judgement.
There are also tons of nylon loops spread throughout the Deuter ACT Lite for anything that you'd rather clip or tie on the outside rather than store on the inside. Remember those old cartoons where Goofy or Elmer Fudd would go camping and they had their entire house strapped to their backpack? The straps and loops on the ACT Lite make that a real possibility.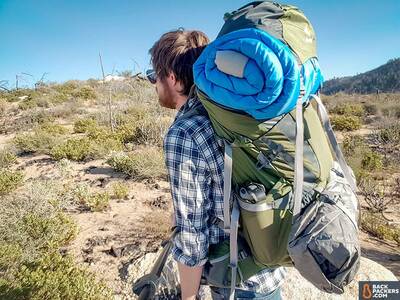 Now, let's talk about pockets. The top lid has two zippered pockets that proved to be very useful for storing books, extra equipment, and my surplus of Pokéballs.
The mesh pockets on each side of the pack are deep enough for a thermos or Nalgene, and the mesh pocket that covers the mid-section was perfect for a book and some snacks.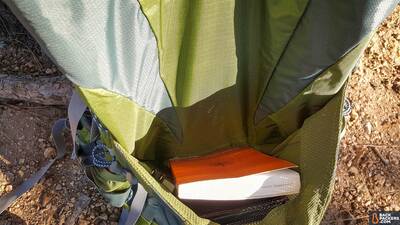 When strapped on, the two pockets on each side of the hip-belt were enough to store smaller items I needed with haste, like my pocket knife and gum (you never know who you'll meet in the woods, might as well have fresh breath).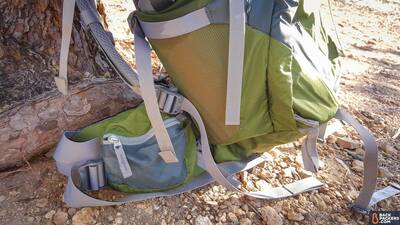 Finally, there's a bottom compartment that is accessible via zipper on the outside of the pack. This is large enough for your sleeping pad, or a smaller sleeping bag, or even an extra pair of shoes. Basically, store whatever you want that is separate from the main chute. The separation is done with a zippered flap for easy use.
Comfort 
4 Stars
During moderate hiking through the woodland and with a big thanks to the VariQuik, the ACT Lite rested on my shoulders and back easily, unlike my guilt for not bringing my dog along. Perhaps I deserved to have the strings on my sleeping bag torn.
Durability 
5 Stars
The Deuter ACT Lite was built to last. If I had this strapped to my back during the impending apocalypse, I'd feel set.
Packability 
5 Stars
The Deuter ACT Lite has a plethora of packing options. From two pockets in the top lid to a sleeping bag compartment to exterior pockets, you will easily find a home for all your needs. The exterior mesh pocket for quick accessibility is handy, too.
Fit and Adjustability 
4 Stars
The Deuter ACT Lite is only offered in one size per gender, whereas many other packs have a specific size for Small, Medium and/or Large body frames. This means the pack won't be quite as dialed in for every person. That said, the torso height is very adjustable due to the Vari-Quick system, which gives you 6 inches of adjustment.
Grievances
There are only two issues I have with this pack. Because the main compartment is so long, it would have been nice to have a duffle-like zipper came completely open. Although there is access to the ACT Lite from the bottom, I enjoy being able to organize what I have in a wider space, and you do not get that with this pack. The Arc'teryx Altra 65, however, has this exact feature, and it works wonderfully.
The other small complaint is that there's no detachable daypack. I know this is not a requirement for packs this size, but I always appreciate the extra space. You do receive the extra 10 liters of space with the Deuter ACT Lite, but I would have preferred those extra liters to be in a day pack, not in the main chute. It would be awesome if the top lid doubled as a detachable daypack, but it's sewn on.
Final Word
Overall, The Deuter ACT Lite 65+10 backpack is a loyal companion. I felt like a true adventurer with this pack, and though the city of Los Angeles was just an hour's drive down the mountains, the ACT Lite alone made the trip feel like I was hundreds of miles from civilization. Plus it's brimming with rugged capabilities and a crazy number of features for the price. What's to lose?
Where to Buy Deuter ACT Lite 65+10
We tested the Deuter ACT Lite 65+10, which is the Men's version of the pack. The Women's version is the Deuter ACT Lite 60 + 10 SL — SL stands for Slimline and was developed by a female team of athletes and designers at Deuter. Beyond the 5 liter difference and a small flower attached to the pack, you'll find a back system, shoulder straps, and hip belt specifically made for a woman's physique.
The Deuter ACT Lite series is also offered in other liter variations. We like the 65+10 volume because most backpackers need that much room to pack old sleeping bags and tents, which many of us still have!
In 2017 Deuter changed the name of this pack to the Aircontact Lite. The purchase links below are for that pack.
Review Policy: We do not accept payments or gifts from brands and vendors, and strive to provide unbiased, independent advice. Brands typically provide review samples which we return, and in some cases we purchase the item so we can keep using it long after the review. Affiliate Policy: We support the hours that go into our reviews and testing through affiliate commissions on purchases made through links in this article. These don't effect the outcome of our reviews or selection of gear, as per our Review Policy.