Eddie Bauer MicroTherm StormDown Hooded Jacket Overview
Down jackets are known for their high warmth to low weight, but not for their style or ability to handle inclement weather. That's changing these days with the addition of water resistant down, a more durable outer shell, and a stylish look, all of which makes them a great piece of gear for the Urban Hiker.
With the combination of 800-fill down and an athletic fit, the Eddie Bauer MicroTherm StormDown Hooded Jacket (yes that's a mouthful) will not only hold you like a warm hug when there's a chill in the air, but keeps you classy around the city.
We've chosen the Eddie Bauer MicroTherm StormDown Hooded Jacket as our Classic Pick for the Urban Hiker due to its extremely high quality of construction and styled, customizable look. You can read more about down jackets in our comprehensive guide, and check out the full review of the Eddie Bauer MicroTherm StormDown Hooded Jacket below.
Eddie Bauer MicroTherm StormDown Star Rating
Summary
The Eddie Bauer MicroTherm StormDown is a high quality midlayer that excels at mobility, warmth, and layering. The 800-fill down combines with the thin horizontal baffles for an urban style.
Update: We tested the MicroTherm StormDown in 2016. It has since been to "Version 2", which has a slightly softer fabric and a drawcord hem to increase warmth. It's pretty much the same with small fit updates, and while we think it's an excellent down jackets, we find others to be better at specific activity.
Eddie Bauer MicroTherm StormDown Specifications
| | | |
| --- | --- | --- |
| Feature Type | Feature Specs | What This Means |
| Insulation Quality | 800-fill power | Very high quality down. |
| Insulation Type | StormDown | DWR treated down is fairly water resistant. Not waterproof, though. (No down is!) |
| Fill Weight | Unlisted | Likely in the 2-3 oz. range. |
| Shell Fabric | 20D Ripstop Polyester | Standard shell, not extremely durable but also not extremely weak. |
| DWR Treatment | StormRepel DWR | Branded term for Durable Water Repellent. It's good stuff and beads water off, to a point. |
| Number of Pockets | 5 | Two external zips, one internal zipped media pocket, and two internal open pockets. |
| Stuffs Into Itself | Yes | Into the internal zippered media pocket. |
| Hood/Jacket Option | Yes | Available for both genders in hooded and non-hooded. |
| Adjustable Hood | No | Comfy hood, but not adjustable. |
| Adjustable Waist | No | Trim fit, but no adjustable drawcord. |
| Average Weight | 10.24 oz | Depends on size and gender, but hovers around the 11 oz range. Super light! |
| Gender | Both | Custom fit for each gender. |
| Sizes Available | XS-XXL | A size for all. |
| Manufacturer Warranty | Lifetime Guarantee | One of the best in the business. |
| Retail Cost | $229.00 | A solid price for a solid down jacket. |
Gear Review of the Eddie Bauer MicroTherm StormDown Hooded Jacket
Origins: Easing You In
As an endurance runner and triathlete the 5 a.m. start line calls are frequent, and early means cold. The morning of the Santa Clarita Half Marathon was chilly. I had laid all my running gear out the night beforehand and, after wearing the jacket for weeks, was diligent about including the MicroTherm beside my items.
Stepping out my apartment door I zipped up the MicroTherm, covered my head with the down insulated hood, and stuffed my hands into the pockets as I walked to the car. After a 45 minute drive and 1,000 feet elevation climb, I reached the parking lot for the marathon.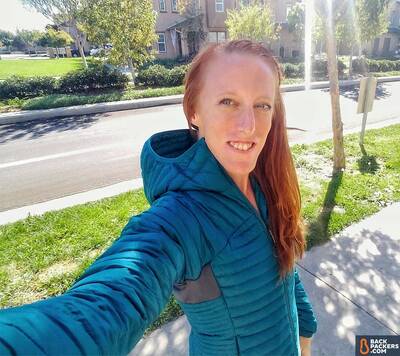 Of course the lot was about a mile from the actual start line (what's another mile on top of 13.1 or 26.2?), and the long walk was made bearable with the MicroTherm. It felt snug against me and the goose down fill added a great layer of warmth. I think my husband was happy, for once, that I wasn't clinging to him trying to stay warm.
Eventually I had to part with the MicroTherm — you can't run a marathon in a down jacket. I stuffed it into its inner coat zipper and left it, hoping the next time I saw it I wouldn't be limping. The MicroTherm was the perfect race day companion, and has been my go-to morning coat the moment I started testing it.
Revelation: The Moment I Knew
I was extremely intrigued with the Eddie Bauer MicroTherm StormDown hoody. Not only had I never tested an Eddie Bauer product, but upon looking up the specs I was impressed with the water resistant down it offered compared to more known outdoor brands.
The real moment I knew, though, was when it came to the color and fit. I've grown accustomed to women's jackets that harness the ever-slimming black and navy blue color scheme, which get pretty boring. This particular MicroTherm's dark green was magnificent, and stands out from many jackets I see on the rack. Being a redhead, finding this type of green is a pretty difficult feat.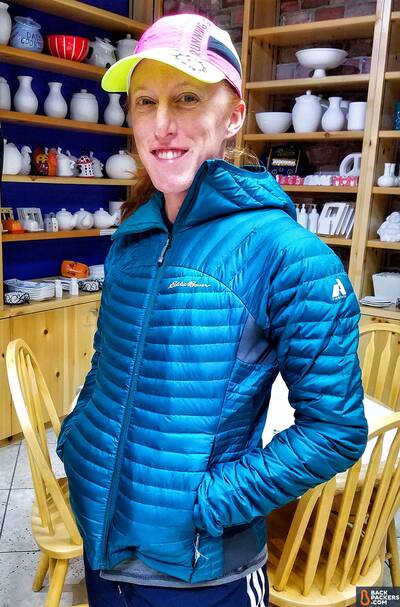 It's not just this one color, though. A hidden feature of MicroTherm line is the option to completely customize the color of the jacket on Eddie Bauer's website. I played around with it and was extremely impressed with the amount of customization offered for both men and women. There are 11 different sections to customize, with a choice of 24 different colors and two different patterns. You can even change the color of the chest zipper and the interior of the hood.
The Urban Hiker typically wants exactly what they want in a coat, and the MicroTherm customization allows that. The standard colors look good, too.
As I previously implied, down jackets have a pretty bad reputation when it comes to style. Once zipped up you often look like a ribbed marshmallow. That just isn't the case with the MicroTherm.
The shape of this jacket has a very athletic fit without limiting mobility. The stretch fleece panel on the back and underarms allows for full range of motion in the upper torso region, perfect for jogging with your dog in the morning, running to catch a bus in the evening, raking leaves on a crisp fall day, or just trying to get your hair out of your face and into a pony tail.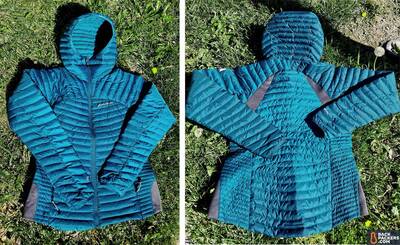 For me, the fit was love at first zip. I looked in the mirror and could see little cartoon hearts revolving around my head.
Digging Deeper
Much like a book, I shouldn't judge the MicroTherm only by its appearance. If you were to peel off the outer layer of the jacket (we don't recommend you do this, it would be a big mess) you could see there is much more to the jacket than just what you see in the mirror.
The first is its resistance to water. Typically when there's a mist in the air you may be hesitant to break out the down jacket you just splurged your last paycheck on. The MicroTherm shell is coated with Durable Water Repellent (DWR), a fabric finish that repels moisture. I like to think of it as Rain-x for your jacket.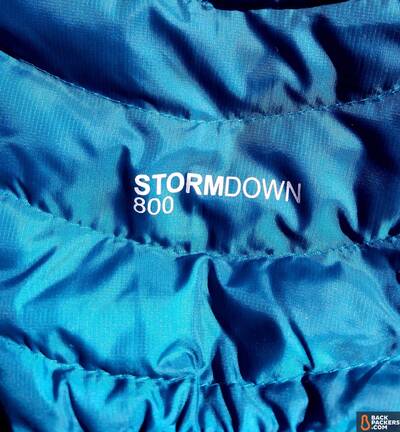 It's a standard treatment down jackets get these days, but is helped greatly by the StormDown inside the jacket, which is hydrophobic. This means it doesn't wet out as quickly, and dries much faster than normal down. The DWR and StormDown combine to make sure the MicroTherm never looks like a wet dog — unless you take it out in a downpour. Down jackets are still no match for that kind of rain.
The pocket deal on the MicroTherm is pretty amazing as well. With two open inner pockets and three zippered pockets, the functionality of easy to reach storage shines.
The two stowaway pockets inside the MicroTherm are perfect for cell phones, memo pads, gloves, headlamps or keys. They sit on the bottom of the jacket, just to the inside of your hips. The items stored won't fall out when worn, are fairly protected from the elements of rain and hard surfaces, and are easy to locate once stored.
The zippered inner chest pocket will fit most smart phones as well as corded headphones, but when the jacket needs compacting it can be stashed into this inner zipper pocket. It kind of makes you feels like James Bond, especially when you realize the entire jacket can magically disappear into the small pocket. This feature is great for hiking around the city with a smaller backpack or fitting it into your shoulder purse for a night on the town.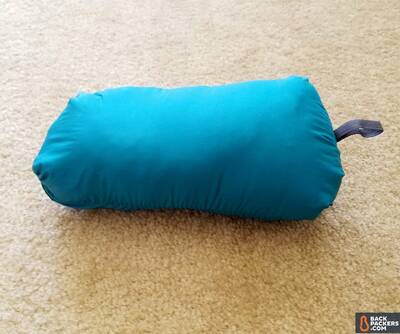 Finally, there's the outer two zippered pockets. These pockets are large and perfect for storing items like headlamps, Chap Stick, and smartphones. I love that they are functional and fully zip. Some companies fail to provide zippers and leave those of us that are quite clumsy without places to store our precious items.
Comfort
When worn the MicroTherm's waffle-like baffles distribute the down evenly along each panel for extreme warmth, like a true hot-cloud coat should be. And, with its disappearing act, the MicroTherm can double as a down pillow while catching a nap on a long bus or subway commute. Stoked.
Durability
The MicroTherm jacket is woven from Rip stop polyester. Meaning? It's durable. The same fabric is used in stunt kites and paragliding canopies. That being said I wouldn't jump off a cliff and try to glide with this jacket.
Style
The Eddie Bauer design team tailored this jacket for each gender, and the back drape is one inch longer than a regular down jacket to help prevent plumber's pants while being active. The women's jacket accents more of our natural curves, giving us a shape while keeping us warm. The men's jacket has an athletic fit, accommodating the broader shoulders and wider torso. Stylish as all get-out.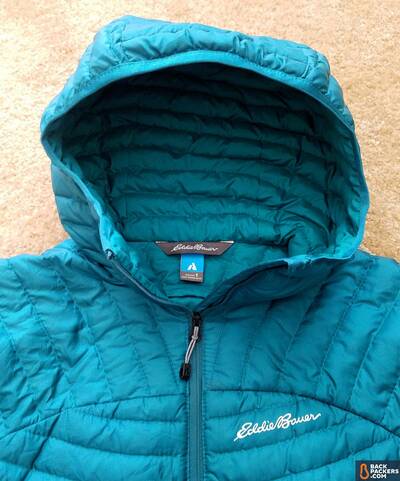 Grievances
While the slimming style of the jacket is one of the highlights, one thing it does fall short on is warmth. The MicroTherm isn't intended to be the outer shell for a New England winter.
Its main role is to be the middle layer in freezing climates, or an outer layer in mildly cold temperatures. While ideal for a California winter, I would be hesitant to bring only the MicroTherm on a visit to a snowy city during winter. I would either pair it with a thicker, more waterproof layer or long-sleeved base layers underneath. Then again, I freeze so easily and the last thing my family wants to hear is that I'm hungry and cold.
Final Word
The Eddie Bauer MicroTherm StormDown Hooded Jacket really surprised me. It wasn't love at first sight, with the exception of the color. Rather it was like a song you play over and over again. The more you hear it (in this case wear it) the more you discover the inner working and layers. Once I zip this jacket on and let my hair down I'm ready to hit the town all evening clothed in warmth and style.
Where to Buy Eddie Bauer MicroTherm StormDown Hooded Jacket
The Eddie Bauer MicroTherm StormDown Hooded Jacket is available in Men's and Women's. We reviewed the Women's but recommend both, as they are the same in every way except fit.
Compare Eddie Bauer MicroTherm StormDown Hooded Jacket prices below.
Review Policy: We do not accept payments or gifts from brands and vendors, and strive to provide unbiased, independent advice. Brands typically provide review samples which we return, and in some cases we purchase the item so we can keep using it long after the review. Affiliate Policy: We support the hours that go into our reviews and testing through affiliate commissions on purchases made through links in this article. These don't effect the outcome of our reviews or selection of gear, as per our Review Policy.