Feathered Friends Eos Overview
If you're an ultralight backpacker who prefers to shop small, the Feathered Friends Eos Down Jacket is a no-brainer. Feathered Friends is a Seattle based company that has been manufacturing their own gear and garments since 1972, and they do a damn good job with the Eos Down Jacket, an ultralight, super warm piece of kit for the backcountry.
I used the Eos Down Jacket for a weekend trip in the Angeles National Forest and it was essential after sundown. At 10.6 ounces for a Men's Medium it's extraordinarily light, comfortable, insulating, and made with an extremely high quality 900+ fill down. Staying toasty without the added weight is the name of the ultralight down jacket game, and the Eos performs with top marks.
These features and the reasonable price tag (in the context of down jackets) make the Feathered Friends Eos Down Jacket our Classic Pick for the Ultralight Backpacker.
Feathered Friends Eos Star Rating
Comfort

Durability

Warmth

Packability
Summary
The Feathered Friends Eos is a star-studded puffy with heaps of responsibly sourced down to keep you cozy in freezing temps. The no-frills design focuses on comfort and warmth, so there's only two zippered pockets, a single well-made front zipper, a full hood, and an elastic cinch at the waist. The jacket comes with a bright yellow stuff sack, which is easy to lose but doubles well as a pillow.
If you know Feathered Friends, you know this jacket is quality. When going ultralight this should be near the top of your list.
Read the full Feathered Friends Eos review below, and check out our comprehensive guide to down jackets, the magical layer that keeps you toasty and puffy.
Update: The Eos Down Jacket is a staple for Feathered Friends, and one that doesn't get updated often. We tested this jacket in 2016, and it has not changed. Still an excellent pick for the weight-conscious backpacker who wants warmth above all else.
Feathered Friends Eos Specifications
| Feature Type | Feature Specs | What This Means |
| --- | --- | --- |
| Weight | 10.6 oz. (300 g) | As they say, ultralight. |
| Down Quality | 900+ Fill | One of the highest fills down on the market. |
| Down Type | Ethically Sourced Goose Down | Reputable and doesn't do unnecessary harm to the geese. |
| Fill Weight | 3.7 oz. (105 g) | Amount of down stuffed in coat…this is a very high amount. |
| Shell Fabric | Pertex Quantum | Industry standard outer material. |
| DWR Treatment | Yes | Standard. |
| Number of Pockets | 2 | Two hand warmer pockets. |
| Stuffs Into Itself | No, Included Stuff Sack | Bright yellow stuff sack makes stuffing easy! Works as a pillow. |
| Hood/Jacket Option | No | Only offered with a hood. |
| Adjustable Hood | No | Elastic at the hem, but no drawcord. |
| Adjustable Waist | Yes | Keep the heat in! |
| Gender | Men and Women | Slightly different cuts, but the same coat for both genders. |
| Sizes Available | XS-XXL | Lots of sizes! |
| Manufacturer Warranty | Limited Lifetime Warranty | Must have proof of purchase for warranty. Feathered Friends offers repairs at reasonable prices, too. |
| Retail Cost | $309.00 | A solid price for a solid ultralight down jacket. |
Gear Review of the Feathered Friends Eos Down Jacket
Origins: Easing You In
I should begin by admitting that I am a cheap son of a gun. I'd rather wear three layers of $10 long sleeve shirts than paying $35 for a jacket just to save five bucks. So to me, spending $289 for a jacket seems, well, blasphemous. That's until I tried on the Eos Down Jacket. It's a very different story now.
The moment the sun set below the San Gabriel Mountains it was time to throw the Eos Down Jacket on to see what it could do. For one, it weighs a feathery 10.6 ounces; about as light as a hamster, two decks of cards, or my confidence when speaking to women.
When I threw the Eos on for the first time it was only about 60 degrees; I figured I would see if I could get overheated. It takes quite a dip in temperature for me to get cold and I usually wear shorts and a tee in 60-degree weather.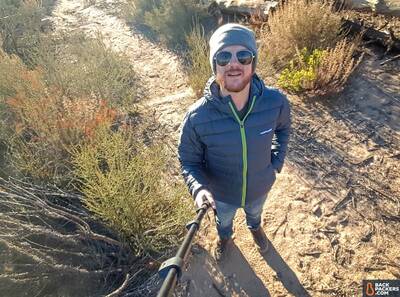 It was was perfect for a long evening hike through dense woodland. I even started to sweat (down jackets aren't known for breathability) but decided to keep the Eos on and remained comfortable. However, if the woods had gotten any warmer I would have shed the layer.
Revelation: The Moment I Knew
I was most impressed by the add-on: a stuff sack! It might not be the most convincing argument, but a little bag can do wonders, especially if you plan on traveling light.
It's a makeshift pillow if you're going bare bones, and makes storing the jacket super easy.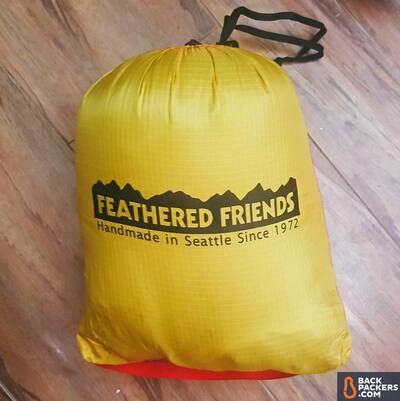 The other "moment" is less of a moment and more of a mentality: I love where the Eos Down Jacket comes from. It's always a plus to shop small business, especially when it's backpacking gear!
Unfortunately shopping small business typically means an included price-hike. Feathered Friends has your back: $289 at first looks like a ton of cash (it is, we know), but it's competitively priced with other, much bigger manufacturers and yet has better qualities, like higher fill power and extreme light-weight-ness. Point is, you're getting a great deal and you're shopping local. Two geese with one stone…or something like that with less violence.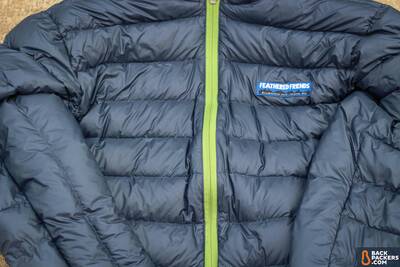 Feathered Friends has been around for nearly 50 years so they're obviously doing something right, and as cheap as I am (I used to steal all of my toilet paper from the college I went to in Chicago), you have to respect a small company that can produce an excellent product without overcharging.
Digging Deeper
Out of the 10.6 ounces this jacket weighs, more than one-third of the weight is the down filling itself, making it incredibly warm. I discovered this when I tried to guess the temperature after the sun had departed. With the Feathered Friends Eos Down Jacket on me, I estimated it must've been about 50 degrees Fahrenheit.
I checked my phone to get an exact temperature: 31 degrees! Yes, that's how warm this jacket keeps you. Because of the elastic around the wrists and the drawcord adjustable waist, your body's warmth is kept right where it's needed.
The hood (super comfy) uses the same elastic as the wrists, but is not fully adjustable.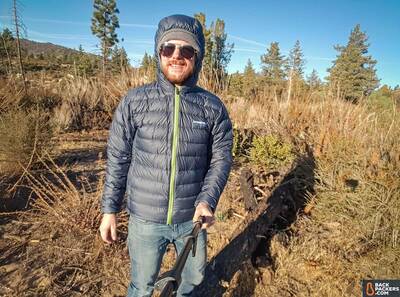 There are also two zippered hand warmer pockets that are very spacious; they kept my hands warm as the temperature continued to dip
The Eos feels high quality too, and that's because… Surprise! It is: 900+ fill down is basically as high as it gets in the outdoor industry. The outer fabric is coated with DWR (durable water resistant), which sheds a small amount of water. However, the fabric isn't burly by any means; I wouldn't run violently through cacti with the coat.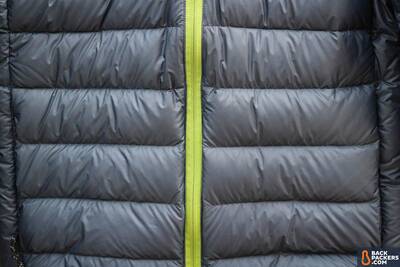 The Feathered Friends Eos down jacket only comes in two colors at this time: I tested the satisfying navy blue (called "Midnight") with a darker shade of lime green for the zipper. There's also Black for those who want to blend in with the night.
Comfort 
5 Stars
The Eos Down Jacket is like an office annual office Christmas party: well-heated, relaxed holiday jazz, a cup of hot chocolate… Or perhaps I was just going crazy in the middle of the woods and hearing strange noises? Who cares, either way I was warm and comfy.
Durability 
5 Stars
Put simply, the Eos Down jacket would have been a requirement if I was planning a longer trip in the cold. The material is light yet clearly built for the long haul. If I was locked up in a Siberian gulag I'd request the Eos to come with me (right after food and a phone call).
Warmth 
5 Stars
The Eos down jacket goes above and beyond when it comes to warmth. All that Michelin Man puff equates to loft, which means a warm jacket on a cold night.
Packability 
4 Stars
While the Eos gets quite small, it's not the most packable down jacket around. This won't matter for most people, as it does stuff into the included sack easily. However, that's a piece of extra fabric, and is easy to lose. Overall good, but not the best.
Grievances
There is only one thing that concerned me: the fixed hood. Unlike the adjustable waist, the hood uses the same fixed elastic as the wrists so that it can stretch, but is not able to tighten. While the hood still kept me insulated, I could imagine someone with a smaller or larger head having difficulty getting a snug, warm fit.
Final Word
I ended up sleeping in the Feathered Friends Eos Down Jacket that night and did so very comfortably. I discovered that the temperature dropped into the 20's, but the Eos kicked that cold out like bouncer at a swanky nightclub. With this jacket comes a promise of warmth and ultralight comfort. Keep shopping small, folks!
Where to Buy Feathered Friends Eos Down Jacket
We tested the Men's Eos Down Jacket for this review. The Women's Eos Down Jacket is the female version (who would have thought!). They are the same in every way except cut and zipper color if you go with the Midnight option. Both are also offered in Black.
Feathered Friends is a small manufacturer, and only sells its products through its store. You can find both jackets below.
Review Policy: We do not accept payments or gifts from brands and vendors, and strive to provide unbiased, independent advice. Brands typically provide review samples which we return, and in some cases we purchase the item so we can keep using it long after the review. Affiliate Policy: We support the hours that go into our reviews and testing through affiliate commissions on purchases made through links in this article. These don't effect the outcome of our reviews or selection of gear, as per our Review Policy.