Felix Gray Roebling Overview
If style and substance are your requirements when shopping for a new pair of shades, the Felix Gray Roebling sunglasses are an excellent place to start. The brand is known for creating blue light blocking eyewear for the digital age and their sunglasses offer a unique set of features alongside good-looking designs.
The Roebling is a unisex frame built for narrow/medium sized faces and it has a healthy dose of style with three frame colors, one lens tint, and a signature shape in the bridge. The substance lies in the lenses, which sport blue light filtering, an Anti-Reflective coating that blocks glare, and a thin polarization on the lens that allows you to see screens in full sun.
Felix Gray Roebling Name Star Rating
Lens

Frame

Comfort

Coverage

Durability

Style
Summary
The Felix Gray Roebling pack style, glare reduction, and excellent shade into a compact pair of sunglasses. Get them for all your city excursions and marvel at what modern lenses can do.
The Felix Gray Roebling are built for discerning Urban Hikers and Day Hikers, and while they are a bit too delicate (both in styling and coverage) for deep wilderness adventures, we are hard-pressed to find a better pair for daily digital nomad use. Plus, the Roebling frame is available in a clear version (and prescription version), which blocks blue light and helps reduce eye strain.
See the full Felix Gray Roebling review below.
Felix Gray Roebling Specifications
| Feature Type | Feature Specs | What This Means |
| --- | --- | --- |
| Weight | .9 oz. (25 g) | Very lightweight. You hardly feel them on your face. |
| Activity | Casual | Excellent for casual use. Not quite rugged enough for backcountry use. |
| Polarized | Yes | A thinner polarization that gives regular protection, but allows you to see screens in the sun. |
| UV Protection | 100% UVA/UVB protection, Blue Light Filter | Excellent protection, plus a blue light filter for eye strain. |
| Fit | Narrow/Medium | Unisex, but it only comes in one frame size and it's on the narrower side. |
| Lens Material | Not Listed | Very high quality lenses, but the brand does not list materials. |
| Frame Material | Malleable Cellulosic Acetate | A soft, slightly bendy frame that's hard to break. |
| Case Included? | Hard Case + Cloth | Solid case to protect against drops. |
| Prescription? | No (not for sunglasses) | Felix Gray does not offer prescription versions of this sunglass, but the regular Roebling glasses do have prescription versions. |
| Manufacturer Warranty | Limited One Year Warranty | A limited warranty that covers manufacturer defects for the first year. Felix Gray does have a lens replacement program for $50+. |
| Retail Price | $95 | A medium price for designer-style sunglasses. You're paying for the lens technology and stylish frames. |
Gear Review of the Felix Gray Roebling
Some products impress you right out of the box — so it was with the Felix Gray Roebling sunglasses, which arrived in an informative, playful box, ensconced in a well-made hard case complete with lens cleaning cloth.
The shades have a distinct look to them and felt more like designer sunglasses than most at their price range. I took them into the Southern California sunshine, was surprised by their very light yet somehow complete tint, and continued to test in a range of daily life activities and outdoor excursions all through summer and fall.
After the full range of testing I found the Felix Gray Roebling sunglasses to be ideal for urban activities and casual outdoor excursions. The tint of the lens was subtle — just a soft dimming of the bright beaches, trails, and sidewalks around me — yet I never felt undo glare off water and never thought "man, that is just too bright," which is often the case with light-tinted sunglasses in a notoriously sunny locale.
Part of this is the Anti-Reflective coating that's built into the lenses, which sound at first like marketing speak — aren't all sunglasses meant to reduce glare? But after many uses I feel the technology is quite good. I didn't encounter heavy glare off water, found that glare off of overhead lights or car windows was dimmed, and never had anything overtly bright bother me. This is a feat for how light the tint is. This means the Roeblings actually keep the natural hue of the world quite well, cut sunlight, and reduce glare.
The second aspect of the lens that's excellent is the "thinner polarization." The polarization still gives you complete UVA and UVB protection, but it also allows you to view screens. This means I could work outside on a computer during a bright day, something I've never actually been able to do.
While this feature doesn't have much application for a backpacking trip — unless you're a backcountry creative who's on a photoshoot — it's ideal for digital nomads who are increasingly working remotely from beautiful places.
Finally, Felix Gray offers the same Roebling frame in clear glasses (perscription or regular), which are built specifically to reduce blue light and reduce eye strain. They sent along a pair for me to compare, and I noticed a marked improvement in my eyes after a long day in front of the computer. The ability to get the same frame in two specific-use glasses is impressive.
Lens
– 4.5 Stars
I detailed the Roebling lens quite a bit above, so I'll say here that they are excellent. While the tint is minimal, glare is heavily reduced, the world retains its colorful pop, and they just feel high quality.
I took off half a star because Felix Gray doesn't offer any other tint or color options with the lenses, while most sunglass brands do. This means if you don't like the tint, or want something else, you're out of luck.
Frame
– 4 Stars
The Roebling frames were comfortable after long days of use, particularly because they weigh less than an ounce in total. The nose pads are small and don't leave a mark, and the feel of the frames is a bit slippery overall.
Felix Gray uses a malleable cellulosic acetate frame, which means it's mostly plant-based, and it can actually be bent into shape. This, obviously, means it can be bent out of shape, too, but overall the frames can be adjusted to fit your face better, which is a plus. The sidearms have an inner frame wire to maintain the overall integrity of the glasses, which looks good and keeps them firmly on your face.
The Felix Gray Roebling frames have a narrow/medium design, so they felt a little small on my face (but fit perfectly on my partner's face, pictured in this article). They don't come in larger sizes, so we suggest looking at larger Felix Gray sunglasses if you're set on the brand.
I subtracted a star because they do feel a little flimsy at times, and the malleable quality could backfire.
Comfort
– 5 Stars
The Roebling sunglasses are light on the face, easy to wear, and feel good after hours of use. I often forgot they were on, given the light tint and simple design. Sometimes a simple, elegant design has few flaws when it comes to comfort.
Coverage
– 3.5 Stars
The Felix Gray Roeblings are not a wide, full-coverage pair of sunglasses. They just weren't designed for that, so while the stars are low here, it's only when compared to other more outdoor oriented sunglasses that focus on coverage. You can see the sides, bottom, and even sidearms of the frame when worn, and while they shade a lot of my vision well, light does come in under the bottom.
Durability
– 3 Stars
While I haven't scratched the sunglasses yet — mostly because the lenses are well-made — I'm worried about the malleable frame and screws. The sidearms were tight on first use — even squeaked a little — and after months of use they are now loose, and will need to be tightened soon.
And while the malleable frame does mean you can get a custom fit for your face, it also means it can be knocked out of shape rather easily, which isn't great. They feel delicate overall, and I wouldn't take them into the backcountry.
Style
– 5 Stars
Felix Gray is a designer brand without designer costs. The Roebling sunglasses in particular are quite stylish, and received nods of appreciation from hipsters and outdoor folk alike. They looked good on my face and my partner's, meaning they are true unisex frames, and the three color options offer distinct styles.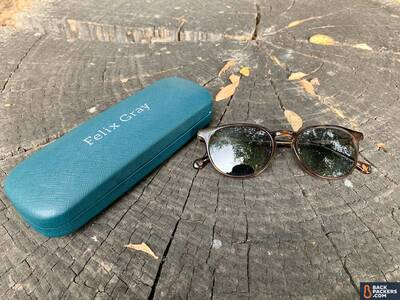 Grievances
As I mentioned above, my only real concern with the Felix Gray Roeblings is long term durability. They are nearly $100, and I wonder how long it'll take before the frame gets a bad bend. Likewise, the screw housings seem a little less durable than other sunglasses I have tested, so they'll need to be tightened somewhat frequently.
And, for those who have not yet picked this up, I wouldn't consider the Roeblings "outdoor" sunglasses. They are more styled, more delicate, and built more for city environments. That said they work well for in-town day hikes, and I'd take them on trips where I need to both work and play. Ideal for the Urban Hiker, less so for the Wilderness Backpacker.
Where to Buy Felix Gray Roebling
We tested the Felix Gray Roebling sunglasses in Sazerac Crystal. The sunglasses only come in one size, and in three frame colors.
We also tested the Optical version of the Roebling, which is the same frame but with clear lenses meant for blue light blocking, computer use, and prescription wear.
Compare Felix Gray Roebling Sunglasses prices below.
Backpackers.com Review Policy: We do not accept payments or gifts from brands and vendors, and strive to provide unbiased, independent advice. Brands typically provide review samples which we return, and in some cases we purchase the item so we can keep using it long after the review.