We're out there finishing in alpine lakes with the Tenkara Rod Co. Beartooth, putting this tenkara fishing pole to the test.
Highlights of the Tenkara Rod Co. Beartooth
Telescoping rod
10 foot max length
14 inches collapsed length
Weighs 2.3 ounces
Lifetime warranty
Optional package includes:

Rod Tube
Rod Sock
10.5 Ft. Furled Line
3 Tenkara Style Flies
1 Mini Wood Line Holder
1 Spool 6x Tippet


Initial Thoughts on the Tenkara Rod Co. Beartooth
The Tenkara Rod Co. Beartooth fishing pole is astounding in its simplicity — it's such an easy tenkara rod to use. The small form factor and telescoping design make it an ideal backcountry fishing rod for lightweight backpackers.
I backpacked with this pole through Idaho's Sawtooth Mountains and had a blast fishing for trout in the alpine lakes and streams. I hardly ever fish while in the backcountry because I don't want to carry an unwieldy rod and all of the gear I'd need. The Beartooth is the solution. The optional package supplies everything you need to get started. I highly recommend the full package to tenkara newbies.
| Pros | Cons |
| --- | --- |
| Small and lightweight package. Perfect for backpacking. | Thinnest segments are very fragile. |
| Exceptionally easy to use. | No clear indication of how big of a fish you can catch. Rod strength is unknown. |
| Sleek, well-thought-out packaging. | |
See the Tenkara Rod Co. Beartooth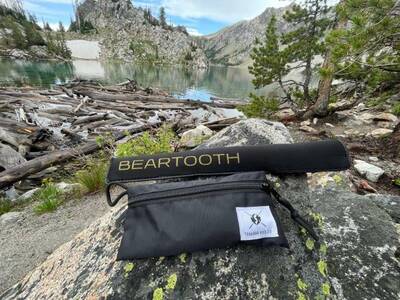 What do you think of the Tenkara Rod Co. Beartooth? Have you tested it yourself? Share your thoughts in a comment below.
Backpackers.com Review Policy: We do not accept payments or gifts from brands and vendors, and strive to provide unbiased, independent advice. Brands typically provide review samples which we return, and in some cases we purchase the item so we can keep using it long after the review.