Gossamer Gear Mariposa 60 Overview
The ultralight world is, by nature, a place where you cut items out. Luxuries and comforts and even functionality all get sacrificed to the great base weight god. While this will always be true, there comes a time when you want some of that functionality back, but you don't want it to cost you.
Enter the Gossamer Gear Mariposa 60. This ultralight backpack somehow manages to include all tGossamer Gear Mariposa 60 hose pockets you thought were long gone; the belts, straps and buckles you said goodbye to; and thick, padded comfort that was thought to be impossible if you were truly going light. The Gossamer Gear Mariposa 60 retains all these features while remaining ultralight, hovering around a scant 2 pounds empty depending on the size you need.
It's not just the triumphant return of what was once lost to the ultralight world, but the cleverness of design that makes the Gossamer Gear Mariposa our Classic Pick for the Ultralight Backpacker. Well, that and the price, which is middle of the road despite high quality materials, incredible craftsmanship, and legendary customer service.
Gossamer Gear Mariposa Star Rating
Comfort

Durability

Packability

Fit and Adjustability
Summary
The Gossamer Gear Mariposa is a 60 liter ultralight backpack, built for thru-hiking with loads under 25 pounds. The Mariposa is an excellent crossover pack for those new to ultralight because it has ample space for your bulky items (like a tent), and the storage system is excellent. With a main chute pocket, exterior pocket, a water bottle pocket and long exterior sleeve pocket, plus the main storage, you can find a place for everything.
While durability and comfort are trade-offs in this ultralight backpack, the Mariposa is a standout in the ultralight backpack field.
Read more about the nature of backpacks in our comprehensive guide, and read our review below to see why Gossamer Gear Mariposa 60 stands out in the ultralight crowd.
Gossamer Gear Mariposa 60 Specifications
Feature Type
Feature Specs
What This Means
Frame Type
Internal with aluminum stay and removable pad
A basic frame, the stay can be removed or bent to body shape from inside the pack. Sitlight pad is removable.
Adjustable Torso
No
The pack is engineered for specific torso sizes, so be sure to select the right one.
Swappable Hip Belt
Yes
You order the pack separately from the hip belt. Get the correct size.
Number of Exterior Pockets
7
Holy pockets, batman! They're all really useful, a clutch feature.
Other Compartment
No
Just the one main chute. However, those pockets mentioned above basically serve as extra compartments.
Hydration Sleeve
Yes
Basic pocket inside main chute for your bladder. Port for hose, too.
Main Pack Access
Top
A long chute with all your gear.
Top Lid
Over-the-Top (OTT) Closure
Unique design. Clips to create a closure, rolls down, then snaps to buckles for synching.
Trekking Pole/Ice Axe Loops
Yes
Has both, and they're very easy to use.
Sternum Strap
Yes, adjustable
With whistle!
Materials

100D Robic High Tensil Strength Nylon (Main)

200D Robic High Tensil Strength Nylon (Select)

70D Double-Rip Ripstop Nylon (Select)

Robic nylon is special for Gossamer Gear. The materials are smooth, light, and strong.
Load Range
Up to 35 LBS
We estimate 30 LBS is a better max load capacity, and it really shines in the 20-25 range.
Warranty
Lifetime Warranty
Only lifetime for manufacturing defects. Wear and tear not so much, as the packs are made with ultralight material.
Pack Size Ranges
Small
Medium
Large
Capacity
Roughly the same as Medium (not listed).
60 L, 3487 in3
Roughly the same as Medium (not listed).
Dimensions
Roughly the same as Medium (not listed).
23 x 11 x 7.5 in.
Roughly the same as Medium (not listed).
Weight
30.7 oz, 870 g
32.7 oz, 927 g
34.8 oz, 986 g
Torso Fit
11.5-15.5 in.
16-19 in.
19.5-23.5 in.
Hip Belt Fit
24-34 in.
30-40 in.
38-50 in.
Retail Price
$255.00
Solid price for a solid pack. Price is with hip belt, which we recommend.
Gear Review of the Gossamer Gear Mariposa 60
Origins: Easing You In
For me, the best part of going ultralight is that first hoist onto your back. I dread the "put it on test" for normal backpacks — you lift, you let it settle, and then you realize you have a long way to walk and nothing is getting much lighter.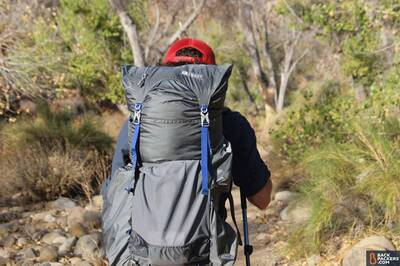 The Mariposa's first lift for me was on the trail back from an overnight in the Sespe Wilderness. In order to test the unisex feature of this pack (the Mariposa fits men and women) I took it to the desert with my partner. We packed our heaviest items in the Arc'teryx Altra 65 and the lighter ones in the Mariposa, switching things along the way to get the full range of weight-bearing possibility.
That first lift was a dream. We clocked the pack in around 20 pounds, well below the Mariposa's recommended maximum of 35 pounds, and the typical weight for ultralight backpackers while carrying water and food for a short trip.
The Sepse was hot, dry, and stunning in the way a desert stuck in the middle of a years-long drought must be. Over the long, rolling miles the Mariposa hugged my back. It soaked up ample sweat, kept the load on my hips, and was adjustable to dial in the perfect carry.
Revelation: The Moment I Knew
Due to the fact that two people walked in the Mariposa's shoes on this trip, I only think it's fitting to illustrate two moments.
The first comes from my partner who, after two miles into our trek, asked if we get to keep the backpack. We do not. She was dismayed, to say the least.
The Mariposa has this incredibly attractive combination of elements that make it simple and desirable. This was obvious to her after couple miles. Pulling a water bottle from the side while hiking is easy, as is grabbing energy bars and an oversized smartphone from the hip belt pockets. Adjusting the pack at the waist, the load lifters, and sternum strap were all done in a cinch, too.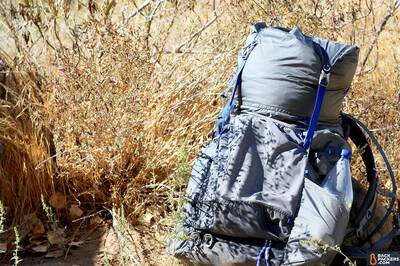 It's more than functionality though — there's the look and feel of the pack. The Mariposa is almost cheery it's so light and small, yet it can haul a serious load for an ultralight backpack. It looks and feels great to the point that, once you hike with it, you want one.
The second moment, and my own, came that night as we broke out a deck of cards so I could get destroyed in Gin Rummy. Cards are a luxury, but one I never embark into the wilderness without. A little downtime at the end of a long hike is perfect, especially when you're traveling with a loved one or group.
Typically, at night in the tent, it's hard to find a flat surface for cards. The Mariposa just happens to have an easily removable back panel, called a SitLight pad. It's a dimpled foam pad that is quite supportive when worn, but it's also a sit cushion when removed. The ultimate in ultralight multi-use, right?
Well, it also serves as the perfect playing card table.
It may be a simple moment of revelation, but a pack that utilizes every last bit of its feature set is a winner in my book.
Digging Deeper
A backpack like the Mariposa has a full grocery list of excellent features, so I'll just focus on a few main ones.
The pockets. Oh, man. Gossamer Gear threw seven exterior pockets on the Mariposa, six of which perform wonderfully.
The super long side pocket is perfect for a tent and tent poles, which makes setting up and tearing down simple.
The other side of the pack has two pockets, one over the other. The lower one is meant for a water bottle, and fits Nalgenes, Smart Water bottles, and anything else you may have. The pocket above that, though, is unique in its placement and size. Many people fit their ultralight cookset in that pocket, which makes meal-time a breeze. We used it to store easily accessible food.
The stretch mesh pocket along the back is really the best pocket, though, because of how huge it is.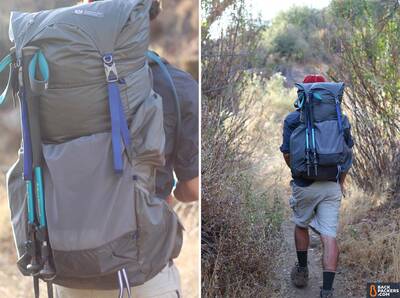 You can fit your rain cover (trash bag for the win), a rain shell, an extra warm layer, food, etc. in there. It's bigger than you think, and keeps the gear you need on the outside, rather than the inside.
Moving onto a different feature: the load lifters. Many ultralight backpacks these days don't have load lifters because companies don't believe they are needed based on the weight you're carrying. I disagree.
Load lifters to me have always been about securing a more comfortable fit, and that's never a bad thing. The load lifters on the Mariposa allow that adjustability so both my partner and I could dial in the pack to fit us best, making a single pack versatile to many body sizes and both genders.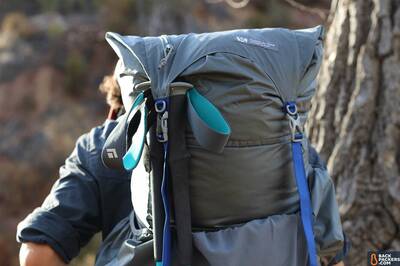 Finally, there's the main compartment. It's huge. Just a single chute from top to bottom, standard for most ultralight backpacks. However, I loved what Gossamer Gear calls the "Over-the-top" closure, which is not quite a roll-top, and definitely not a drawstring.
You clip part of the top together, then fold the rest down and clip it into place. The pack always looks sleek like this, and it expands when you need to lug more (or bigger) items.
Comfort
Foam pads line the back, hip belt, and shoulder straps. Ultralight bliss.
Durability
One trek is not enough to know if the Mariposa would survive Mordor, but the fabric is extremely high quality for being so lightweight. If you're looking for the most durable thing on the planet, check out the Hyperlite Mountain Gear Southwest 3400.
Style
It's as if elves made the the Mariposa. Not Keebler Elves, but Lothlórien elves. It's grey, subdued, and extremely light. Somehow a unisex backpack has been transformed into a sexy, versatile object. It can only be the elves.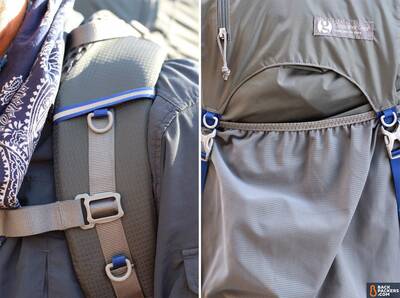 Grievances
With all that good comes a bit of bad.
First, the pack doesn't breathe as well as I'd like. We did hike in a desert environment, and I do tend to sweat, but that sweat pooled in the dimples of the SitLight pad. It wasn't critical, but I noticed it and wished it vented sweat better.
Second, the hole for the hydration port is really difficult to slide a tube through. I used a CamelBak Antidote reservoir and had to dismantle the nozzle end in order to get it through. This would become frustrating if I had to take it out often on the trail, so I would probably have to jerry-rig my bladder setup. That said, most Ultralight backpackers already do this.
Third, the zippered top pocket was a struggle to use when the pack was near capacity. The Mariposa is 60 liters, which means it's huge for an ultralight pack. This also means it's not designed to be totally filled up, because the Over-the-top closure cuts off the last 5-10 liters of the pack. It still works when it's that full, but isn't ideal.
Final Word
Unisex sexy, the Gossamer Gear Mariposa 60 redefines what you can take on an ultralight backpacking trip. If you are a master organizer who wants easy access to your goods while remaining lighter than air, this backpack is for you.
Where to Buy Gossamer Gear Mariposa 60
The Gossamer Gear Mariposa 60 L is offered in three torso sizes and three hip belt sizes (we tested a medium torso and small hip belt). The pack is unisex works wonderfully for both genders. Gossamer Gear is a small manufacturer and only sells the Mariposa 60 on its website.
See the Gossamer Gear Mariposa 60 pricing options below.
Review Policy: We do not accept payments or gifts from brands and vendors, and strive to provide unbiased, independent advice. Brands typically provide review samples which we return, and in some cases we purchase the item so we can keep using it long after the review. Affiliate Policy: We support the hours that go into our reviews and testing through affiliate commissions on purchases made through links in this article. These don't effect the outcome of our reviews or selection of gear, as per our Review Policy.