Granite Gear Crown 2 60 Overview
The Granite Gear Crown 2 60 backpack is an update to the classic Crown VC 60 and features the new Re-Fit hip belt, an advanced structural frame sheet, and a detachable lid. This multi-day pack is as capable as it is versatile, as ultralight as it is ultra-comfortable, and it can be stripped down to its skivvies like a hiker at an alpine lake on a hot day — that's to say it has a number of conveniently removable parts.
Due to the above improvements, we have named the Granite Gear Crown 2 60 our Budget Pick for Ultralight Backpackers.
Granite Gear Crown 2 60 Star Rating
Comfort

Durability

Packability

Fit and Adjustability
Summary
The Granite Gear Crown 2 60 is a refreshing update to a classic lightweight backpack. A new hipbelt, frame sheet, and detachable lid make this one of the most adaptable packs around.
Our previous Budget Pick was the Sierra Designs Flex Capacitor, which remains an incredible pack — one I tested, and have continued to use for many trips. The Crown 2 60 is simply more practical for your classic Ultralight Backpacker, especially given how much of it is able to change to your specific needs. The Flex Capacitor remains much more comfortable, especially for heavier loads, but the Crown 2 60 barely edges it out in most other realms, specifically packability.
Continue reading to see the full Granite Gear Crown 2 60 review below, and check out our guide to The Best Backpacks for Backpacking and Hiking to see our other recommended backpacks.
Granite Gear Crown 2 60 Specifications
| Feature Type | Feature Specs | What This Means |
| --- | --- | --- |
| Weight | 2 lbs 4.7 oz. (1 kg) (Regular) | Quite light. Many pieces are removable as well, making it an ultralight transformer of a backpack. |
| Capacity | 60L | A decent amount of space, especially for a truly ultralight setup. Good for lightweight beginners who haven't reduced the size (and weight) of every item yet, and great for longer treks. Learn more about backpack capacity in our Guide. |
| Frame | VC Mark 2 Frame, Internal, Removable | An excellent internal frame that's both removable and surprisingly supportive for the ultralight setup. |
| Hip Belt Fit | 26-40 in. (71-101 cm) | The Crown 2 60 has the Re-Fit hipbelt, which is highly adjustable and excellently made. It's also removable. Learn more about backpack hip belts and how to measure in our Guide. |
| Torso Fit | Adjustable, 15-25 in. (38-63 cm) | The Crown 2 60 comes in three different torso sizes. They are slightly adjustable within those three ranges. Make sure to measure before you purchase! To learn more about backpack torso measurement and adjustable torsos see our Guide. |
| Number of Exterior Pockets | 5+ | There are two large water bottle side mesh pockets, two zippered hip belt pockets, and a large stretch mesh pocket on the back of the pack. The included top lid also has a zippered pocket. Well placed, well made. |
| Sleeping Bag Compartment | No | The main chute doesn't have a separate opening at the bottom, so get good at organization. |
| Hydration Sleeve | Yes | An internal hydration sleeve allows you to carry a bladder. |
| Main Pack Access | Roll Top, Top Lid | The Crown 2 60 has both a roll top lid, which is classic for Granite Gear, and a removable top lid. The roll top in particular works well to adjust the size of your pack. |
| Detachable Top Lid | Yes | It detaches! And weighs 2.56 ounces. |
| Trekking Pole/Ice Axe Loops | Yes | Easy to use loops for long hauls. |
| Materials | 100D nylon, 210D ripstop nylon | The materials on this pack are robust, and somehow lightweight. They also use NeverWet water repelling tech, which works quite well. |
| Load Range | 15-35 lbs. (6.8-15 kg) | This is an ultralight backpack, so don't expect to carry tons of weight. That said, we tested the high range of 35 pounds and it did very well. |
| Warranty | Limited Lifetime | Granite Gear has a limited lifetime warranty, so if any of these parts fail get in touch! |
| Retail Price | $199.95 | A relatively low price for a very high quality ultralight backpack. You're paying for materials, thoughtful design, and trail toughness. |
Gear Review of the Granite Gear Crown 2 60
Origins: Easing You In
Though the Granite Gear Crown 2 60 is an ultralight pack, I filled its innards with a hefty pile of gear for my most recent foray into the wilderness. My wife and I, and our little doggie-tornado named Buster, ventured out on an overnight backpacking trip down the McKenzie River Trail with leisure and relaxation set as our top priorities.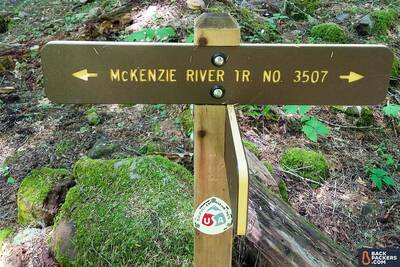 This wasn't going to be our typical mile-crushing hike-a-thon. We had a dog for one thing, which meant we couldn't push too hard, and we had recently started making a concerted effort to slow down our trail pace during some of our hikes. You know, enjoy the journey with a bit more awareness of our surroundings — to live in the moment, if you will. (Not to knock tearing it up. Go for it, if that's your jam.)
This approach led to a heavier pack, which better tested the Crown 2 60's load capacity. Our trip was going to be rife with scenic waterfalls and crystal clear topaz pools, which demanded our time and attention. With all these pit stops in mind I opted to carry an exorbitant amount of home-cooked food and bottled drinks, basically turning every trailside break into a wine-and-dine picnic that even Gordon Ramsey would have to admit was spot on.
I also packed a not-so-ultralight NEMO Galaxi 2P tent and the stout (though quite lightweight) REI Magma 10 sleeping bag into the Crown 2 on top of dog supplies and many other knick-knacks. By the time I was ready to roll to the trailhead, the pack was approaching its 35 pound load limit.
Revelation: The Moment I Knew
I was reminded of my appreciation for the Granite Gear Crown 2 multiple times throughout this 26 mile journey along the banks of the McKenzie River. Despite the heft I had loaded it with, the backpack never felt like much of a pack at all.
It was as if the Crown 2 60 was a part of me. The hipbelt rolled with my hips, the bulk of the weight swayed as I swayed, and the back ventilation was top notch. I found that the interior plastic frame sheet did well to keep this pack's structure intact while it was fully loaded. This trusty structure prevented painful pressure points and strap slippage from occurring.
Each time I just so happened to think about the pack as I walked, I pursed my lips and nodded my head in silent approval, much like the "Obama not bad face" meme. Click it.
Right? Now you know the face I'm talking about. It's a good face.
I was quite impressed with the bag's overall carry feel.
On a separate lightweight day hike I opted to remove that plastic frame because I didn't require its support. In this instance the back foam cushion was firm enough to retain the bag's overall shape while allowing for a bit more flexibility, which was appreciated during the short bursts of trail running I was able to muster.
Digging Deeper
Part of what makes the Granite Gear Crown 2 60 feel so natural is its adaptability. Straight from the retail shelf, this backpack can haul 35 pounds within its 60 liter capacity, but that capacity doesn't leave you with a bulky mass of fabric when your load is light like in other styles of bags. It's refined and restrained.
The Crown 2 60 features a handy roll-top design that, when fully unleashed, doubles the storage of the pack. When superior storage isn't needed, the design enables that extra fabric to roll down tight for day hikes like a tube of half empty toothpaste. Additionally, the exterior compression straps compact your load even further for a tight, orderly pack.
The adaptability is enhanced by the removable top lid, hip belt, sternum strap, and interior framesheet, all of which are updated from the previous Granite Gear Crown VC 60 . At base setup, the new Crown 2 60 weighs a mere 2.36 pounds, but Granite Gear's updated modular design allows you to remove the parts you don't need in a matter of seconds to further reduce its size and weight. Already a lightweight backpack, the Crown 2 60 can go ultralight with exactly the features you want, or don't want.
Two large side pockets, each fitted with a compression strap, are easy to reach while you're walking and can hold chunky Gatorade-style bottles, or a 12 pound terrier named Buster, without a hitch. I absolutely loved how convenient they were. There is also a huge stretch woven pocket on the pack's exterior that I can stuff an entire sleeping bag into if I feel so inclined.
The removable top lid and hip belt are equipped with adequate pockets of their own, and the bag is hydration-ready. All of this comes wrapped in a durable 100D high-tenacity nylon across much of the surface, and 210D ripstop nylon where it matters.
Comfort
– 4.5
There's no denying that the Crown 2 60 is an ultralight backpack designed to carry lightweight loads. In approaching the upper 35 pound weight limit, I had a sense that the pack's structure would start to buckle if I had packed in a few more pounds. While keeping the load within Granite Gear's listed limits, though, this backpack performed admirably. I barely noticed it at all.
Durability
– 5
Everything about the Crown 2 60 feels high-quality and durable. From the leather-like edging on the roll down top to the burly bottom ripstop nylon, this backpack wants you to know that it's ready to rumble.
The thick, red GRANITE GEAR lettering on the surface adds to the pack's robust appearance. It's as if it's shouting, "Throw me at a tree, then drop me into a river! Yeah, I can take it! I'm Granite Gear. Rawr!"
Packability
– 5
Granite Gear really outdid themselves with the Crown 2 60. Without overdoing it, they've added convenient pockets and practical straps everywhere this backpack needed it. The roll top is executed perfectly, and I really appreciate the way its secured closing straps form a useful carry handle.
Fit and Adjustability
– 5
Could it get any better? Aside from all of the removable components I've already mentioned, the Granite Gear Crown 2 60 is available in regular, long, and short sizes. The load lifters work great, and the adjustable Re-Fit hip belt is intended to fit all body types. This backpack should work fine for just about any body.
Grievances
I would appreciate a small pocket on one of the shoulder straps, like that found on the Sierra Designs Flex Capacitor. It's a utility pocket that I like to use for my smartphone and sunglasses. Granted, you could get a pocket similar to this by Granite Gear with a purchase, or buy a separate pocket altogether and put it on, but including it would be nice.
That's a minor gripe in the grand scheme of things because the Granite Gear Crown 2 60 is a fantastic backpack.
Final Word
Granite Gear has a track record for improving upon their packs with each new edition, and the Crown 2 60 is no different. If you want a versatile backpack capable of undertaking extended lightweight expeditions or an incredibly capable day hiker, the Crown 2 is the pack for you.
Where to Buy Granite Gear Crown 2 60
We tested the men's (also dubbed unisex) Regular-sized version of the Granite Gear Crown 2 60 in the Black/Red Rock colorway. It's also offered in a Long and Short torso, which corresponds to how long your spine is (not how tall you are!).
Granite Gear has a women's specific fit, which includes shoulder straps and a Re-Fit hip belt specifically dialed for most womens' physique.
Some places also still offer the older (but awesome) Crown V.C. 60 backpack. We awarded this pack and reviewed it, but in the end think the updates to the Crown 2 60 make it a better choice for most people, and it's more widely available these days.
Compare Granite Gear Crown 2 60 prices below.
Review Policy: We do not accept payments or gifts from brands and vendors, and strive to provide unbiased, independent advice. Brands typically provide review samples which we return, and in some cases we purchase the item so we can keep using it long after the review. Affiliate Policy: We support the hours that go into our reviews and testing through affiliate commissions on purchases made through links in this article. These don't effect the outcome of our reviews or selection of gear, as per our Review Policy.